Porsche further electrifies fans via Taycan Cross Turismo world debut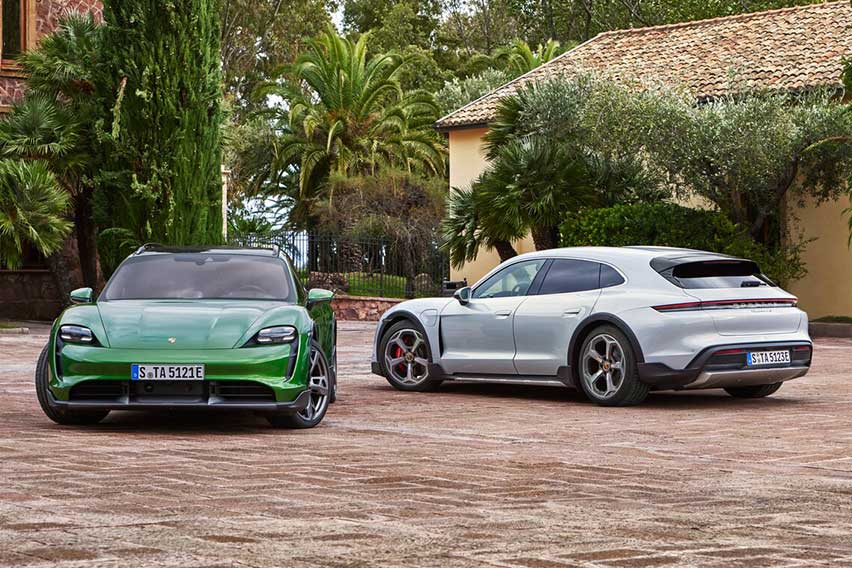 MANILA: Porsche has just globally unveiled the Taycan Cross Turismo, which gets the same outstanding features and powerful performance like that of its sport sedan version, the Taycan.
The crossover features higher ground clearance and greater cargo capacity, and German carmaker positions it as an "all-rounder." The Taycan Cross Turismo is available in four variants: the Taycan 4 Cross Turismo, Taycan 4S Cross Turismo, Taycan Turbo Cross Turismo, and Taycan Turbo S Cross Turismo.
The crossover comes with a dual-motor all-wheel drive, two-speed rear transmission, Porsche Adaptive Suspension Management for air suspension, Performance Battery Plus with 800-volt battery architecture, adaptive aerodynamics, panoramic glass roof, and the Porsche Communication Management (PCM) system for navigation, entertainment, and charging systems.
The crossover version gets the same body color range, interior, and trim like that of the Taycan sport sedan. It also comes with Cross Turismo-exclusive items including the off road design package, 20-inch off road design and 21-inch Cross Turismo design wheels.
However, the Taycan Cross Turismo also creates its own distinction when it comes to its side profile that features a longer and flatter roofline compared to the sedan version. This gives additional 0.35 inches of headroom to the driver and front passenger and additional 3.62 inches of headroom to the rear-seat occupants. It also comes with a larger cargo area —15.7 cubic feet for the Taycan 4 Cross Turismo and Taycan 4S Cross Turismo variants and 14.3 cubic feet for the Taycan Turbo Cross Turismo and Taycan Turbo S Cross Turismo. This can even be expanded to 42.8 cubic feet when the rear seats are folded forward. It also comes with a 2.9 cubic feet of front trunk. An integrated roof transport system can be requested from the factory for bulkier items. A rear mounted bike rack can also be availed via Tequipment.
The crossover also comes with fender extensions, distinctive rocker panels, and upgraded front and rear fascia. It has a 20mm higher ride height compared to its sedan counterpart. This allows easier access to the cabin.  The vehicle comes with the standard air suspension and off-road design package that increases the ride height to 10mm more.
The Taycan Cross Turismo features Gravel mode that adds 10mm to the ride height and establishes the suspension steadiness, traction and stability control, and torque management system. It also increases grip over loose surfaces, like mud, sand, and gravel. The vehicle's additional body cladding prevents stray rock chips on the body so it can efficiently perform on rough terrains.
The Taycan Turbo S Cross Turismo variant can accelerate from 0 to 60 mph in 2.7 seconds, which is only 0.1 second slower than the sedan version. The Taycan Turbo Cross Turismo can go from standstill to 60 mph in 3.1 seconds, while the Taycan 4S Cross Turismo can reach 60 mph in 3.9 seconds. The Taycan 4 Cross Turismo can accelerate to 60 mph in 4.8 seconds.
The crossover comes with three years of Porsche Connect that includes Apple Car Play, Function on Demand, Plug and Charge, and Apple Music. It also includes three-year free Electrify America charging (for US customers). Customers can choose to avail any of its optional equipment such as the Porsche InnoDrive which includes adaptive cruise control (ACC) and active lane keep (ALK), head up display, 14-way seats with massage functionality, and Bose and Burmester audio systems.
Aside from the Taycan Cross Turismo crossover, Porsche will also be releasing two electric bicycles. The Porsche eBike Sport comes with a full-suspension carbon-fiber structure, Magura brakes, Shimano drivetrain, and Supernova lighting. The bicycle has a Fox shock suspension on the rear and a Magura upside-down fork up front.
Meanwhile, the Porsche eBike Cross comes with Magura MT brakes, Crankbrothers seat post that can be hydraulically adjusted for easy set height changes, and a Shimano trip computer. Both eBike models use carbon wheels, which drew inspiration from the roofline of the Taycan. Porsche is set to launch the two eBikes by spring of 2021.
Photos from Porsche
Also read: JD Power names Porsche as most dependable Euro car brand
You might also be interested in