Kawasaki Rouser 200NS: What else can you buy?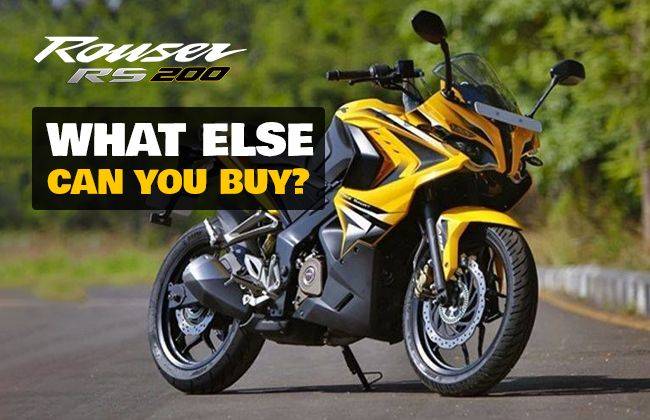 Bringing in bikes from Bajaj under their brand, Kawasaki has hit upon a veritable gold mine. Indian motorcycle riders are not very different from their Pinoy brothers. They want the same kind of qualities for a similar price. No wonder, a 200 cc naked streetfighter style bike for the same price you'd pay for a 150 cc motorcycle makes infinite sense here. It is extremely good value.
And yet, if for whatever reason, you do not want the Kawasaki Rouser 200NS, fret not. The motorcycle market has enough options to satisfy anyone. Here are three of the best alternatives to the Kawasaki Rouser 200NS available today.
Suzuki's newest offering has been giving the Pulsar a run for the money on its home turf. The Philippines should be no exception then. It takes so many design cues from the Suzuki GSX S1000 that it looks like its shrunken version. And it works. The bike is stylish and unique. Its three-piece fuel tank and dual type exhaust muffler make it stand out. Its compact dimensions and low saddle at just 780 mm makes it much more practical at slow speeds than the Rouser.
Powered by a 155 cc air-cooled and fuel injected SOHC engine putting out 14.8 hp at 8000 rpm and 14 Nm of torque at 6000 rpm, it does fall short on the power by a large margin. It is also less aggressive than the Rouser 200NS. But that is kind of the point here.
The Suzuki Gixxer Fi is meant to be more learner friendly. Its lightweight makes it easy to manoeuvre. It has a fully digital instrument panel that comes with a gear position indicator and high rev warning light. There are wide 100/80 and 140/60 tires front and rear. The rear monoshock is seven step adjustable. Disc brakes are equipped on both wheels. All of this for the price of Php 91900 makes it easy to see why this is such a worthy competitor to the Rouser 200NS.
Yamaha FZi is another motorcycle that gives the Rouser a tough time in the home market, albeit with a different name. Like the Suzuki Gixxer, the Yamaha FZi brings in some styling from its bigger brothers. Elements of many different Yamaha bikes can be seen in the FZi. The extremely aggressive tank, the edgy headlight housing, the muffler that looks like a sci-fi gun, and the split type seat all give it unmistakable presence on the road. Powering the Yamaha is a 150 cc air-cooled and fuel injected 2 valve SOHC engine producing 13 hp at 8000 rpm and 12.8 Nm of torque at 6000 rpm. While the power is even lower than the Suzuki Gixxer, the bike is a bit more aggressive.
It has similar dimensions to the Suzuki translating to comparable usability for us shorter folks. It weighs just 131 kg and uses a newly developed diamond frame chassis for excellent agility. The bike also uses a fully digital display, a monoshock in the rear and wider 100/80 front and 140/60 rear tires. But it uses a disc brake only on the front wheel with a drum for the rear. At Php 99800, it is certainly a very stylish alternative to the Kawasaki Rouser 200NS.
Onto more familiar territory. This contender from our own home turf has been rising in popularity with its newest incarnation. The Honda RS150R is not really a motorcycle but when it comes to performance, it can easily trump both the Suzuki and the Yamaha. It is powered by a 4 valve liquid cooled and fuel injected DOHC 150 cc engine that produces 15.42 hp at 9000 rpm and 13.5 Nm of torque at 6000 rpm. Then it uses a 6-speed transmission while the others use 5-speed transmissions. It also weighs much lighter at 111 kg.
The RS150R is more aggressive and can reach speeds of up to 140 kmph while delivering decent to good fuel economy figures between 35-50 kmpl. It does, however, suffer from a much smaller fuel tank of just 4.3-litre and also comes equipped with much thinner tires. Still, it comes with new age fripperies like LED headlights, clip-on handlebars, a digital dashboard with gear position indicator and dual disc brakes. All this for a price of just Php 94900 or Php 97300.
Kawasaki Motorcycle Models
Kawasaki Ninja 400

Kawasaki Dominar 400

Kawasaki Rouser RS200

Kawasaki Z400

Kawasaki Ninja ZX-25R

Kawasaki Barako II

Kawasaki Ninja 650

Kawasaki Vulcan S

Kawasaki Z650

Kawasaki Rouser NS160
Kawasaki Motorcycles Price

You might also be interested in

Kawasaki Rouser 200NS Motorcycle Articles From Carmudi
Yamaha Nmax to be given away in PUBG Mobile's newest campaign

Ruben Manahan IV,

Dec 06, 2023

Yamaha PH launches new campaign for Mio Gravis

Ruben Manahan IV,

Dec 03, 2023

Yamaha partners with Spartan PH to push Mio Gear, 'Play Your Tough' campaign

Check out these motorcycle safety riding tips from MDPPA

Suzuki PH eyes to sell up to 70K Smash115 units for 2024
Key Things to Consider Before Buying a Used Motorcycle

Cherryl Anne Cruz,

Jul 21, 2017
Insurance for Motorcycles

Cherryl Anne Cruz,

Jul 21, 2017
Kawasaki Rouser 200NS: What else can you buy?
Choose a city to get promos and prices in your area