These are the exciting features of all-new Honda Click 150i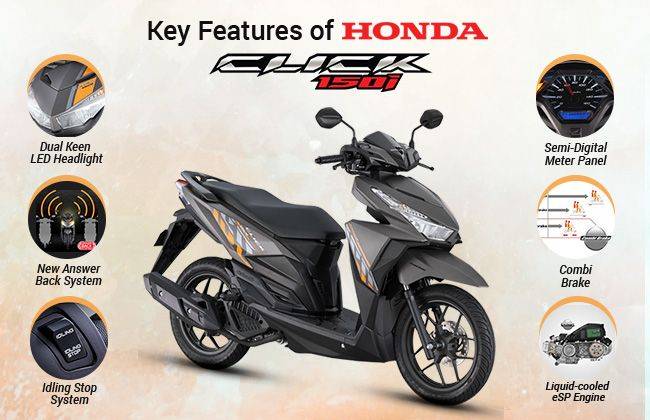 Honda Click 150i was recently introduced in the country and with a new entry, the 150cc scooter segment is now, even more competitive. The scooter not only possess sporty and impressive styling but, it also holds some advanced features. So, here we are highlighting some of the impressive features of the all-new Honda Click 150i.
New Answer Back System
For locating the scooter in a hassle free manner, the Japanese manufacturer has equipped its Click 150i with a new Answer Back System. With a single push, the scooter responds with either of the 3 buzzer sound patterns. The sound volume can be adjusted according to the requirement.
Idling Stop System
In order to improve the overall efficiency of the scooter, Idling Stop System is integrated which automatically switch off the engine during traffic. The system also comes into action during brief stops that help in getting a better fuel efficiency to a significant extent.
Dual Keen Headlight
You might be wondering, what's special about the headlight of a scooter. But, here is the twist, these dual keen headlight not only gives a sharp look to the Click 150i but, due to the incorporation of LED, this headlight is 90% brighter than any other ordinary light bulbs.
Potent Liquid-Cooled eSP Engine
Honda Click 150i comes with a powerful 150cc liquid-cooled engine which is a perfect blend of power and fuel efficiency, which results in a firm and exciting riding experience. The maximum power delivered by this engine is 11.4 PS at 8,500 rpm while the peak torque measures 11.6 Nm at 6500 rpm. These figures are in line with the other options available in the respective segment. The improved fuel efficiency is an added advantage.
Better Safety
Just like any other recently introduced scooters, Honda Click 150i also comes with an effective Combi Brake System (CBS). Through this system, both the brakes are applied simultaneously, which reduces the chances of skidding to a great extent.

Apart from the above-mentioned features, the Honda Click 150i features premium matte finish, which makes it stand out of the crowd. The Sporty stripes further add to the dynamic styling of the scooter and the semi-digital instrument cluster gives you all the required information in a smart manner.
You might also be interested in
Latest Motorcycles Videos on Zigwheels