4 Features that make this Ford Ranger a Raptor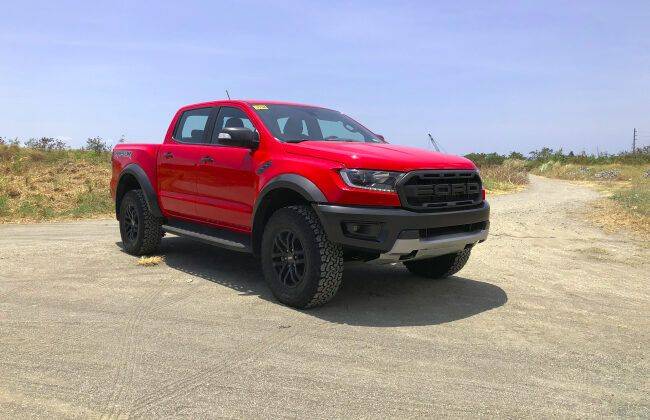 It's not faster than a speeding bullet, isn't more powerful than a locomotive, and certainly can't leap tall buildings in a single bound, but the Ford Ranger Raptor 2.0L BiTurbo 4x4 AT is the closest a Ford Ranger is ever going to get to superhero status.
The leap off the ground it does in the TV commercial isn't CGI or special effects. With a little help from a small ramp, it's plain raw power and torque giving it lift to takeoff.
That's the easy part. What really makes this truck special is the ability to take the impact and land not only damage-free but it literally and metaphorically hits the ground running. Give it a few seconds, let it simmer and sink in, then you realize you're looking at a totally different beast.
Here's what Ford did to transform the already very able Ranger into the highly acclaimed Raptor.
Looks
Every hero needs a costume, because what's the point of being special if you don't look the part? Front and rear bumpers are blacked out, taking "macho" to a whole new level and making the pickup look really good from any angle.
There's one downside: it does add inches to the overall width, which makes it tricky to maneuver the Raptor in tight parking spaces. But the 33-inch all-terrain tires are just wow! They look sturdy because they really are. The side walls are 20% tougher compared to standard truck tires.
Ford gave the Ranger Raptor a miniaturized version of the F-150 Raptor's grille so instead of the familiar "blue oval," it gets F-O-R-D spelled out on top of the black mesh. If you still don't have a clue what it is, there's the "Raptor" decal on both sides and then a thick emblem on the tailgate. Rawr!
Chassis
The Raptor's enhancements go beyond skin deep. To withstand rougher terrain and ultra-challenging drives, its chassis is a combo of high-strength and low-alloy steel, which makes it lighter without sacrificing hardiness.
Ground clearance is already a whopping 283mm and water wading depth 800mm, but it still uses a 2.3mm high-strength steel bash plate to protect the underbody from off-road debris.

The suspension system isn't your average, factory stuff. It uses aluminum double wishbone with Fox Racing Shox Internal Bypass Dampers and anti-roll bar in front, and coilovers with Fox Racing Shox Internal Bypass Reservoir Dampers and Watt's link in the rear. Are you roaring yet?
Equipment
As hardcore as it is from the outside, the cabin can almost be called luxurious. There's a lot of soft leather from the dashboard all the way to the steering wheel, and the seats are a combo of leather and some type of felt, which Ford calls "RaptorAccent." The test unit was True Red but the stitching in the cabin is done in Lightning Blue which was odd but it did make it feel more "royal" and less spastic.
It has an eight-inch touchscreen and six speakers, Bluetooth, two USB ports, a GPS system, rearview camera, a 230V inverter, and even a 12V socket on the bedliner.
Raptor experience
Ingress is easy despite its height because Ford graciously bestowed it with a wide metallic running board plus a smart keyless entry system. Just reach for the door handle to unlock.

The "body-contoured sports seat" with eighty-way adjustment feels just like the name suggests – comfy and snug – two words that aren't typical of pickup truck seats.
It uses a Start/Stop system to engage the 2.0L Bi-Turbo diesel engine that puts out 213ps and 500Nm of torque. Despite the low- and high-pressure turbos that are setup sequentially to cover the span of the rev range, it doesn't lurch forward during acceleration and is actually very mild-mannered.
It only bares its proverbial teeth and rockets forward when the throttle is mashed. Speaking of rockets, the turbo's turbines are made of a fancy superalloy, the same one used in rocket engines, so fear heat and pressure no longer. As for the ride, Ford got it just right with Fox Racing Shox. They're firm no doubt, but they're also sedan-like comfortable.
This is made possible by Fox's "bypass" technology, which controls the flow of the fluid in the tubes depending on the terrain. If you're on the road, fluid bypasses the damping piston for increased comfort. It knows when you've gone off-road and holds the fluid in the compression valve to keep it firm and prevent the suspension from bottoming out.
Driving it in the city was pure fun and, for a tall vehicle, it cornered pretty well thanks to its Watt's link (rear) and anti-roll bar (front). The 10-speed automatic transmission shifts very smoothly and helps keep fuel consumption at a very acceptable 7.1 kilometers per liter for a hefty truck. But in stop-and-go traffic, it gets flustered sometimes and take a few seconds to figure out if it's shifting down or going up.
I consider the price a steal because of all of the above. Think about it. Sure, at P1.998 million you could get an average mid-size SUV or those diesel-powered crossovers/compact SUVs – but none of them would have ANY of the above. 'Nuff said.
You want the truck of trucks? Don't just get a Ranger! Get the one with fangs, claws, scales and all, the Ford Ranger Raptor 2.0L BiTurbo 4x4 AT.
Explore Ford Ranger Raptor