Ford Ranger XLT 4x2: An affordable pickup with power and smarts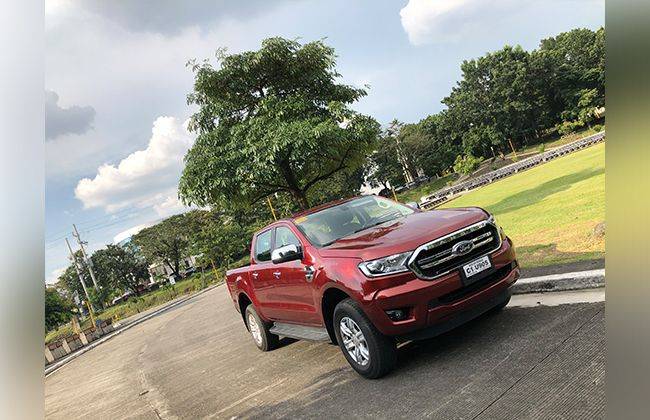 With a grand total of 13 variants in the very popular Ranger, Ford is leaving no stone unturned in the effort to satisfy the discriminating taste of today's urban pickup truck market.
Everyone's dream is, of course, the fairly-priced Raptor at P1.998 million, but the sad reality for many is they have to go several notches down the rung because not all of us have that kind of scratch.
Plus, pickup newbies will find the Raptor, and for that matter, even the Wildtrak, maybe too much truck for your simple day to day need of going to the office and back. What makes now such a great time to buy a truck is the TRAIN (Tax Reform for Acceleration and Inclusion) law, which exempts this segment from excise tax.
If the plethora of choices makes it hard for you to make up your mind, let me give you a starting point. Take a look at the Ranger 2.2-liter XLT 4x2 A/T. It has the basic tech sought after by young buyers, the conveniences of modern automobiles, and is not as stripped down as Ford's XLS trim. Plus, it's priced just right.
Exterior
The XLT's body is robust and shapely – maybe chubbier compared to other more chiseled models – but still bears the Raptor DNA and is simply a few upgrades (wheel and tires, bull bar, roof rails, and sports bar) away from a more macho look.
I like the Sunset Red body color that goes nicely with the shine of the chrome, gills, and side mirror (with turn signal indicators), and the shiny rear bumper.
Without cladding, the flared wheel arches appear modest over the conservative 17-inch alloy wheels. It's use of 3,220 millimeters is very good. Maybe because it's Ford, used to designing big, but the headroom, legroom, and elbow room are considerable.
Interior
With the black stepboard, you could easily feel like you're stepping into an SUV, and it even gets better once you see the cabin appointments it offers. Seats are fabric so get yourself a leather cover to match the leather-wrapped, multi-function steering wheel.
Surfaces like on the dashboard and center console are hard to the touch. It looks more basic in the layout of components but comes with plenty of angular designs incorporated into the vents, buttons, and switches.
A Ford quality since the fifth-generation Ranger, the layout and finish have a rough-and-tough feel, but chic nonetheless with a large glossy panel fronting the dashboard, on the door handle and panels, and on the steering wheel spokes.
One of the features I like the most is Sync 1.1, which takes in voice commands for various essential features like audio and climate control, and even Bluetooth connectivity. Sadly, it only comes with one USB port, so you're going to need extensions if you've got company.
If you're looking for modern amenities, it has it: on-off headlamps, cruise control with adjustable speed limiter, speed-sensing door locks, rain-sensing wipers, and rear park assist (it only uses sensors sans rear camera).
Engine
As the model that's third in line following the Wildtrak and the Raptor, the engine and its output are pretty respectable. It has a Duratorq 2.2-liter engine with 160ps and 385Nm of torque (available at 1,600rpm).
Young drivers are going to love its active and quick response – like an energetic kid on a sugar rush – to throttle input, which makes the drive immediately exciting. Even a little throttle input sets it off immediately. And once you're off, it still has some left for your overtaking maneuvers and then some.
Ride and handling
In the higher gears, it's more mature and behaved; less jumpy. But I actually prefer how it feels so agile between gears one to three. As a truck that uses rear leaf spring suspensions, there's little rollover resistance, so go easy around corners and definitely scratch slalom events off your to-do list.
If you know you're getting a pickup truck, then you'll realize comfort is actually pretty good. I say this because you won't believe how many people I hear complain about how stiff rides are in these vehicle. Expect SUV-level at best.
It's rigid alright, but noise, vibration, and harshness levels are very low.
Verdict
The price is just right at P1.236 million, but if you're thinking why not the XLS 4x2 AT (P144,000) cheaper, here's why: You lose auto on-off headlamps, electrochromic mirror, rain-sensing wipers, rear park assist, no bedliner, front mudflaps, side steps, and actually a lot more.
Another good reason to get a Ford pickup now is its Premium Extended Warranty, which covers parts and labor of the engine, transmission, steering and electrical for up to five years or 150,000 kilometers.
It looks like a win-win and maybe it is, so go get it while it's hot (and cheap)! The Ranger 2.2-liter XLT 4x2 AT is a solid choice for a first pickup.
For more information on the model line, click here.
Photos by Eric Tipan
Sell your car at the best price
Verified and genuine buyers
Free listing
List your car
Explore Ford Ranger
Ford Ranger
₱1.213 - 1.91 Million
Emi Starts : ₱20,809 x 60
Ford Car Models
Ford Ranger Raptor

Ford Territory

Ford Everest

Ford Ranger

Ford F-150

Ford Explorer

Ford Mustang
Ford Cars Price
Select your city to start search
Or select from popular cities