Ford Ranger FX4 Max: Blue collar 'froader' from the Blue Oval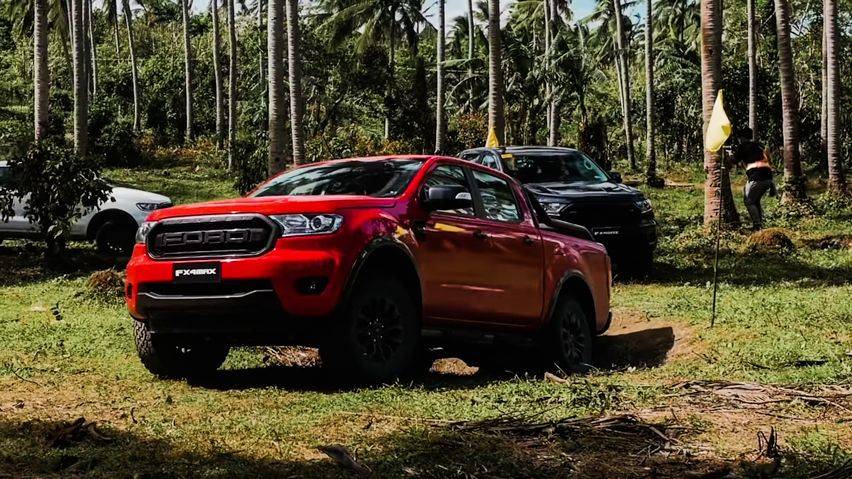 I love fast cars, or even cars that sound fast but really aren't. I always imagine myself ripping the streets like Dominic Toretto on his Civic EJ1, trying his darndest to grab those latest DVD players. My mind was closed and bereft of the fact that there was more to automobiles than zero-to-100kph lap times.
I never thought of myself going off-road and precision driving. Mastering rough terrain and traversing rough sharp and steep rocks never appealed to me much. That all changed one summer's afternoon in a closed off-roading course where Ford Philippines asked us to punish its newest truck, the 2021 Ford Ranger FX4 Max, in the best-selling line up.
As if there weren't enough models in an ongoing truck-war between the car companies for our hearts, minds and wallets, Ford, hot off the trails of gaining bragging rights for grabbing the 4x4 pickup truck sales crown for 2020, tosses another ace into the pile with this latest variant of the Ranger.
After a short briefing and orientation I was handed over the keys to the vehicle and you can never really appreciate the sheer size of this "midsized" truck unless you get right next to it. I myself am 5'10 1/2" and am still intimidated by the 2021 Ford Ranger FX4 Max. It can get quite disconcerting if you are used to sedans and you are unable to see the roof on this thing. The 265/70R17 All-terrain tires give it a more rugged appeal and certainly add to the size.
The 2021 Ford FX4 Max may not be as butch as the Ford Ranger Raptor but takes it shares the most sought-after part everyone with a Ford Ranger loves, the large hexagonal grill with the huge F-O-R-D typography proudly featured right up front. I can only imagine this coming up from behind a subcompact sedan; the mere sight of it would definitely make you buckle and give way. The front facia may not be as modern-looking since it was first introduced and has since been upended by newer trucks from other brands, but it remains as one of the most rugged-looking facias in the market.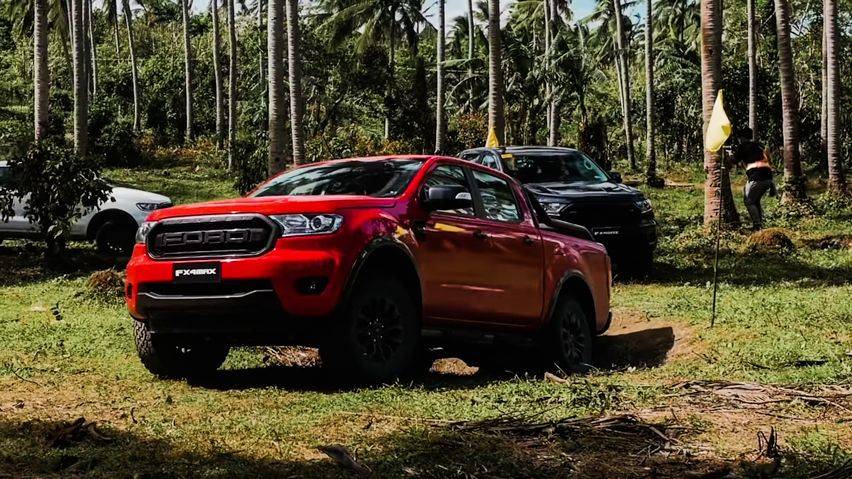 Instead of having it run across the entire lower section of the vehicle's profile, on both sides sit a couple of stepboards to assist you with ingress. I appreciate the minimal look, and is another part that comes standard with the FX4 Max — the same as the bed liner and tubular sport bar in the rear and the high-mount stop lamp with cargo light. Ford definitely knows its audience and the customization options for the Ford Ranger are seemingly endless. I am glad that they are willing to give away these extras as standard.
Speaking of customization, once you get inside, the most significant addition to the 2021 Ford Ranger FX4 Max is an array of auxiliary switches for all your after-market off-roading accessories. These switches are connected to outlets.
Trucks have traditionally been known for their utilitarian and sparse interiors. I am sure that your uncle remembers them with little to no amenities inside and would probably feel lucky enough for it to have air-conditioning. The 2021 Ford Ranger FX4 Max proves that a pickup can be anything you need it to be — whether an off-road beast or even, yes, a family car.
The seats are well appointed with a healthy dose of leather materials accented with fabric to help keep you in absolute comfort. The eight-inch LCD capacitive touchscreen with Apple CarPlay and Android Auto compatibility comes standard on all Ford Rangers as well as six speakers all around. It doesn't lack in safety features as well with ABS + EBD, electronic stability control with roll-over mitigation and traction control, hill launch assist, hill descent control, driver as well as passenger airbags, rear parking sensors, and child seat Isofix anchorage points.
The leather steering wheel with contrast stitching is chunky and has all the controls you need for calls, media, as well cruise control — not that I would be needing any of those during my drive, the off-roading expert on-site advised us to handle the wheels gently as sudden judders and shifts in the terrain could possibly move the wheels and we could get injured if we latch on to it tight. Well, this looked promising.
Ford Philippines ensured that our time handling the 2021 Ford Ranger FX4 MAX would be a safe and worry free affair. Given the current state of the pandemic, they stretched farther than any other car company to give us the most in-depth experience possible without compromising health. We're saving the best part for last, and I want to tell you more about how it drives, because if ever you are in the market for the Ranger Raptor, this might actually be more like your cup of barako.
While the FX4 variant is slotting itself between the Wildtrak and XLT, the "Max" moniker imbues the midrange variant of the Ranger with Raptor genes. It is now blessed with the same 2.0-liter Bi-Turbo Diesel found in the range topping variant. This gives the 2021 Ford Ranger FX4 Max a class-leading 213 horsepower at 3,750rpm and 500Nm at 1,750 to 2,000rpm, which should be more than enough thrust to take you pretty much anywhere. The improved 10-speed automatic transmission makes sure that you are in the optimal engine speed for what is to come.
At first, our drive was pretty mellow — through smooth grasslands, the traction control setting had little to complain about. That is until we began a grueling course of obstacles, each one more challenging than the last. Given that this was my first time off-roading, the only thing coming to mind is the desire to not break Ford's newest toy. With every challenge passed, my confidence only grew, I gingerly hit the throttle but then, it was as if the 2021 Ford Ranger FX4 Max just kept egging me on to floor it.
The rear locking differential made its presence felt throughout the course making sure that I get the most grip from the most minimal surfaces. Going sideways, with one or even two wheels up the air I never thought I would have so much fun and thrills running at less than 20kph. This was a game changer. I enjoyed the hill-descent feature the most, with the 2021 Ford Ranger FX4 Max simply controlling its descent down a very steep hill.
Then came the Baja-inspired high-speed dirt track. You can definitely feel all the Raptor genes coursing through its veins — taking in all the rock, mud, and dirt like a champ. I couldn't say much more about the power because it had that in spades. The 10-speed automatic reigns in all those macho kabayos and unleashes them at the most optimal situations. The all-terrain tires were put to the test and I can most definitely say that they aren't there just for show. It was the most badass moment of my driving life.
Section by section, the 2021 Ford Ranger FX4 Max just ate up the terrain like nobody's business, which leads me to the special sauce that gives the truck its X-Factor. You see, if you wanted a full-on Baja gladiator, you would want the Ford Ranger Raptor with its sport tuned Fox suspension system.
This allows it to run faster and jump ever so higher without having to worry about wrecking your spine. The downside of this is that you get much less towing and carrying capacity. For those tasks you would need a rear leaf spring suspension as it is stronger and should be able to handle the extra load. In the FX4 Max's case, why not have it both ways?
The 2021 Ford Ranger FX4 Max still has Fox shocks for your dirt-ripping desires but can also prove to be quite the blue-collar worker on the weekdays, thanks to specially tuned leaf-springs in the rear. This gives the FX4 Max 981kg of payload capacity with 3,500kg of towing capability. Further proof that you can have your cake and eat it too. Pricing starts at P 1.758 Million which I think is a steal for everything you're getting.
My final thoughts on the 2021 Ford Ranger FX4 Max? It's like a cheat code on wheels. I almost felt like an expert off-roader behind the wheel. Of course, all the credit goes to the vehicle's excellent driving dynamics and the guidance of our off-roading experts. I never thought of myself as a truck guy but, as of now, I finally get it.
Photos from Ford Philippines
Sell your car at the best price
Verified and genuine buyers
Free listing
List your car
Ford Car Models
Ford Ranger

Ford Everest

Ford Territory

Ford Ranger Raptor

Ford Mustang

Ford F-150

Ford Explorer
Ford Cars Price


Compare & Recommended
Front Brake Type

Ventilated Discs

Centrally Mounted Fuel Tank

Yes
Ford Ranger Car Articles From Carmudi
Caltex hands over 3 Ford Ranger units to lucky 'Pickup Your Rewards Promo' winners

More than 15k next-gen Ford Rangers sold in PH since debut

Ruben Manahan IV,

Oct 05, 2023

Ford unveils first-ever hybrid Ranger

Next-gen Ranger is Ford PH's best-selling unit for H1 2023

Ruben Manahan IV,

Sep 06, 2023

Ford Ranger gets 'Best 4x4 and pick-up' award from Women's World Car of the Year

Ruben Manahan IV,

Feb 22, 2023
Choose a city to get promos and prices in your area