Mitsubishi Mirage G4 GLS CVT: Great 4 an everyday car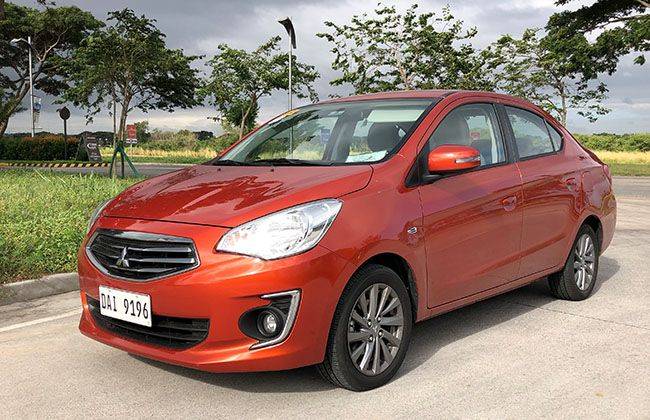 The Mirage G4 has certainly struck a chord among Filipinos, both private motorists and TNVS (transport network vehicle services) owners alike. You won't miss it if you've ever booked a Grab. The overall design hasn't changed much since its introduction in 2013 but a facelift in 2018 freshened it up a bit.
Exterior
Its façade has the same "diamond-cut" dark chrome grille and while doesn't adopt its sibling's HID lamps (it uses halogen), the rear looks a lot fresher with new LED taillights and reshaped bumper.
Integrated LED turn signals are mounted on the sideview mirrors making the driver's intentions more visible and allows it to keep up with modern safety standards.
Viewing its profile, it appears to sit a little high on the dark chrome 15s but one number tells a different stat. This baby has the same coefficient of drag, at 0.29, as the sporty Subaru BRZ, which means it's as aerodynamic as a sports car.
Interior
In the G4's cabin is an absolute no-fuss décor with limited number of switches and knobs because of space constraints. There's the three-dial instrumentation panel, the 6.75-inch touchscreen LCD in the middle, and the climate control system just right below it – nothing more, nothing less.
Even the steering wheel only has one set of controls (for audio) found on the left spoke.
The infotainment system has Bluetooth technology (for device pairing), navigation, and the usual entertainment stuff (radio, AUX-in, iPod connectivity and even a CD player).
I'm impressed with the aircon. Driving at midday, no tint, heavy traffic, the cabin stayed cool even at 23-degrees and fan setting at 2. It even has two USB ports found right in front of the gear shifter. What it needs more of are storage spaces, specifically covered storage spaces.
There's the large glove compartment but that's it. It doesn't have a center console.
It does have four cupholders in front and a few holes to store lose change and very small items.
Rear space is limited, but so long as you're not super-sized, and by that I mean 5'10" or taller, you'll be ok.
Engine
The ultra-thrifty 1.2-liter, three-cylinder MIVEC (Mitsubishi Innovative Valve timing Electronic Control system) engine will whine if you punch the throttle at first gear. It would be best to ease it into first and then second, both for better performance and fuel efficiency. Output of77bhp and 73.7 ft-lb of torque is sent to the wheels via an intuitive INVECS (Intelligent and Innovative Vehicle Electronic Control System) III continuously variable transmission (CVT). It does well to manage the engine's output and doesn't get flustered by the stop-and-go traffic of the metro.
City-driving average is some 8.4 kilometers per liter. I took it out on the highway for the weekend and while it could maintain a speed of 100kph, the RPM was already at a constant 2,400 – 2,500, which is not good for fuel consumption. Still I managed to average 14.7 kilometers per liter on SLEX.
Ride and handling
It takes a while to develop momentum because of the small-displacement engine and since it only weighs 905 kilos, but once it does get up to speed, it's easy to stay there. Electronic-type steering makes handling feels lighter than usual but not overly deceiving as it a very small car, even with the trunk.
The 185/55/ R15s feel grippy enough on the road even when wet, but it's just not low enough to the ground – and with not enough power either – to give you confidence to take tight corners aggressively.
Getting in is easy with its keyless operation system. The trunk and the driver's door both have easy-to-see buttons that open it up, and a start/stop to get the engine running.
Ride comfort, highway or in the city, is great considering this is a P769,000 vehicle. The torsion beam rear suspension does enough to make the drive pleasant despite the bumps along the road but don't expect sportscar-level dynamics.
Even noise, vibration and harshness levels are impressive. I experienced worse, a lot worse, as this price point.
Verdict
It may have some shortcomings as detailed above but, again, you're looking at a sub-P1 million Japanese car with a trunk and fuel consumption that's not going to make you weep as the second tranche of the fuel excise tax kicks in. The engine's pretty rudimentary and straightforward, which means less chances off things going wrong.
It won't win any beauty contests or races but if you want something petite, practical, and proficient, get in a Mitsubishi Mirage G4 GLS CVT.
Explore Mitsubishi Mirage G4
Mitsubishi Mirage G4 Promos, DP & Monthly Installment