Old but still golden: 2023 Mitsubishi Mirage hatchback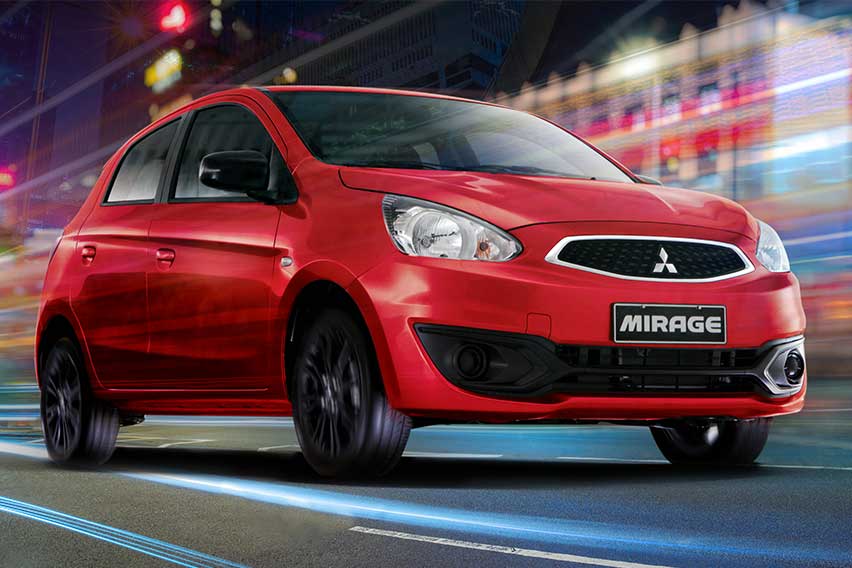 For novice drivers, a hatchback is typically recommended because of its compact shape and ease of handling. It's also helpful if the interior is adaptable, with seats that can fold down for more cargo space. Another reason why the hatchback is a popular choice among first-time automobile purchasers is its reasonable price.
KEY TAKEAWAYS
What are the variants and prices of the 2023 Mitsubishi Mirage hatchback?
The Mirage hatchback is available in two variants, the MT and CVT, which retail for P711,000 and P772,000, respectively.
What are the convenience features found in the 2023 Mitsubishi Mirage hatchback?
This vehicle is equipped with keyless entry, twist ignition, and manual climate controls. Placed front and center inside the cabin is the multimedia system with tuner, USB, iPod, Aux-in, and Bluetooth connectivity, which is connected to two speakers.
The Mitsubishi Mirage – considered a stalwart in the segment since its introduction in 2013 — delivers on what's expected from a hatchback while offering more beyond. It is also available as an equally excellent sedan called the G4.
We examine more closely at how the Mitsubishi Mirage ticks the appropriate boxes for quality, while adding something extra to make it a satisfying purchase.
2023 Mitsubishi Mirage Exterior, Colors
Of course, simple doesn't imply austerity, and the Mitsubishi Mirage has the ideal number of features that keep it from being either basic nor too flashy for its price range. It has a tidy, distinctive exterior that gives it the recognizable personality and presence, as well as aerodynamic efficiency. It wears a black front grille, 15-inch alloy wheels, and side mirrors.
Along with a tailgate spoiler, the new driver will undoubtedly feel more confident with their Mitsubishi Mirage — even if it isn't adorned with the angular 'Dynamic Shield' grille found on its Mirage G4 and Xpander siblings.
All of these styling cues are complemented by two color choices, namely:
Titanium Grey Metallic.
Red Metallic.
2023 Mitsubishi Mirage Prices and Variants
A realistic, useful hatchback must be considerate of the buyer's budget, especially if they are first-time buyers who may be college students living on their allowance or recent hires. It is simpler to make a purchase due to the low cost of acquisition and flexible payment periods.
In the case of the 2023 Mitsubishi Mirage, its two variants are relatively affordable, if not immensely cheap. Check out the car's prices and variants below:
Mitsubishi Mirage 1.2 MT – P711,000.
Mitsubishi Mirage 1.2 CVT – P772,000.
2023 Mitsubishi Mirage Features
Whereas other offerings in the mini hatchback are loaded with chock full of features, the 2023 Mitsubishi Mirage keeps it simple. This vehicle is equipped with keyless entry, twist-type ignition, and manual climate controls. Placed front and center inside the cabin is a 6.75-inch multimedia system with tuner, USB, iPod, Aux-in, Bluetooth connectivity, and Mirror Link function, which is connected to two speakers.
No smart key or push-start ignition here — things you'd find inside the 2023 Mitsubishi Mirage G4 and other contenders in the mini hatch class.
2023 Mitsubishi Mirage Interior
Although being a subcompact in theory, the 2023 Mitsubishi Mirage has room for five adults. With excellent legroom of over 1,000mm, this subcompact proves that second-row accommodation doesn't have to suffer at this price point. It is the ideal companion for chores like a supermarket run because its trunk is equally spacious and can hold 45 liters of luggage. To accommodate larger items, the rear bench can fold.
2023 Mitsubishi Mirage Engine, Fuel Economy, Transmission
The Mitsubishi Mirage's frugal nature continues after the sale. The Mitsubishi Innovative Valve-timing Electronic Control (MIVEC)-equipped, three-cylinder, 1.2-liter 12-valve DOHC gasoline engine with a Euro 4-rating "generates consistent power and a 23kpl top rating in fuel efficiency."
A total 77.52ps and 100Nm of torque is generated by the motor, and are efficiently and seamlessly managed by a CVT. View the Mirage's full specifications here.
2023 Mitsubishi Mirage Driving
It's true that this engine is modest, so it would be ridiculous to anticipate head-splitting acceleration. But it isn't slow either, even when connected to the conventional CVT. Even with a full load of four passengers and some baggage in the boot, the 2023 Mitsubishi Mirage's powertrain combination produces a seamless rush of push while passing vehicles on the highway or hustling the car up mountainous inclines.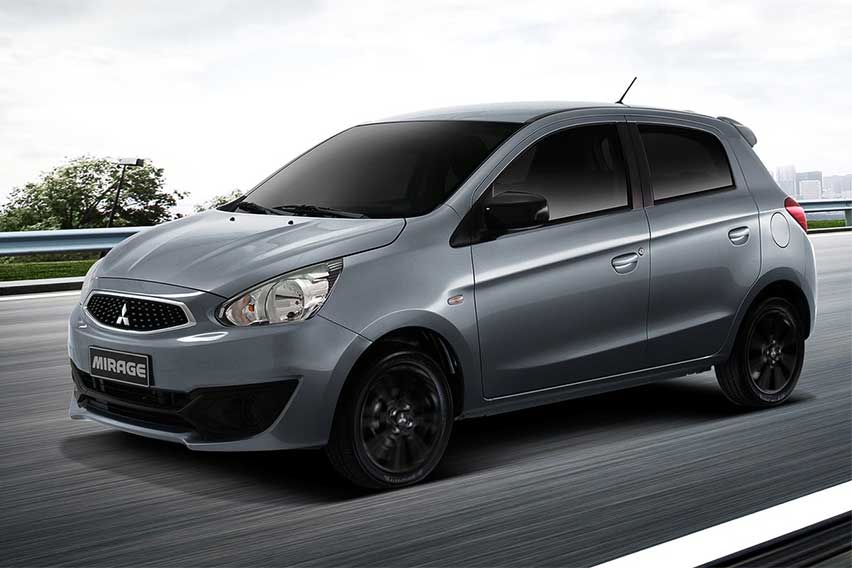 Moreover, the suspension has an improved feel. The new Mirage Hatchback feels taut and gives the driver greater confidence than the previous model, which would bounce and dive on uneven terrain. The 2023 Mirage handles well, too, and when you lock the steering into a turn, the steering gets tighter. You'd enjoy driving the Mirage because it's easy to throw the car around even at moderate speeds. Despite the absence of ABS, the brakes provide a positive feel as well.
2023 Mitsubishi Mirage Safety
The Reinforced Impact Safety Evolution (RISE) body — which has crumple zones that efficiently absorb and distribute impact energy away from the vehicle's occupants – is fitted to the 2023 Mitsubishi Mirage. Also in the event of a frontal accident, dual SRS airbags offer the driver and front passengers additional protection, despite the absence of ABS. To highlight the amount of protection it offers, the car model once won the ASEAN NCAP (New Car Assessment Program) Grand Prix Award for Adult Occupancy Protection.
2023 Mitsubishi Mirage Verdict
Being virtually unchanged since its introduction 10 years ago, the Mirage is considered ancient in its class. Although that could dissuade potential buyers who intend to acquire the freshest model, we find that age somehow works in the car's favor. For one thing, its decade-old running gear has proven to be relatively reliable and frugal ever since.
Given the Mirage's aforementioned qualities — and how it impeccably fulfills the role as a practical hatchback — it remains a satisfying choice. These traits fall short, though, in giving the car an unbeatable edge over its alternatives in the segment that are more affordable to buy. Some attractive equipment — such as reversing camera or keyless entry — would give the 2023 Mirage that advantage and make it more worthy of its premium.
Photos from Mitsubishi Motors Philippines Corp.
Sell your car at the best price
Verified and genuine buyers
Free listing
List your car
Explore Mitsubishi Mirage
Mitsubishi Car Models
Mitsubishi Mirage

Mitsubishi Mirage G4

Mitsubishi Xpander

Mitsubishi L300

Mitsubishi Strada

Mitsubishi Montero Sport

Mitsubishi Xpander Cross

Mitsubishi Triton

Mitsubishi Outlander PHEV
Mitsubishi Cars Price
Mitsubishi Mirage Promos, DP & Monthly Installment
1.2 MT

DP ₱1

MA ₱14,182 x 60 Months

₱711,000 SRP
View Offers

1.2 CVT

DP ₱1

MA ₱15,420 x 60 Months

₱772,000 SRP
View Offers


Mitsubishi Mirage Car Articles From Carmudi
The Mitsubishi Mirage vs. other hatchbacks

Dynamic duo: The two variants of the Mitsubishi Mirage

The pros and cons of the Mitsubishi Mirage

Dylan Afuang,

Jun 01, 2021

The Mitsubishi Mirage is the constant companion of these constant companions

Dylan Afuang,

Apr 19, 2021

Mitsubishi Motors Rolls Back SRP of Mirage G4 and L300

Ruben Manahan IV,

Sep 15, 2020
Old but still golden: 2023 Mitsubishi Mirage hatchback
Choose a city to get promos and prices in your area