6 Reasons Why You Should Consider Mirage Over City?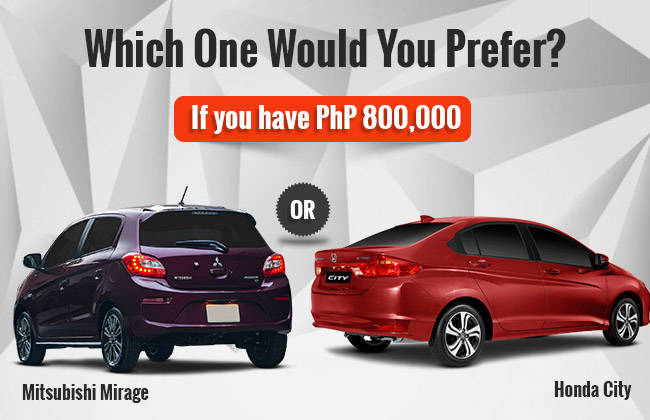 MANILA: The title may sound a bit confusing or rather crazy to some, but believe us there are a few points that'll make you pick the former (the small hatch) over the later (the bigger sedan).
Now, it's true that making such a comparison is very odd, as both the cars are the resident of two completely distinct segments and serve completely different purposes. But, still if you wish to spend approx PhP 800,000, then these two must feature in your check-list. With this much money in your pocket, you can either go for the top-level Mirage or for the base model of Honda City. But which one is the better pick between the two, is the question?
The answer to this question lies more on your priority rahter on anything else. So, if all you want is a decent performing car to commute mainly in the town, with few chances of you making a long trip in it then out of the two, there is no better choice than Mirage. Why? Continue reading, and know it for yourself how the cute little Mirage is a pro over the luxury ridden sedan, Honda City, given the fact that it ranks low on boot and leg space.
1. Money Saver -
Let's start with the most important factor of all, money. The all-new Mitsubishi Mirage GLS is offered for PhP 713,000, while Honda City base variant comes with a price tag of PhP 759,000. Agreed, that the difference is not that big, but when making such a big investment every single penny counts. Plus, with the money you save, you can buy genuine accessories for the car. Meaning that you can buy a top-variant model and top it with additional comforting or luxury features of your choice, it's like adding cherry on the cake.
2. Fuel Economy -
Next important influencing factor after price when purchasing a car is the fuel economy it is capable of offering. When talking about Mitsubishi Mirage, mileage is one of its major advantages and it's an obvious fact that City with its bigger mill will demand more fuel per kilometre. So, if you are ready to forgo a bit on the power and torque front than any day Mirage will stand taller than City.
3. Maneuverability -
How easy is the car on the road? Is the next important point to consider. Maneuverability is a broad spectrum that covers aspects like traffic friendliness, city drive, and parking ease. Now, Mirage being a hatch showcases smaller dimension as compared to City that blesses it with a short turning radius that is good for city drive. Plus, its shorter dimensions makes it simpler to park and maneuver through stiff traffic. With the longer City, you miss out on the above-mentioned advantages, eventually finding yourself stuck in the traffic, further locating an apt parking space a hell of a task.
4. Easy on Maintenance
Buying a hatch has its own advantages (as you can read above) and one of it is its low maintenance cost, especially when compared to Honda City. Why so? Well, for the obvious reasons, first being a Mitsubishi and too a hatch. So any day, when you'll compare their service or parts repair/change invoice, Honda City will surpass Mirage and that too with a good margin.
5. CVT Over Manual Gearbox
Mitsubishi Mirage is tuned with a 1.2L 3A92 3-cylinder MIVEC mill that generates a maximum output of 78 PS @ 6000 rpm along with maximum torque of 100 Nm @ 4000 rpm. The said engine transmit power to the front wheels via continuously variable transmission in the GLS variant. And it's a known fact that CVT is good for city driving as you need not use clutch frequently, thus keeping your foot at rest. Talking, of Honda City 1.5 E MT trim, as can be seen, is tuned with a manual gearbox that is not as traffic friendly as CVT.
6. Equipment on Offer
When picking the top variant, it is a known fact it will come with best-in-class features as compared to the base variant. Same is the case with Mirage and City, were Mirage GLS comes fitted with a 6.5-inch touchscreen infotainment system supporting features like AM/FM, USB, AUX, Bluetooth, CD/DVD and navigation system. In addition to this, Mirage also houses features like automatic air-con system, steering mounted controls, coming-home lights (staying on for 60 seconds after shutting off the engine) and welcome lights.
As for Honda City E trim, you get standard equipment like manual type air-con system, 2-DIN audio system with CD, AUX-in and Bluetooth, and no control-mounted steering wheels. So, in all you miss many amenities with Honda City base variant that you could have otherwise got with Mirage GLS.
You might also be interested in
Latest Cars Videos on Zigwheels