Chevrolet Colorado 2016 vs Nissan Navara NP300 2016 – Pick-Up War Just Got Real!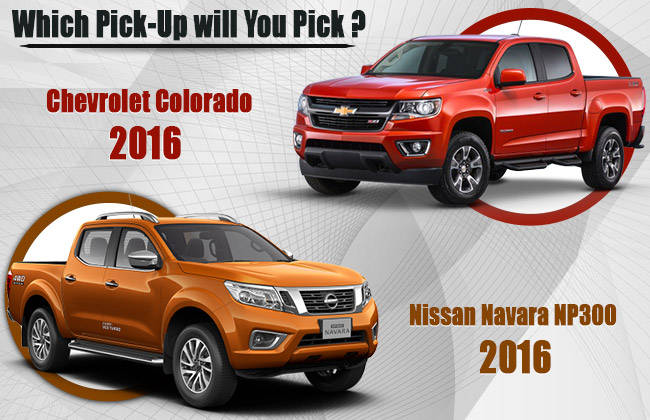 MANILA: Philippines automotive market has seen a boom for SUVs and crossovers in past some time and motivated automakers to create more big vehicles to accomplish with the growing needs. While SUV segment is growing, it has given an opportunity to the pick-up segment also where the automakers have tried to merge the utility of commercial vehicles along with style and aspects that of SUVs to serve both the purposes. So, brands are creating bigger and better vehicles now in the pick-up segment keeping the current customer needs in mind. 2 of such vehicles are Chevrolet Colorado 2016 and 2016 Nissan Navara NP300 which are in competition with each other and don't leave any stone unturned to snatch each other's market share. Both these drives have an upper hand over each other in different segments, which makes it a difficult choice for the prospective customer.
Dimensions & Structural Differences
Both pick-ups, Chevy Colorado 2016 and 2016 Nissan Navara NP300, show strong stance on the road with their well-sculpted robust body which is reflected with their overall dimensions. One interesting fact is that Colorado counts more in length but Navara offers more wheelbase. If styling part is considered, the bowtie pick-up carries the signature dual-port grille with 2 large projector headlamps garnished with chrome alongside. The 3-inch high side beams along with pronounced wheel arches and a high shoulder line give a bolder look to this drive altogether. While the Nissan pick-up has a wide front radiator grille with loads of chrome and stylish headlamps to create an impressive face. The crisp creases, side steps, and chrome roof rails add more towards the sportiness of the drive and convenience of the occupants. Colorado has wheels measuring 16 and 17-inch alloy wheels while Navara has 15 to 17-inch alloy wheels with complementing tires to support stability while driving it on varied terrains. Overall, both the drives have a true off-roading stance and rugged structure but in dimensions, Navara is more comfortable owing better wheelbase than the Colorado.
Cabin & Convenience
Just like the exterior, both Chevy and Nissan drives have sporty and elegant aspects in its cabin. This area is well-packed with various amenities to comfort the occupants in the best possible way. Both the drives have cabins to occupy 5 passengers with great comfort. The new Chevy Colorado has a refined cabin which is graced with a sleek and sporty feel. The dual toned interior trim in black and beige along with metallic inserts add elegance to the entire cabin without hampering its sportiness. The intelligently designed dash has Driver Information System (DIS) between the tachometer and speedometer with ice-blue LED illumination. Also, there are features like actual fuel consumed meter, engine hour meter, transmission temperature gauge and programmable speed alarm. For the entertainment of the passengers, Colorado is bestowed with Voice Control, AUX, USB, and Chevy signature MyLink 7-inch touch display. Well, we must say that Nissan Navara NP300 is not any less in this segment. The absolutely stunning and intuitive cabin of this pick-up is designed keeping the convenience and comfort of all 5 occupants in mind. The sophisticated and spacious cabin has premium accents and Zero-Gravity seats at the front for best seating comfort. The cabin is loaded with aspects like push engine start system, cruise control, manual air-conditioning and an infotainment facility consisting MP3, USB, AUX, Bluetooth and 5-inch touch display. Both the drives have plenty of cabin storages to stack handy stuff onboard.
Mechanics Under the Hood
While the Chevy Colorado 2016 comes with a choice of 2 engines across its variants, Nissan has blessed its Navara NP300 2016 only with one engine. Colorado has a choice of 2.5-litre and 2.8-litre engines while Navara has the only 2.5-litre engine. All the engines are pretty decent in terms of power and performance but Colorado engines look like better performers than the Navara's sole engine. Chevrolet Colorado has an 8-point cross member ladder chassis configuration which matches well with its high ground clearance while Navara has boxed ladder frame chassis for extra reinforcement and torsional stiffness to deliver rock-solid performance on and off the road.
On the Safety Front
Talking about the safety aspects, both the drives have almost similar traits in this segment making themselves the most eligible drives in the pick-up segment. The high tensile material build-up of both the drives make them very safe while absorbing the impact energy of a hit or collision. Chevy Colorado 2016 has dual-front airbags along with vehicle immobilizer, seat belt warning alarm, reverse camera & sensors, tire pressure monitoring system and theft-deterrent alarm system. In comparison to this, the Nissan Navara 2016 is equipped with 7 airbags, Limited Slip Differential, Anti-Lock Braking System, Vehicle Stability Control, Anti-theft system and keyless system and remote for best safety and security of the vehicle and its passengers.
Overall, both the pick-ups are good and overtake each other in different segments. But when it comes to finalizing one, price factor is also considered along with the aspects, style and comfort. So, coming to the price of both the drives, the Nissan Navara NP300 2016 is available at a starting price of PhP 916,000 and the Chevy Colorado 2016 comes at PhP 1,148,888 for the base model. Seems like a big price difference to us, what's your take!
You might also be interested in
Latest Cars Videos on Zigwheels