Living large with the Ford Expedition EL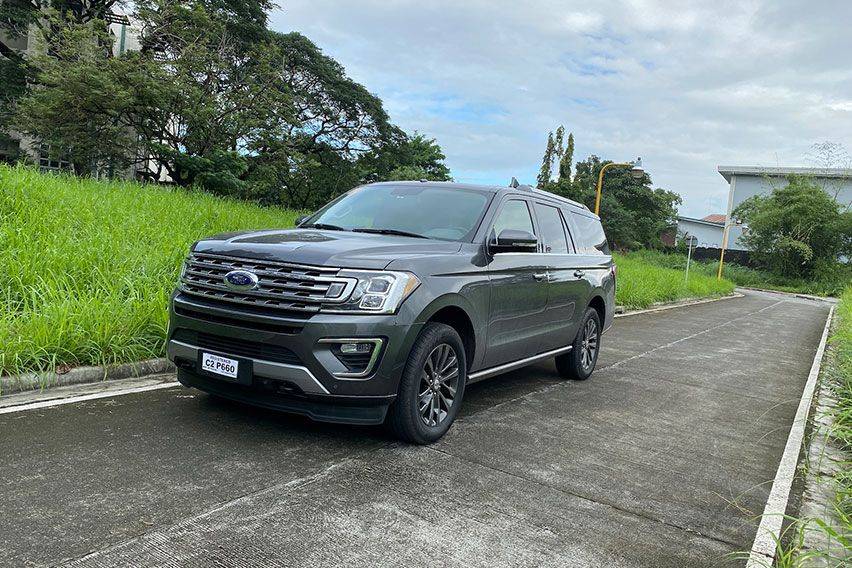 When it comes to sheer size, numerous niceties, and tantalizing tech, very few models out there come close to what the Ford Expedition EL (Extended Length) offers.
Just one look at it and you can tell this isn't just any regular full-size SUV. First of all, it tacks on an extra 12 inches onto the wheelbase, which ups the length of the vehicle by 14.8 inches for a total of 131.6 inches or 3,343mm. That's almost one-third the length of a regular city bus.
Which is surprising how some unwitting commuter actually mistook it for his TNVS ride. Walked right up to it and tried to open the locked doors as he was checking his vehicle's location on his mobile. After realizing his mistake, he sheepishly walked away and soon found the MPV he was supposed to ride. But I digress, that story is neither here nor there.
The Magnetic Metallic color may be the most understated of all its hues looking like a mix of green and brown, and coming out a little bit camouflage-y, which could be good if you're going for a trail ride, but not if you want to catch everyone's eye at the valet stand. White Platinum or Blue Metallic should herald your arrival much more loudly.
Its nose is nothing fancy. Typical of a truck, large with a few ridges on the massive hood but I do like the minimalist yet elaborate rectangular grille with eyelets lined up along each of the four rows and the simple Blue Oval right at the center.
I was expecting a more impressive set of headlamps (design and make) but these come with plain halogen bulbs but with an automatic setting so you don't have to keep switching on and off, especially when you heading into and coming off a tunnel.
It has halogen fog lamps with chrome accents on the housing and a noticeably large front chin that Ford says will not affect the vehicle's 23.7-degree approach angle. So, go off-roading but just not too hardcore.
The length is what really sets this apart from majority of full-size SUVs. When viewed from the side, that's what sticks out the most. That and the unusually straight character line and the roof rails.
It's a shame the angled C-pillars weren't blacked-out because it would have made one heck of a "floating roof effect" with the tinted rear windows.
Taillamp design is also very simple, which is surprising considering the amount of space Ford could have used to make a light show here but at least it comes with LED (light-emitting diode) tech.
There's a plain chrome bar with Expedition in big, bold letter, the blue oval on top, a rear undercover garnish, and a rear roof spoiler.
Sure, overall the body is a is a little boxy, but it's not without purpose.
Just reach for the door handle and the key in your pocket (or bag) automatically opens the locks and the running boards mechanically deploy from under the body. Cute feature that doesn't really get old.
The cabin inside is enormous by automobile standards even if you're stepping into the cockpit but if you're expecting an ambiance of pillows and cotton candy here, you're in for a surprise.
While Ford has done a spectacular job of softening up the dashboard with leather, chrome accents, and a gorgeous equipment like the eight-inch LCD (liquid crystal display) capacitive touchscreen, there's a certain masculine vibe that still comes off it.
Its orientation is vertical, very utilitarian, comes with angular vents that seem extra-large to match its body, and while they're all properly labeled, just a lot of switches and buttons, a lot. It even has one to power-adjust the steering wheel and the throttle height, to power-fold the third-row seats, and open the power tailgate.
All covers – on the glove box, center console, and various compartments – have dampeners so they don't just pop open, but instead gently reveal its contents.
The wide center console houses the rotary gear selector, which takes a little getting used to, and while I was expecting the electronic parking brake to be there as well, I found it tucked at the bottom, left side of the cockpit.
Steering wheel was leather-lined as well and came with various controls on it – one side for audio and the other for the colored multi-information display in the infotainment cluster – but what I found atypical was the lack of a right stalk behind it. Yes, there's only a left stalk to handle the turn signals and the front and rear wipers including all their features like intermittent operation and its washers. Ingenious design but odd.
Also with a new design are the inside door handles which are now vertical and looks like a door pocket hidden behind the grip on the panel but it's actually more intuitive to use and I actually liked it better.
Front seats have the luxurious kind of leather, the type you find on expensive bags and are perforated to accommodate ventilation, which will come in handy during the hot summer months. These are wide too and while they're not heavily bolstered, it feels snug and soft to the body.
The bucket seats are in the second row. If you're looking for racing seats, which also technically uses the term "bucket," you won't find any. What you'll find instead are two captain's seats with armrests. Aside from referring to racing seats, "bucket seats" also mean seats that can fit only one person instead of the bench-type that can accommodate two or three. Ford prefers to use that term to describe their second-row seats.
This configuration seems more plush and also allows for easier access of the third row.
On my bucket list is to experience a long drive sitting in one of those buckets seats because comfort like that could be the highlight of a weekend road trip.
But the two best features of the cabin for me are the power panoramic vista roof that also comes with a power sunshade so all it takes is a push of a button to open either to allow more light or fresh air to filter into the cabin, and the Bang & Olufsen Premium Audio System by Harman with its 12-speaker system. I probably wouldn't mind just sitting in it for half a day listening to my starred songs on Spotify.
It doesn't come with Apple CarPlay or Android Auto (which is a bummer) but it does have their latest Sync3 system, which is Ford's proprietary system for making hands-free telephone calls, streaming music, and for other various functions with the use of voice commands, and has features that are compatible with those mobile device systems.
But passengers will sure love that it comes with several power outlets, six USB ports, plus a wireless charging pad.
Now to the good stuff.
On the third-gen model, an EcoBoost engine (small displacement, turbocharged) was an option, but these fourth-gen unit comes with it as standard.
I had the option to get the engine going from the push-start button on the dashboard or via the remote start system on the key fob, which will come in handy if you want to cool the cabin before you even get in.
This EcoBoost V6 has a twin turbocharged direct injection system, a 3.5-liter displacement, and sends 375hp and 637Nm of torque to a 10-speed automatic transmission with SelectShift to drive either just the rear wheels or the full four-wheel-drive layout.
While it may not be the Triton V8 of the '90s, I still heard it roar from under the hood when given a bit of throttle pressure. Understandable, because even if it has shed close to 200 kilos by using plenty of aluminum on the body, it still has to lug around close to 2.5 tons.
Acceleration is gentle, that's probably the best way to put it. It isn't quick or abrupt like the Ranger Raptor, but more mellow and stately, which suits its stature.
The torque is very palpable but it isn't aggressive and doesn't pull like a pit bull. It felt good inside, regal in a way, but I would like to see how that changes once the Terrain Management System starts to do its thing.
On two- and four-wheel drive, the various modes available using the smaller rotary dial – just behind the gear selector – are Normal, Sport, Tow Haul, and Eco. On pure four-wheel drive mode, there is Grass/Gravel/Snow and Sand modes.
It doesn't feel as large when you actually start moving. Electric power-assisted steering is light, which makes it a pleasure to handle. The only time things start to feel tight is when then vehicles around you start sidling up and motorcycles squeeze into whatever available space there is in a traffic jam.
In traffic, even with an EcoBoost V6, it only picked up close to 4 km/l but if you let it stretch it proverbial legs and hit the highway, that immediately goes up to some 11 km/l.
Contrary to notions that it's hard to drive around, I didn't even need wide streets all the time to enjoy the Expedition. I minded my own space, maintained good driving etiquette, and just watched out for corners because it's length will always require a wide berth.
What you do need to be concerned about is parking slots. No, the width is not an issue. It's the length. It will fit in nicely into average parking slots with room to spare on either side, granted that both vehicles on either side of it are parked properly. The nose, or tail, will jut out though and aside from the fact that it doesn't look good, I've noticed many drivers speeding out of parking lots like a bat out of hell. That puts the bumper and/or fender of this nice SUV in danger from these idiots all the time.
If you're parking it at the mall, choose the corner slots if possible so you don't risk it being hit if it were parked in the middle slot of a long lane, or find a parallel parking space. That may be a little hard to execute though as it doesn't come with renowned Active Park Assist. There are reverse cameras and sensors though so you can fit the vehicle into a slot as snug as possible.
Needless to say, comfort is second to none even if still sports a body-on-frame (truck) platform. It is so wide that stability isn't an issue, even a high speeds. There is nary a peep, squeak, or rattle from the body, its fittings, and even from the chassis and tires that could be created by pothole-ridden road sections. That isn't surprising to me because the Expedition was built to replace the Bronco (which is actually back again), so it's designed to take on more than just rough roads.
It's probably that width as well, along with driver tech like AdvanceTrac with Roll Stability Control, that made it move amazingly well on corners and even around long bends. It surprisingly didn't tilt to favor one side even when I gave it a fair amount of speed. By the way, it picked up a solid 4 out of five stars for rollover resistance from the National Highway Traffic Safety Administration of the US of A.
Also standard is a Forward Sensing System, Blind Spot Information System, Hill Descent Control, Hill Start Assist, and Traction Control.
You can the Expedition locally in the EL body only but with two seating configurations, one with bench-type second-row seats and the other with bucket seats. The latter is priced at P4.612 million, which is P133,000 more expensive the former.
If you're an executive who travels around a lot, you'll appreciate all the wiggle room from the bucket seats in the second row. But if it's for large family outings and weekends trips to the farm with the fambam, the bench-type on the second row would be perfect.
Either way, you're looking at a plus-size SUV with mean truck features, but is equipped with all the trimmings of luxury sedan and the real estate to rival a small living room.
That's living large in the Ford Expedition EL with bucket seats.
Photos by Eric Tipan
Ford Expedition Promos, DP & Monthly Installment
You might also be interested in
Latest Ford Expedition Cars Videos on Zigwheels