Battle of SUVs: Ford Expedition vs Toyota Land Cruiser 200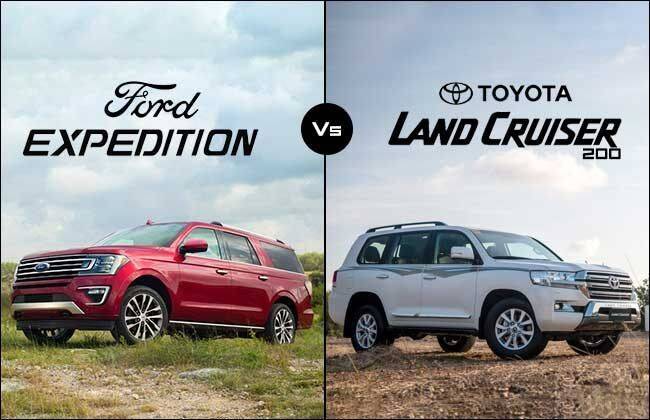 Sports utility vehicles or SUVs have been around ever since the 1930's when the Chevrolet Suburban was first released to the public. However, the concept and the term "SUV" only came into popular use in the late 1980's. They were first marketed as "station wagons". Contrary to belief, the "sports" in SUV sometimes doesn't exactly mean that it is sporty in terms of speed or offers agile handling but because they can be taken off-terrain and be used in adventurous activities out of the city or even hauling.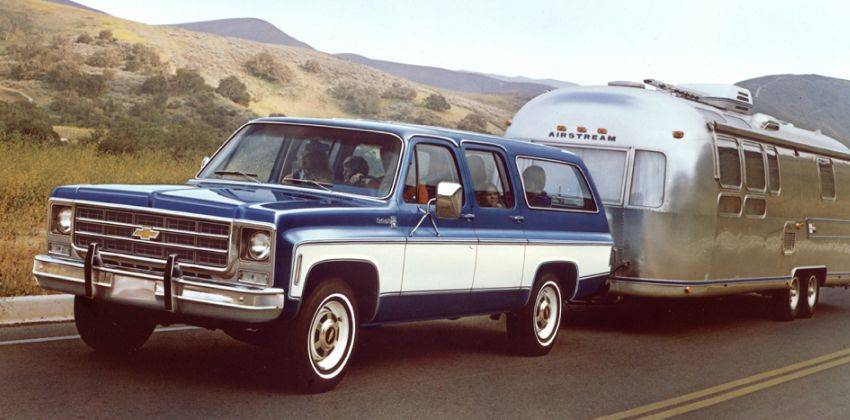 This type of vehicle has gained popularity for its versatility and capability to be useful in a wide range of driving situations. It is a definite mix of a classic city car with the off-road prowess and convenience of a sedan - but with higher ride height, larger cabin room, more available seating, and extra cargo space.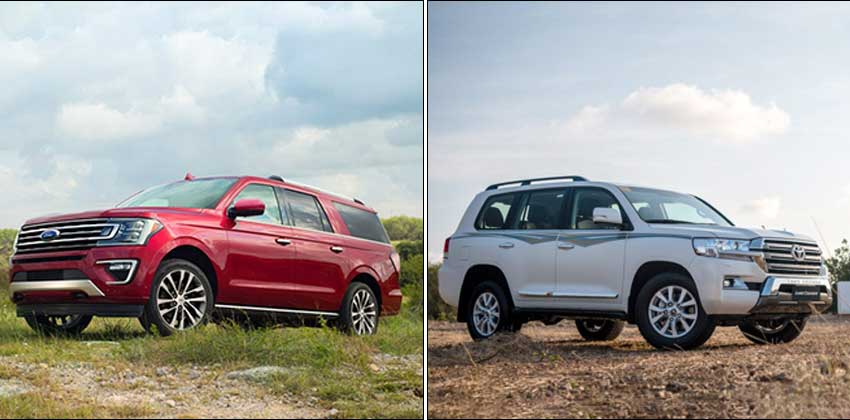 Toyota through its 1954 Land Cruiser is one of those automakers who pioneered the SUVs. On the other hand, its current biggest competitor Ford had its Bronco in 1965 which is the company's pioneer SUV. However, in 1997, it was succeeded by the now-famous Expedition models. The two automakers have always been in a bout as to which offers better SUV cars, given this, let's take a look at the best trims from their 2019 models.
In this article, we will take a good look at the 2019 Ford Expedition Limited Max AT with Bucket Seats as compared with the 2019 Toyota Land Cruiser 200 Premium 4.5 DSL AT.
Ford Expedition vs Toyota Land Cruiser 200: Dimensions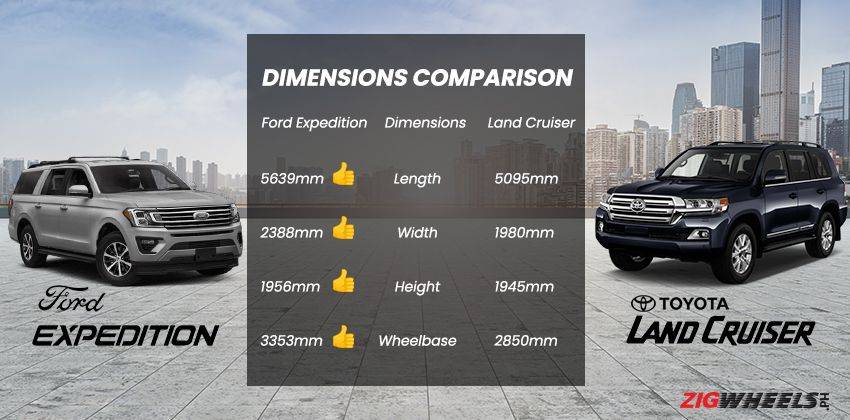 There is no doubt that the Ford Expedition is bigger than the Land Cruiser in terms of length and width. Meanwhile, it is just a little bit taller than the former but has a longer wheelbase which can provide a smoother ride at higher speeds, especially when hitting bumps. A longer wheelbase is most probably ideal for off-road drives and out of the city adventures. This can also provide better stability to the whole car.
Ford Expedition vs Toyota Land Cruiser 200:  Engine and chassis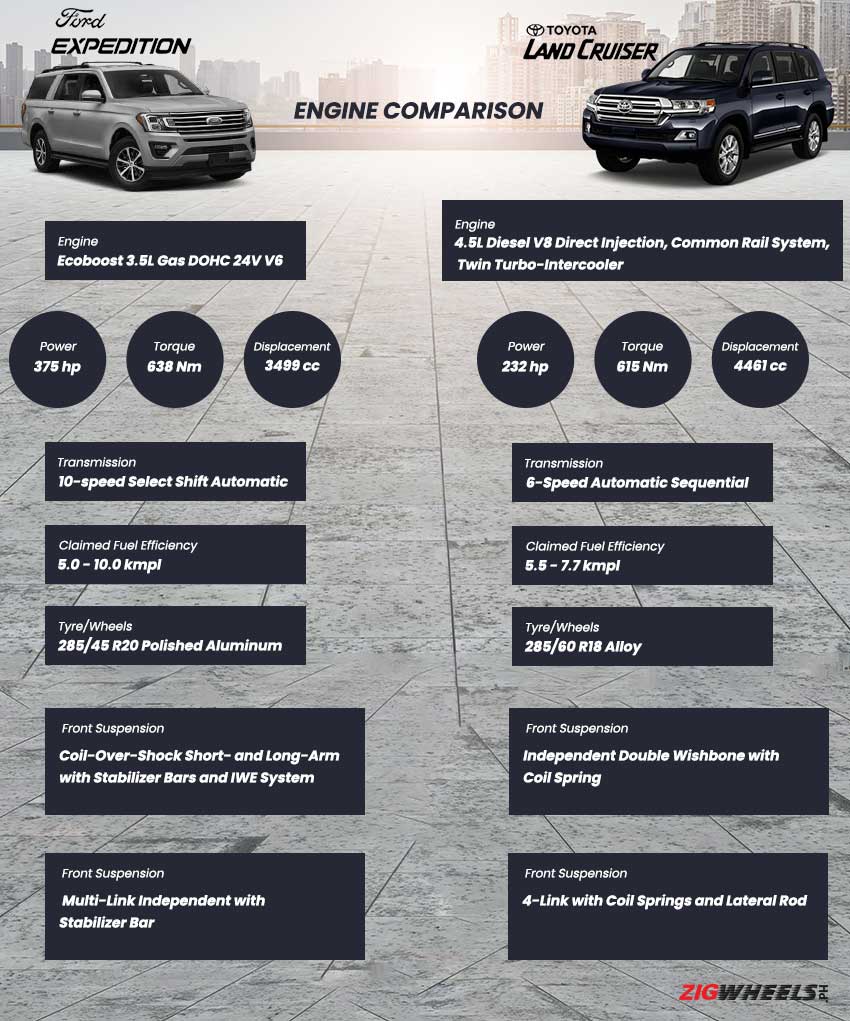 The Ford Expedition uses a 3.5L Gas DOHC 24V V6 engine and fires up to 375 hp at 5000 rpm and produces 638 Nm at 3500 rpm. It shifts gear through a 10-speed SelectShift Automatic transmission which is a standard for some Ford Cars just like the 2019 Ford Mustang. Meanwhile, its competitor Toyota Land Cruiser 200 employs a 4.5L Diesel V8 Direct Injection with Common Rail System and Twin Turbo-Intercooler engine that can fire up to 232 hp at 3,200 rpm and 615 Nm at 2200 rpm torque. It uses the 6-speed Automatic Sequential transmission.


Apparently, the Expedition can produce more power and torque than the Land Cruiser. The Expedition is already much fuel efficient than its competitor given the displacement and the claimed fuel efficiency figures as well as the engine each car uses


You can also see that the SUV from the Blue Oval Brand has bigger wheels than the SUV flagship of Toyota


Both cars have the All-Wheel Drive or AWD drivetrain set-up


Ford Expedition and Toyota Land Cruiser 200 both can fit up to eight passengers


Both Ford Expedition and Land Cruiser 200 are locally available in two variants only


Ford Expedition vs Toyota Land Cruiser 200:  Prices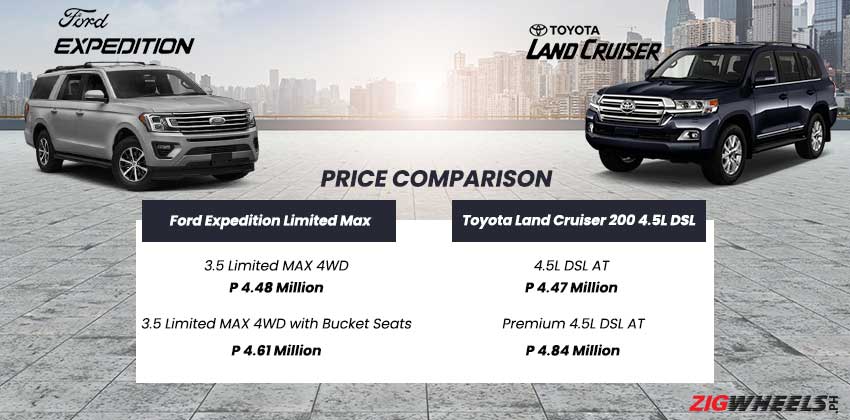 When it comes to prices, the two basic models of each brand are almost at the same level. But, if we will compare their best trims, the Expedition is much cheaper than the Premium 4.5L DSL AT of Land Cruiser 200.
Ford Expedition vs. Toyota Land Cruiser 200:  Standard features on offer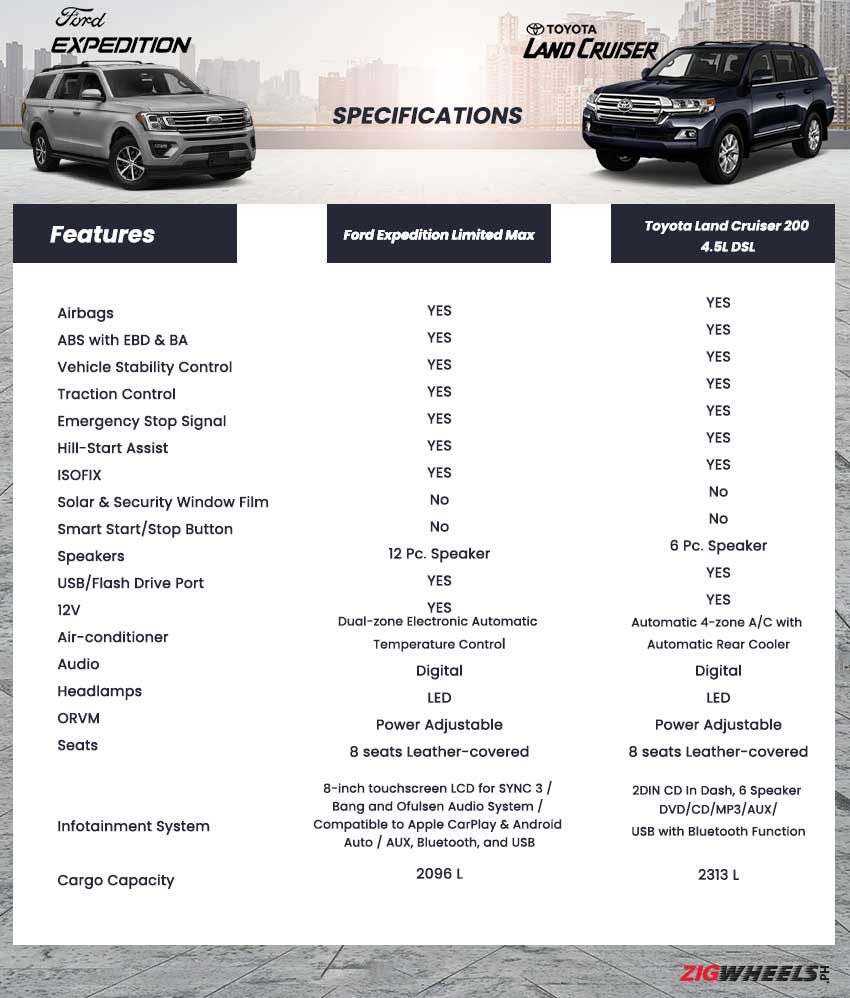 As you can see, with regards to the standard safety features, both the Ford Expedition and Land Cruiser 200 is almost at par. The main difference between the two is the infotainment system.
What Ford Expedition offers over Toyota Land Cruiser 200?
The size, fuel efficiency, and the power output are not the only things that are unique to Ford Expedition against Land Cruiser. This SUV from the blue oval brand is also equipped with -


AdvanceTrac with Roll Stability Control™ (RSC®)


Forward Sensing System, BLIS (Blind Spot Information System) with trailer coverage and cross-traffic alert


Rearview camera with backup assist grid lines and washer


Outside Rear View Mirror Turn Indicator


Front Parking Sensors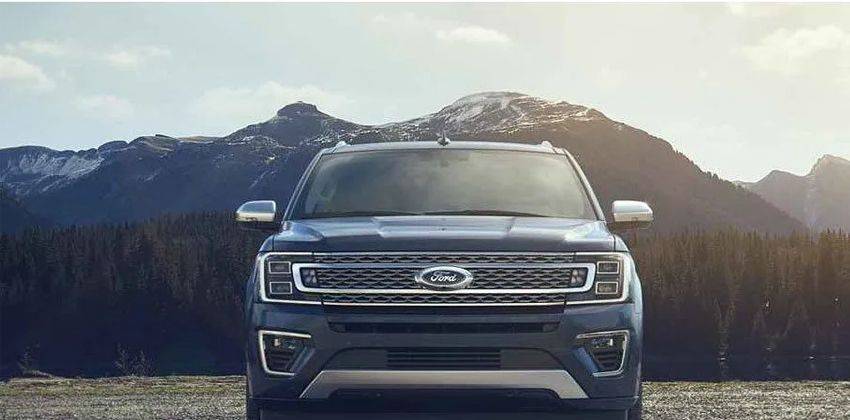 Individual Tire Pressure Monitoring System


LATCH (Lower Anchors and Tether Anchors for Children)


MyKey® technology to help parents encourage responsible driving


Safety Canopy System with side-curtain airbags and rollover sensor


SecuriCode invisible keypad


SecuriLock Passive Anti-Theft System


SOS Post-Crash Alert System


The whole infotainment system of the Expedition is definitely a huge advantage already as it features their own SYNC 3 technology that enables you to connect your iPhone or Android Phone. Since this trim has a Bucket Seat, it can also add to the overall rugged, sporty, and adventurous aura of the car.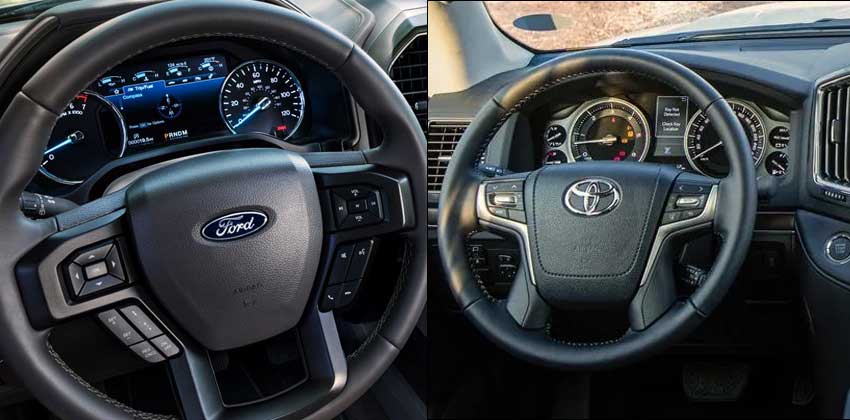 What Toyota Land Cruiser 200 offers over Ford Expedition?
Definitely, the Toyota Land Cruiser 200 has bigger cargo capacity. This means that you can fit more stuff in this SUV and transport bigger things in one go. The Land Cruiser specs sheet also has an additional airbag in the knee area so it has an additional safety net when things go wrong.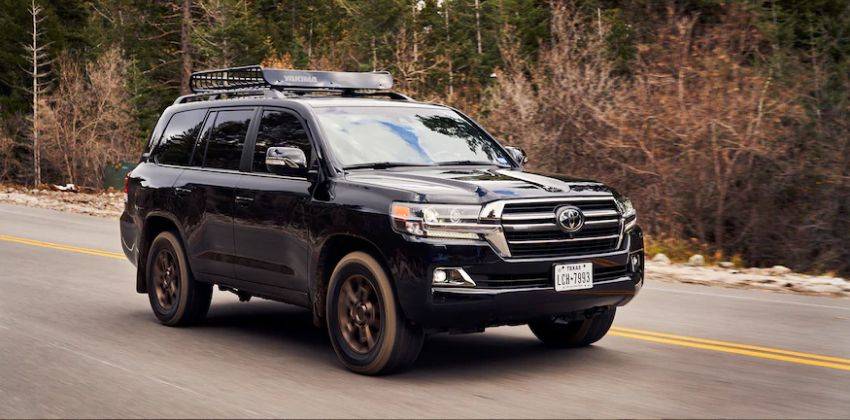 The Outer Rear View Mirrors have Power Refract, Heater, and Memory are the key highlights of its exteriors. It also has Wireless Power Door Lock and Smart Entry. The combination meters present in the car are powered by Optitron with Multi-Information Display. The Land Cruiser also has a Power MoonRoof with jam protection. The front bumpers of this car is also unique as it has Color Keyed with Bumper and Grill Guard while the rear bumpers are also color keyed with pintle hook.
Ford Expedition vs Toyota Land Cruiser 200: Verdict
There is no doubt that the Ford Expedition Limited Max AT is much bigger than the Toyota Land Cruiser 200 Premium 4.5L DSL AT. The Ford Expedition can also fire up higher power output and is definitely torquier than the Land Cruiser which has been in the market for several decades already.
Although the Cruiser has more cargo capacity, it doesn't guarantee that you can have a more convenient road trip. Ford Expedition specs tell it has longer wheelbase so it's probably more stable at higher speeds and less jumpy on bumps. The whole infotainment system of the Expedition is also something to consider as it is more advanced, responsive, and personal. Apart from the added automated and additional safety features, the rear-view cameras are also a plus for the Blue Oval brand.
We can clearly see in this article how Ford Expedition outraged the older Toyota Land Cruiser 200, most especially in five important factors — size, cost, engine performance, added features, and fuel efficiency. Those are five big checks for the Expedition indeed!
Final thoughts? The Toyota Land Cruiser albeit has its own unique features, still has a lot of things to improve on and fuel efficiency is one thing that should be prioritized. So, if you are up for an SUV that can definitely support your wanderlust activities but is equipped with utmost driving performance, convenience, and safety, then the 2019 Ford Expedition Limited Max with Bucket Seats is definitely the "one" for you!
Also Read: Ford brings its largest SUV Expedition EL to the Philippines market
You might also be interested in
Latest Ford Expedition Cars Videos on Zigwheels