Variant check: How the Toyota Vios trims stack up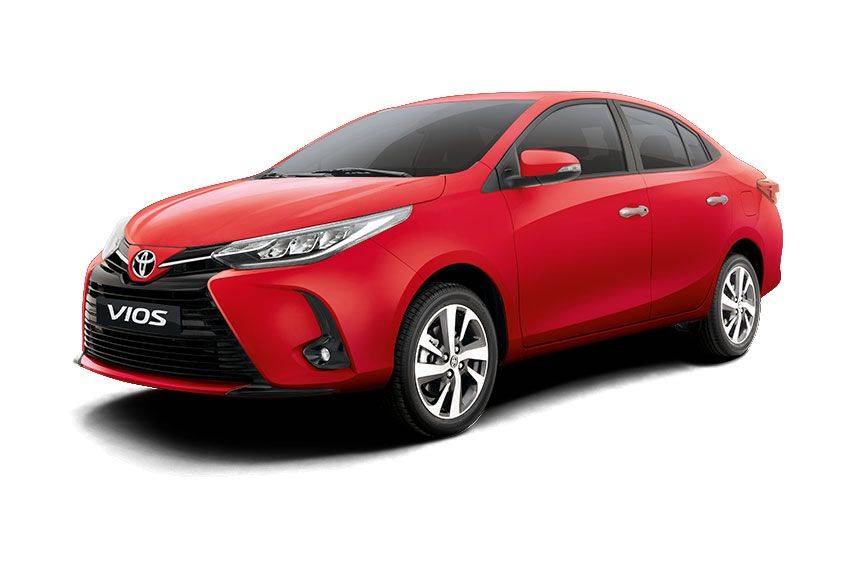 Finding a vehicle that has the ideal balance of affordability and appeal is quite challenging. But the country's best-selling sedan, the Toyota Vios has proven otherwise since it has remained a top choice of new car buyers.
The current Toyota Vios takes pride in an upgraded look featuring an elegant exterior design. A world-class driving experience can also be expected thanks to its fuel-efficient but ample engine, mated to either a manual gearbox or a continuously variable transmission (CVT), depending on the variant.
Comfort and convenience can also be experienced as well, and safety takes a front seat in the new Vios for guaranteed peace of mind while on the road.
If you plan to book a test drive on the new Toyota Vios soon, here are its variants and specifications to help you choose which among these suits your needs and preferences.
SPECIFICATIONS

Vehicle Type

Sedan

Sedan

Sedan

Sedan

Sedan

Sedan

Sedan

Sedan

Sedan

Length

4,425mm

4,425mm

4,425mm

4,425mm

4,425mm

4,425mm

4,425mm

4,425mm

4,425mm

Width

1,730mm

1,730mm

1,730mm

1,730mm

1,730mm

1,730mm

1,730mm

1,730mm

1,730mm

Height

1,475mm

1,475mm

1,475mm

1,475mm

1,475mm

1,475mm

1,475mm

1,475mm

1,475mm

Engine type

Dual VVT-i, 4-Cylinder In-Line DOHC 16V EFI

Dual VVT-i, 4-Cylinder In-Line DOHC 16V EFI

Dual VVT-i, 4-Cylinder In-Line DOHC 16V EFI

Dual VVT-i, 4-Cylinder In-Line DOHC 16V EFI

Dual VVT-i, 4-Cylinder In-Line DOHC 16V EFI

Dual VVT-i, 4-Cylinder In-Line DOHC 16V EFI

Dual VVT-i, 4-Cylinder In-Line DOHC 16V EFI

Dual VVT-i, 4-Cylinder In-Line DOHC 16V EFI

Dual VVT-i, 4-Cylinder In-Line DOHC 16V EFI

Power output

106hp

106hp

98hp

98hp

98hp

98hp

98hp

98 hp

98 hp

Torque

140Nm

140Nm

123Nm

123Nm

123Nm

123Nm

123Nm

123 Nm

123 Nm

Wheelbase

2,550 mm

2,550 mm

2,550 mm

2,550 mm

2,550 mm

2,550mm

2,550mm

2,550 mm

2,550 mm

Transmission

CVT

5-speed manual transmission

CVT

5-speed manual transmission

CVT

5-speed manual transmission

CVT

5-speed manual transmission

5-speed manual transmission

Wheels

16-inch alloy

16-inch alloy

15-inch alloy

15-inch alloy

15-inch alloy

15-inch alloy

14-inch steel with full cap

14-inch steel with full cap

14-inch steel

Seating capacity

5

5

5

5

5

5

5

5

5

Door outside handle (grip type)

Chrome-plated

Chrome-plated

Color-Keyed

Color-Keyed

Color-Keyed

Color-Keyed

Black

Black

Black

Antenna

Fin Type

Fin Type

Fin Type

Fin Type

Fin type

Fin type

Pole type

Pole type

Pole type

Steering wheel

3-Spoke Leather with Audio Switch

3-Spoke Leather with Audio Switch

3-Spoke Urethane with Audio Switch

3-Spoke Urethane with Audio Switch

3-Spoke Urethane with Audio Switch

3-Spoke Urethane with Audio Switch

3-Spoke Urethane

3-Spoke Urethane

3-Spoke Urethane

Headlamp

3-tier LED

3-tier LED

4-Beam Halogen

4-Beam Halogen

4-Beam Halogen

4-Beam Halogen

4-Beam Halogen

4-Beam Halogen

4-Beam Halogen

Rear combination lamps

LED with Line Guide

LED with Line Guide

Bulb Type

Bulb Type

Bulb Type

Bulb Type

Bulb Type

Bulb Type

Bulb Type

Daytime running lamps

 LED line guide

LED line guide

Without

Without

Without

Without

Without

Absent

Absent

Front fog lamps

 LED

LED

LED

LED

LED

LED

Without

Without

Without

Paddle Shifter

With

Without

Without

Without

Without

Without

Absent

Absent

Absent

Shift Lever and Knob

Leather

Leather

Urethane

Urethane

Urethane

Urethane

Urethane

Urethane

Urethane

Starting system

Push start

Push start

Rotary (mechanical)

Rotary (mechanical)

Rotary (mechanical)

Rotary (mechanical)

Rotary (mechanical)

Rotary (mechanical)

Rotary (mechanical)

Eco and Sport drive modes

Present (with CVT only)

Eco and Sport drive modes (with CVT only)

Without

Without

Without

Without

Absent

Absent

Absent

Power window

Front and Rear With Jam Protection (Driver Only)

Front and Rear With Jam Protection (Driver Only)

Front and Rear With Jam Protection (Driver Only)

Front and Rear With Jam Protection (Driver Only)

Front and Rear With Jam Protection (Driver Only)

Front and Rear With Jam Protection (Driver Only)

Front and Rear With Jam Protection (Driver Only)

Front and Rear With Jam Protection (Driver Only)

Front with Jam Protection (Driver Only)

Power door lock

Present (With Speed Sensing)

Present (With Speed Sensing)

Present (With Driver side)

Present (With Driver side)

Present (With Driver side)

Present (With Driver side)

Present (With Driver side)

Present (With Driver side)

Present (With Driver side)

Power Outer mirrors

Power-retractable

Power-retractable

With

With

With

With

With

With

With

Meter gauge

Optitron

Optitron

Optitron

Optitron

Optitron

Optitron

Analog

Analog

Analog

Back monitor

With

With

Without

Without

Without

Without

Without

Without

Absent

Light control system

Present (Follow Me Home)

Present (Follow Me Home)

Without

Without

Without

Without

Without

Without

Without

Touch screen display

Audio system

7-inch

Audio with CD/MP3, and Weblink for iOS/Android with Bluetooth, USB and AUX Connectivity

7-inch

Audio with CD/MP3, and Weblink for iOS/Android with Bluetooth, USB and AUX Connectivity

7-inch

Audio with CD/MP3, and Weblink for iOS/Android with Bluetooth, USB and AUX Connectivity

7-inch

Audio with CD/MP3, and Weblink for iOS/Android with Bluetooth, USB and AUX Connectivity

7-inch

Audio with CD/MP3, and Weblink for iOS/Android with Bluetooth, USB and AUX Connectivity

7-inch

Audio with CD/MP3, and Weblink for iOS/Android with Bluetooth, USB and AUX Connectivity

7-inch

Audio with CD/MP3, and Weblink for iOS/Android with Bluetooth, USB and AUX Connectivity

2DIN with CD/MP3 with Bluetooth, USB and AUX Connectivity

2DIN with CD/MP3 with Bluetooth, USB and AUX Connectivity

Speakers

5 speakers

5 speakers

4 speakers

4 speakers

4 speakers

4 speakers

2 speakers

2 speakers

2 speakers

Air-conditioning system

Auto 

Auto

Manual

Manual

Manual

Manual

Manual

Manual

Manual

Advanced safety features

Alarm and immobilizer, wireless doorlock with smart entry, high-mount stop lamp (bulb-type), child lock protection (with rear door), anti-lock brake system (With Electronic Brake Distribution and Brake Assist), hill-start assist control, seatbelts, vehicle stability control

Alarm and immobilizer, wireless doorlock with smart entry, high-mount stop lamp (bulb-type), child lock protection (with rear door), anti-lock brake system (With Electronic Brake Distribution and Brake Assist), hill-start assist control, seatbelts, vehicle stability control

Alarm, with wireless doorlock, high-mount stop lamp (bulb-type), child lock protection (with rear door), anti-lock brake system (With Electronic Brake Distribution and Brake Assist), hill-start assist control, seat belts, vehicle stability control

Alarm, with wireless doorlock, high-mount stop lamp (bulb-type), child lock protection (with rear door), anti-lock brake system (With Electronic Brake Distribution and Brake Assist), hill-start assist control, seatbelts, vehicle stability control

Alarm, with wireless doorlock, high-mount stop lamp (bulb-type), child lock protection (with rear door), anti-lock brake system (With Electronic Brake Distribution and Brake Assist), hill-start assist control, vehicle stability control

Alarm, with wireless doorlock, high-mount stop lamp (bulb-type), child lock protection (with rear door), anti-lock brake system (With Electronic Brake Distribution and Brake Assist), hill-start assist control, seatbelts, vehicle stability control

high-mount stop lamp (bulb-type), child lock protection (with rear door), anti-lock brake system (With Electronic Brake Distribution and Brake Assist), hill-start assist control, seatbelts, vehicle stability control

high-mount stop lamp (bulb-type), child lock protection (with rear door), anti-lock brake system (With Electronic Brake Distribution and Brake Assist), hill-start assist control, seatbelts, vehicle stability control

high-mount stop lamp (bulb-type), child lock protection (with rear door), anti-lock brake system (With Electronic Brake Distribution and Brake Assist), hill-start assist control, seatbelts, vehicle stability control

SRS Airbags

Driver/passenger, side, curtain shield, knee (for driver only)

Driver/passenger, side, curtain shield, knee (for driver only)

Driver/passenger, side, curtain shield, knee (for driver only)

Driver/passenger, side, curtain shield, knee (for driver only)

Driver/passenger, knee (for driver only)

Driver/passenger,  knee (for driver only)

Driver/passenger, knee (for driver only)

Driver/passenger, knee (for driver only)

Driver/passenger, knee (for driver only)

Available colors

White Pearl, Super Red V, Grayish Blue Metallic, Alumina Jade Metallic, Black

White Pearl, Super Red V, Grayish Blue Metallic, Alumina Jade Metallic, Black

Thermalyte, Red Mica Metallic, Blackish Red Mica  Metallic, Grayish Blue Metallic, Alumina Jade Metallic, Black

Thermalyte, Red Mica Metallic, Blackish Red Mica Metallic, Grayish Blue Metallic, Alumina Jade Metallic, Black

Thermalyte, Red Mica Metallic, Blackish Red Mica Metallic, Grayish Blue Metallic, Alumina Jade Metallic, Black

Thermalyte, Red Mica Metallic, Blackish Red Mica Metallic, Grayish Blue Metallic, Alumina Jade Metallic, Black

Freedom White, Thermalyte, Red Mica Metallic, Alumina Jade Metallic

Freedom White, Thermalyte, Red Mica Metallic, Alumina Jade Metallic

Freedom White, Thermalyte

Price

P1,071,000 (White Pearl)

P1,056,000 (Black, Alumina Jade, Grayish Blue, Super Red)

P1,012,000 (White Pearl)

P997,000 (Black, Alumina Jade, Grayish Blue, Super Red)

P891,000 (all colors)

P841,000 (all colors)

P841,000 (all colors)

P791,000 (all colors)

P747,000 (all colors)

P697,000 (all colors)

P671,000 (all colors)
Photos from Toyota
Explore Toyota Vios
Toyota Vios
₱671,000 - ₱1.06 Million

MA starts : ₱15,244
Toyota Vios Promos, DP & Monthly Installment
You might also be interested in
Latest Toyota Vios Cars Videos on Zigwheels