Ford aims to be carbon neutral by 2050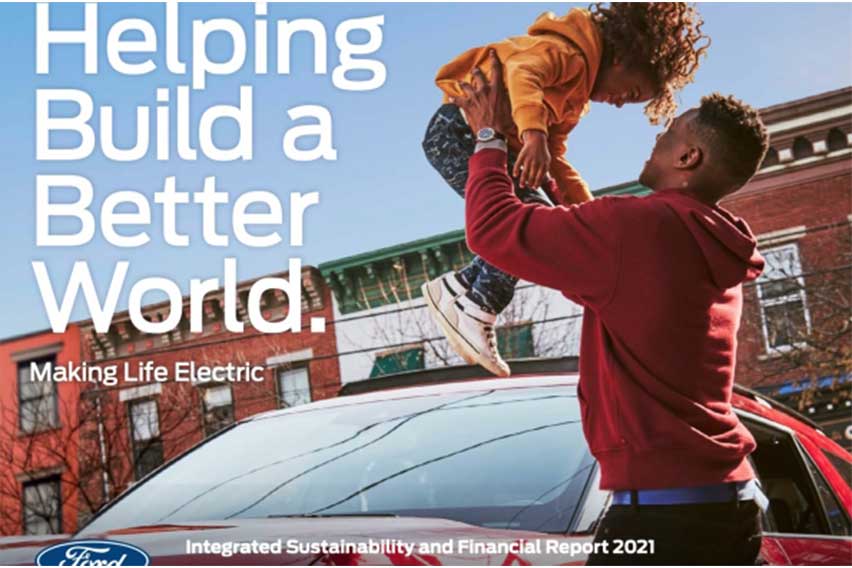 MANILA: Ford has revealed essential greenhouse gas emission goals in its 2021 Integrated Sustainability and Financial Report overview — milestones that will aid the company in attaining carbon neutrality by 2050. 
Ford utilized the Science Based Targets initiative (SBTi) strategy to establish provisional emissions goals that coincide with what the latest climate scientists consider as necessary to attain the objectives of the Paris Agreement. 
The 2035 targets were created to lessen near-term emissions — to urgently deal with climate change while assisting Ford in attaining its long-term goal of carbon neutrality by 2050. 
Its first target is to decrease absolute Scopes 1 and 2 greenhouse gas emissions from international operations by 76% from a 2017 base year.
Scope 1 addresses direct emissions from company-controlled or owned sources, while Scope 2 covers indirect emissions from the generation of purchased cooling, heating, steam, and electricity that the auto brand used. 
Meanwhile, the second target involves the reduction of Scope 3 greenhouse gas emissions from the utilization of new vehicles worldwide sold by 50% per kilometer from a 2019 base year. Scope 3 comprises in-use emissions from cars that Ford sells as well as emissions from the supply base. 
The production of electrified vehicles is crucial in lessening pollution. The approach of Ford in Europe is to pursue complete electrification, with passenger vehicles becoming all-electric by 2030.
The commercial vehicle lineup of Ford in Europe is perceived to be capable of reaching zero-emissions, with plug-in hybrid and all-electric options available by 2024. 
The US$1-billion investment to convert the car assembly plant of the company in Cologne, Germany into a center for the production of electric vehicles (EVs), the first facility of the brand in Europe, leads the transition towards electrification.
In addition, the next-generation Ford Transit Custom lineup will feature all-electric vehicles manufactured by Ford Otosan in Turkey. This further promotes the commercial vehicle leadership and electrification approach in Europe.  
The 2050 carbon neutrality of the auto company is in line with the Paris Climate Agreement, which Ford strongly supports. 
For the first time, moving to a single Integrated report promotes clarity and offers a more comprehensive picture of the company's performance.
Ford focuses more on investment in connected solutions, autonomous vehicles, and EVs. The company recently increased its investment two-fold for EVs to US$22 billion through 2026 as Ford continuously electrifies some of its most iconic nameplates, which include the much-anticipated Mustang Mach-E SUV. 
The Mustang Mach E- SUV was released in North America by late 2020, followed by Europe during the early part of 2021, and will be available in China later this year.
Work has already started on the new Rouge Electric Vehicle Center in Dearborn, USA, where the all-electric F-150 pickup truck will be designed and engineered.
These investments, along with another US$1 billion confirmed in February 2021 to change operations in Pretoria, South Africa, will aid Ford in lessening its total carbon footprint. 
Together with the commitment towards zero waste to landfill through the concept of "reduce, reuse, recycle" and the removal of single-use plastics, the company's global production water plan aims for a 15% decline in absolute freshwater by 2025 from the 2019 baseline, drawing on the 75% decrease since 2000.  
In Europe, Ford is currently the leading partner of "Drive Sustainability," an automotive manufacturers' project to handle labor rights as well as environmental and ethical concerns at all levels of the supply chain.
Moreover, the auto company was able to ramp up its COVID-19 mitigation efforts since it has generated almost 160 million face masks, over 32,000 powered air-purifying respirators in partnership with 3M, 50,000 patient ventilators with GE Healthcare, and over 20 million face shields.  
Director of Sustainability, Environmental and Safety Engineering of Ford Europe Stuart Southgate explained, "Ford remains committed to accelerating the drive toward electrified vehicles and achieving carbon neutrality, The past twelve months have further emphasized the importance of taking care of our world and each other. It's not a time to sit back. It's time to act. We're building the future now, as a better world for everyone."
Photos from Ford 
Also read: Ford PH head promoted to int'l market group customer service director
You might also be interested in
Latest Ford Cars Videos on Zigwheels