MIAS Wired: Foton PH embraces new normal with improved Gratour TM 300 line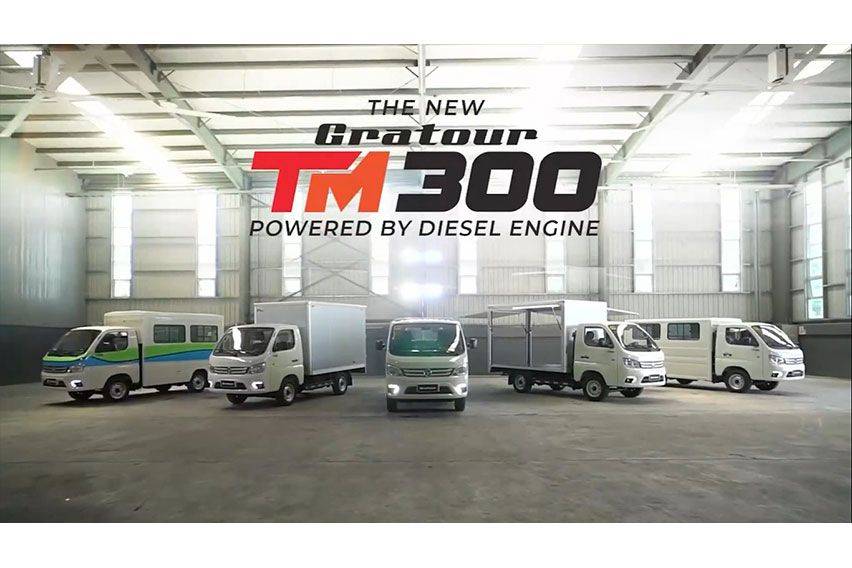 MANILA: To help entrepreneurs adapt to the new normal, Foton Philippines introduced the improved and now diesel-powered Gratour TM300 lineup at the Manila International Auto Show (MIAS) Wired 2020.
The Gratour TM300 is a flexible commercial vehicle perfect for delivery and public transport which are two of business organizations' necessities in order to maintain their service to the customers amid the pandemic.
The TM300 is engineered with a modern design that also manifests the brand's state-of-the-art automotive technology. It has star diamond headlights and LED daytime running lights for clearer visibility at any time of the day. The lineup features a dynamic waistline, wider body design, and a broader driving cab with wider legroom, spacious headroom, and ergonomic seat design to provide a more comfortable and easier driving. It is also equipped with a modern and ergonomic dashboard with a 3.5-inch high-definition instrument cluster display which indicates the mileage, water temperature, and other relevant information. The vehicles also feature a hydraulic power steering and a dial-type aircon. Other impressive specifications on the lineup are the aerodynamic streamline cabin, remote key control, a high-strength steel plate chassis, and its 10-storage feature.
All Gratour TM300 models are Euro 4-emission compliant and now powered by a fuel-efficient 2.2-liter diesel engine which gives a power output of up to 87hp at 3200 rpm and a torque of up to 220Nm at 2000rpm. They are also equipped with an anti-lock braking system (ABS) for a safer drive.
The TM 300 MPV has a seating capacity of 16 passengers. It is installed with foldable seats and is perfect as a company shuttle or a cargo delivery service truck.
The Gratour TM 300 Dropside highlights its three dropping sides for easier loading of cargo. It is designed with a steel flat bedsheet and resilient chassis, with a payload capacity of 130 kg to ensure a secure transportation of goods. This truck is ideal for construction supplies, mineral water, LPG, and vegetable and poultry delivery, and lipat-bahay.
Also included in the lineup is the Gratour TM 300 Wing Van with three liftable doors which makes it perfect to be transformed to new normal businesses such as mobile palengke, mobile kitchen, food cart, and mobile school.
The Gratour TM 300 F-Van is manufactured with an all-steel interior and back and side doors. Businesses can consider this vehicle for fruit and vegetables and cargo delivery.
Derived from the government's plan to shift to a modern public transportation system, the F-Jeepney Class 1 still carries an seat design that is inspired by the traditional Filipino jeepney. It can handle 11 passengers. This jeepney is equipped with a quality air-conditioning system, GPS tracker, close-circuit television (CCTV) cameras, portable wifi, and Beep automatic fare collection system. This vehicle can be utilized as a modern jeepney transportation or a company shuttle.
With its upgraded lineup of commercial vehicles, Foton seeks to empower local business to move forward in the new normal.
Photos from Foton Philippines
Also read: Buy 3 Foton trucks, get a Gratour for free
You might also be interested in