Mitsubishi Xpander or Toyota Avanza - Which MPV should you buy?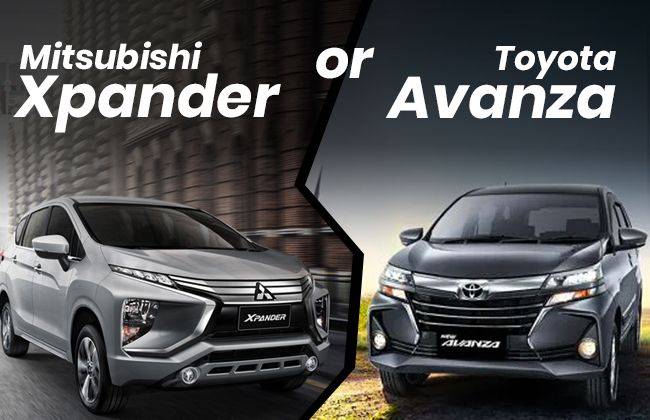 Even though the number of cars on the streets of our country is increasing rapidly and, in turn, the traffic becoming denser, the demand for a good 7-seater MPV is still quite high. This can be said by the fact that right now we have various options in this segment. Today, we are going to discuss two of them - the Mitsubishi Xpander and Toyota Avanza and try to find out that if you really need to buy a 7-seater, which one of these two would be a better option.
Exterior
The Xpander is undoubtedly one of the best-looking 7-seater MPVs out there. Mitsubishi played clever by making it very modern-looking. Its Dynamic Shield Concept works wonders, especially for young customers. The biggest source of attraction of the Xpander is its front where we find an unconventional headlight setup.
The headlamps are embedded in the front bumper and their usual places are taken up by sleek LED daytime running lights. We also like the circular fog lamps located at the bottom of the bumper. This whole setup along with the flushed chrome front grille really brings out the best of the Xpander. Even the rear end of the Xpander looks quite futuristic, thanks to the LED tail lamps and a roof-mounted rear spoiler.
On the other hand, we have the Toyota Avanza. It received a facelift earlier this year which included revamping the front end with slimmer dual LED headlights and a sportier front bumper. Toyota also added a set of new 15-in alloy wheels. From the rear, the Avanza still continues to look very similar to what it was like before.
All these changes did make the Avanza look much better than its previous model and overall, it is a good-looking car. However, we are comparing it with the Xpander and unfortunately, it just doesn't stand a chance.
Interior
Which has more interior space, the Xpander or the Avanza?
Ans. It is the Mitsubishi Xpander that is more spacious from the inside. Passengers in the 2nd-row get a good amount of leg- and headroom. The 3rd-row should be left for kids. On the other hand, the Avanza also has 7 seats but it isn't as long as the Xpander and thus, fall short of space on the inside.
Measurements
| | | |
| --- | --- | --- |
| Dimensions | Mitsubishi Xpander | Toyota Avanza |
| Length | 4475 mm | 4190 mm |
| Width | 1750 mm | 1660 mm |
| Height | 1700 mm / 1695 mm (GLX M/T) | 1695 mm |
| Wheelbase | 2775 mm | 2655 mm |
In terms of features, the Xpander gets a 7-in touch screen infotainment system that comes equipped with USB, AUX, and Bluetooth connectivity along with an inbuilt navigation system. There is also Easy Link to connect smartphones. Apart from all this, the rest of the interior is quite the usual.
In the Avanza, we do like the 6.8-in smart infotainment system that supports T-Link for smartphone mirroring. Other connectivity options include USB, AUX, and Bluetooth. Toyota also added new digital controls for the AC. It certainly adds a premium-ness.
Engine
If you go through the Mitsubishi Xpander specs sheet, you will notice that there is only a single engine option available - a 1.5-litre 4-cylinder petrol unit that produces 105 bhp and 141 Nm. Toyota Avanza specs also list a similar engine option with 103 bhp of max power and 136 Nm of peak torque. Apart from this, the Avanza has also a smaller 1.3-litre engine option.
Technical specs
| | | | |
| --- | --- | --- | --- |
|   | Mitsubishi Xpander | Toyota Avanza 1.5 | Toyota Avanza 1.3 |
| Engine type | 1.5-litre, 4-cylinder, petrol | 1.5-litre, 4-cylinder, petrol | 1.3-litre, 4-cylinder, petrol |
| Max power | 105 bhp @ 6000 rpm | 103 bhp @ 6000 rpm | 95 bhp @ 6000 rpm |
| Max torque | 141 Nm @ 4000 rpm | 136 Nm @ 4200 rpm | 121 Nm @ 4200 rpm |
| Transmission | 4-speed AT / 5-speed MT | 4-speed AT / 5-speed MT |  4-speed AT / 5-speed MT |
We are expecting to have a similar fuel efficiency figure of the 1.5-litre variants of both the MPVs, however, the Avanza's 1.3-litre model is a bit less powerful and should be able to extract out a few more miles in a litre of fuel.
Safety features
You would be surprised to know that both the Xpander and Avanza have received an impressive 4-star ASEAN NCAP safety rating! But we have to point out that the Avanza doesn't come with a lot of safety features. Dual SRS airbags and ABS with EBD; these are its key safety nets.
What are the safety features of the Xpander?
Ans. The Xpander gets more safety features than the Avanza. They are the following-
Dual SRS airbags
Active Stability Control (ASC)
Emergency Stop Signal (ESS)
Hill Start Assist (HSA)
Hill Start Assist (HSA)
Anti-lock Brake System (ABS)
Reinforced Impact Safety Evolution (RISE) Body
Verdict
The Mitsubishi Xpander price starts at Php 999,000 whereas the Toyota Avanza price starts from Php 731,000. So, if you really have a price constraint, then we would advise you to consider the Avanza otherwise it is the Xpander that seems to be a better choice.
Detailed price list-
| | | | |
| --- | --- | --- | --- |
| Mitsubishi Xpander | Price in Php | Toyota Avanza | Price in Php |
| GLX 1.5G 2WD MT | 999,000 | 1.3 J MT | 731,000 |
| GLX PLUS 1.5G 2WD AT | 1.08 million | 1.3 E MT | 864,000 |
| GLS 1.5G 2WD AT | 1.11 million | 1.3 E AT | 907,000 |
| GLS SPORT 1.5G 2WD AT | 1.18 million | 1.5 G MT | 957,000 |
| - | - | 1.5 G AT | 1 million |
|   |   | 1.5 VELOZ AT |  1.06 million |
Also Read:- Mitsubishi Xpander - Is it worth the price?
You might also be interested in
Latest Mitsubishi Xpander Cars Videos on Zigwheels