Nissan X-Trail vs Ford Everest - SUV that caught our eye the most?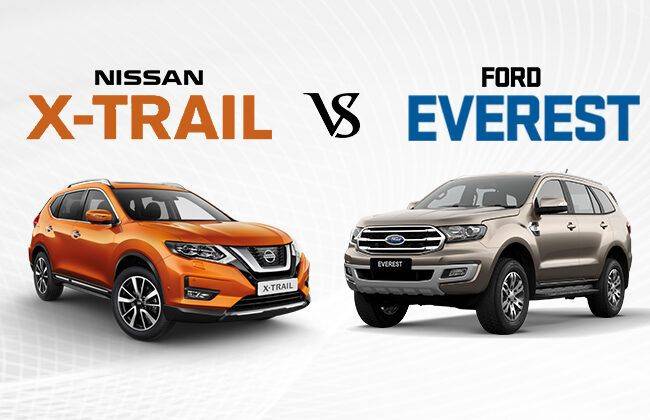 The SUV segment has become a versatile market with various kinds of models being designed to fit the evolving needs and styles of customers. Two popular vehicles recently returned on the market with new facelifts and upgrades.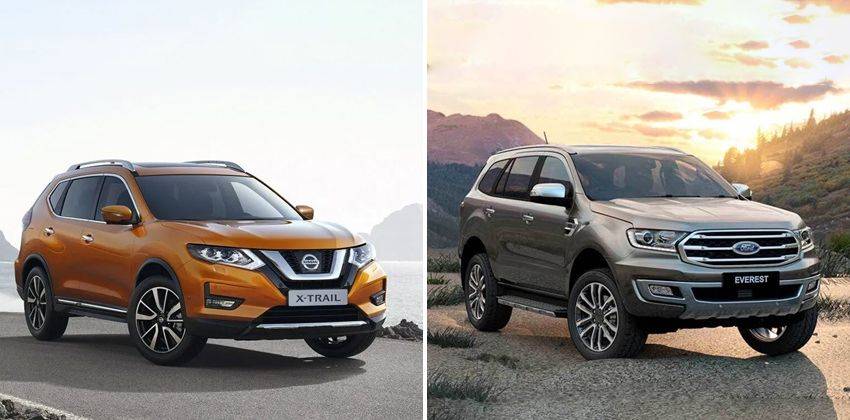 The Nissan X-Trail recently made a comeback with a redesigned look aiming to give a more premium feel. A compact SUV, the X-Trail became known as a practical car for the whole family.
On the other hand, the Ford Everest has become known for its rugged appeal, yet still maintaining a premium charm. Ford recently gave the Everest some updates to keep up with the sporty-esque SUV trend.
Both vehicles have proved to be strong competitors in their segment. With a handful of new upgrades and changes, we took a look at what to expect from the X-Trail and Everest — and which SUV caught our eye the most.
Nissan X-Trail vs Ford Everest: Dimensions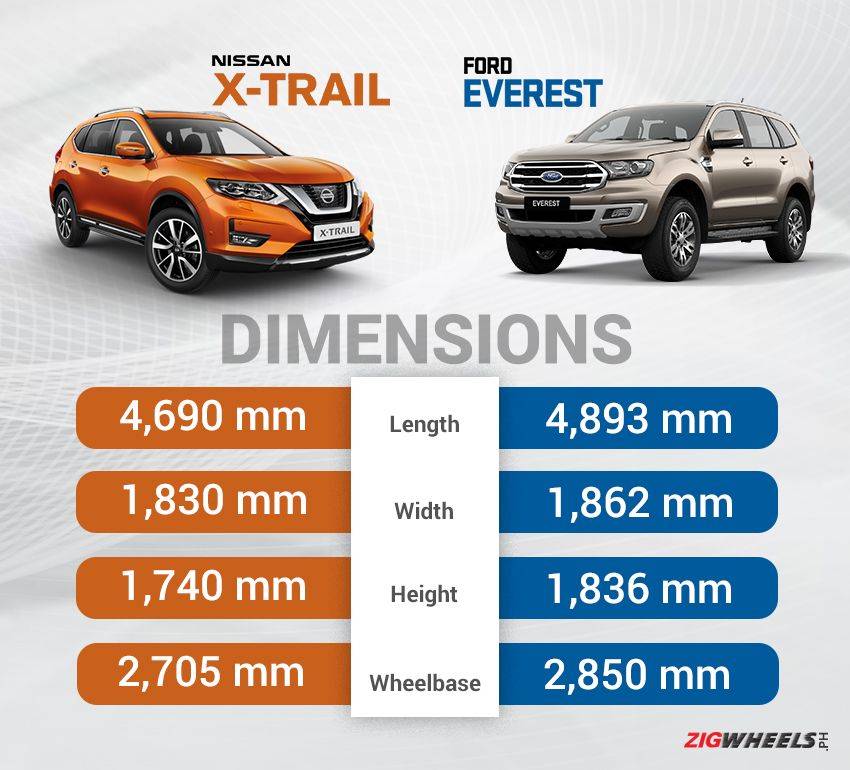 The Ford Everest definitely beats out the X-Trail in terms of size with significantly larger dimensions. However, the Everest is actually marketed as a mid-size SUV while the X-Trail, a compact SUV. Their dimensions serve different functions depending on the needs of the driver.
The Everest is ideal for those who prefer a large amount of cabin and cargo space. Despite being a relatively wide vehicle, the X-Trail can get pretty cramped back in the third row.
Nissan X-Trail vs Ford Everest: Exterior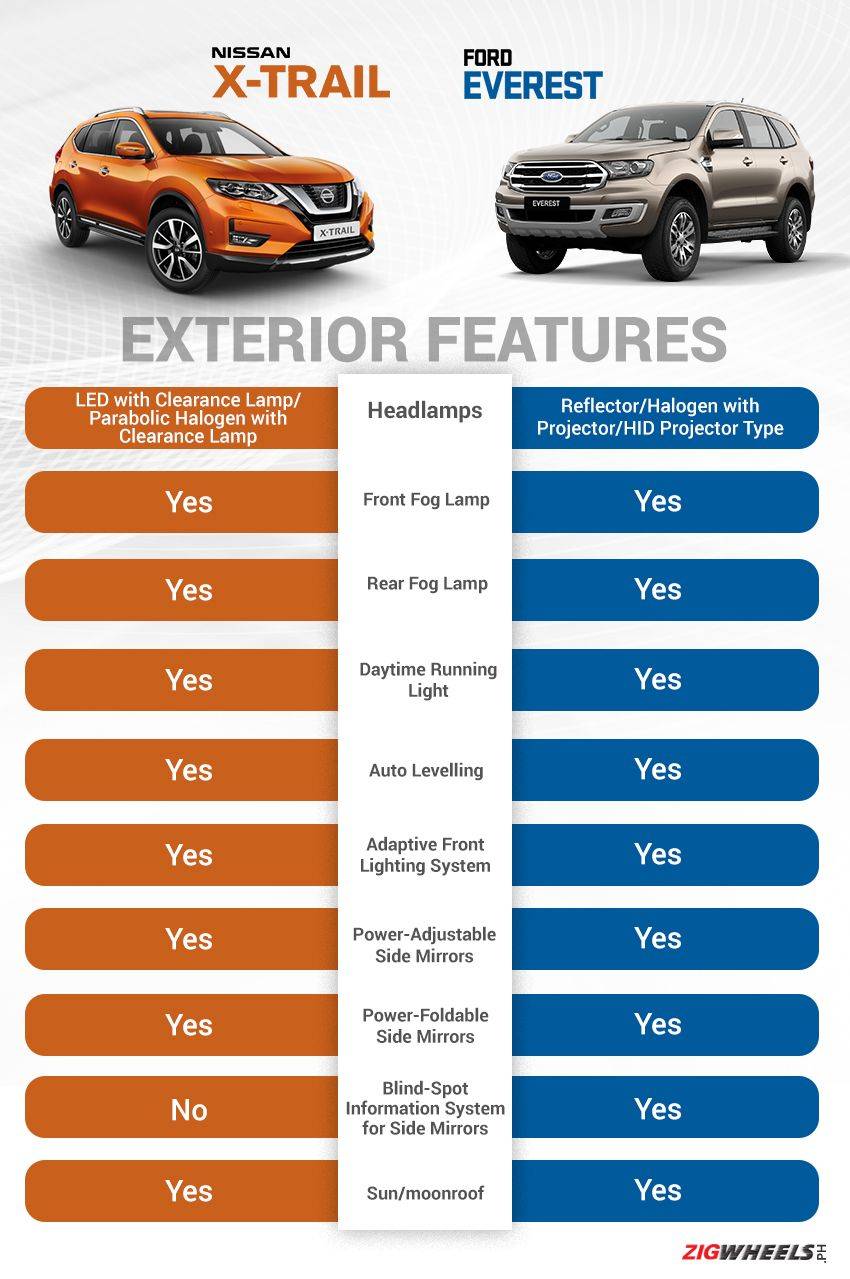 The latest Nissan X-Trail received a major facelift. Gone is the old boxy shape that first distinguished the model and was swapped with a sleeker shape that gives the vehicle a premium look. The original grille was replaced with a new, wider V-shaped grille that as well as daytime running lamps that give the X-Trail a sporty and sharp edge.
Nissan also added a fin-type antenna and, what is probably the highlight of the vehicle — a sunroof.
The latest Ford Everest received some style updates, albeit minor. Changes were made primarily to the grille and front bumper. Ford also added some extra features for high-end variants such as a moonroof for the 4x4 variant, and HID headlamps with auto-leveling and LED daytime running lights for the Everest Titanium.
Nissan X-Trail vs Ford Everest: Interior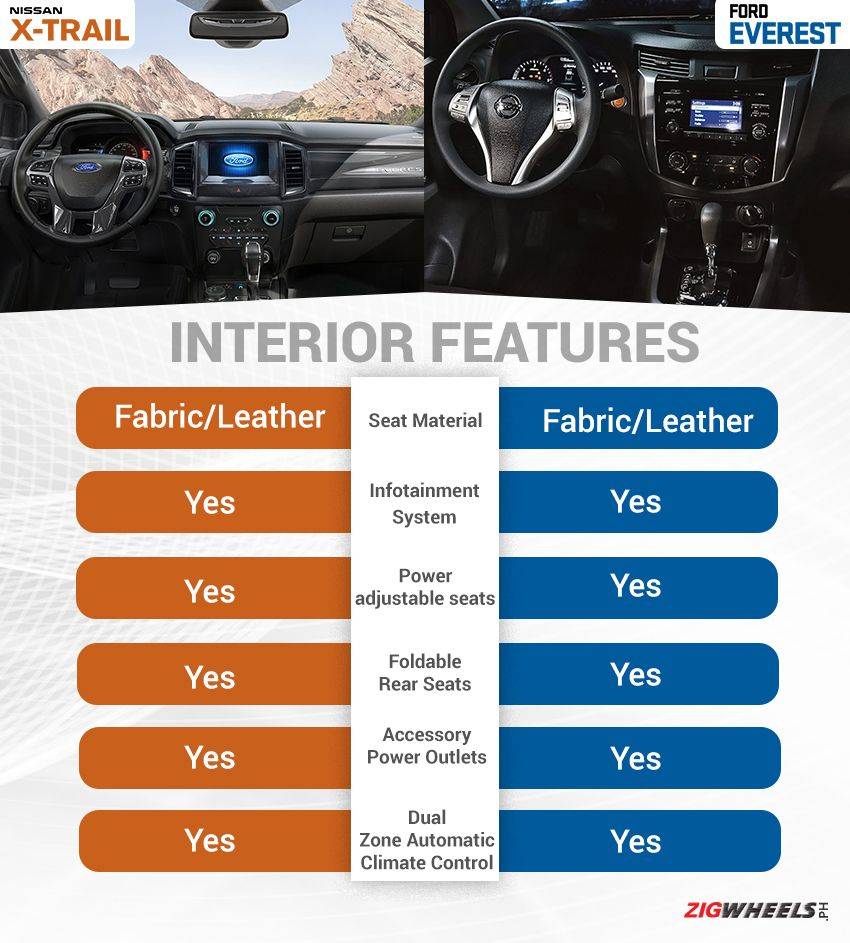 Both vehicles offer fabric-upholstered seats for the entry-level variants and leather for the higher-end models. Seats can be adjusted with the push of a button. However, the Everest has a special feature that easily allows you to drop-down the third row. The X-Trail has a similar feature called Divide-N-Hide for maximizing cargo space.
The X-Trail has a new center console with a shift knob. It features BlueTooth connectivity as well as a USB and auxiliary input. It also features dual-zone automatic control which is perfect for the Philippine climate.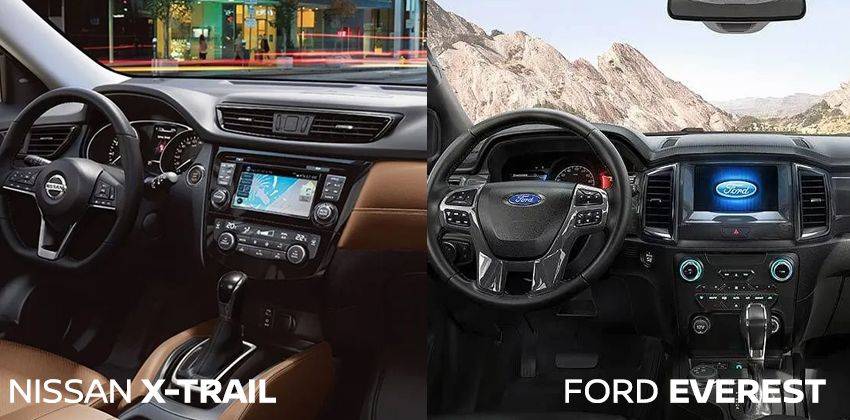 The Everest is equipped with an 8-inch multi-touchscreen infotainment system. This is powered by Ford's Sync 3 and is Apple CarPlay Android Auto supported. The Everest also has dual-zone automatic control plus a handful of other features such as ambient lighting, an auto-dimming rearview mirror, active noise cancellation, and 12-volt and 230-volt power outlets.
Nissan X-Trail vs Ford Everest: Engine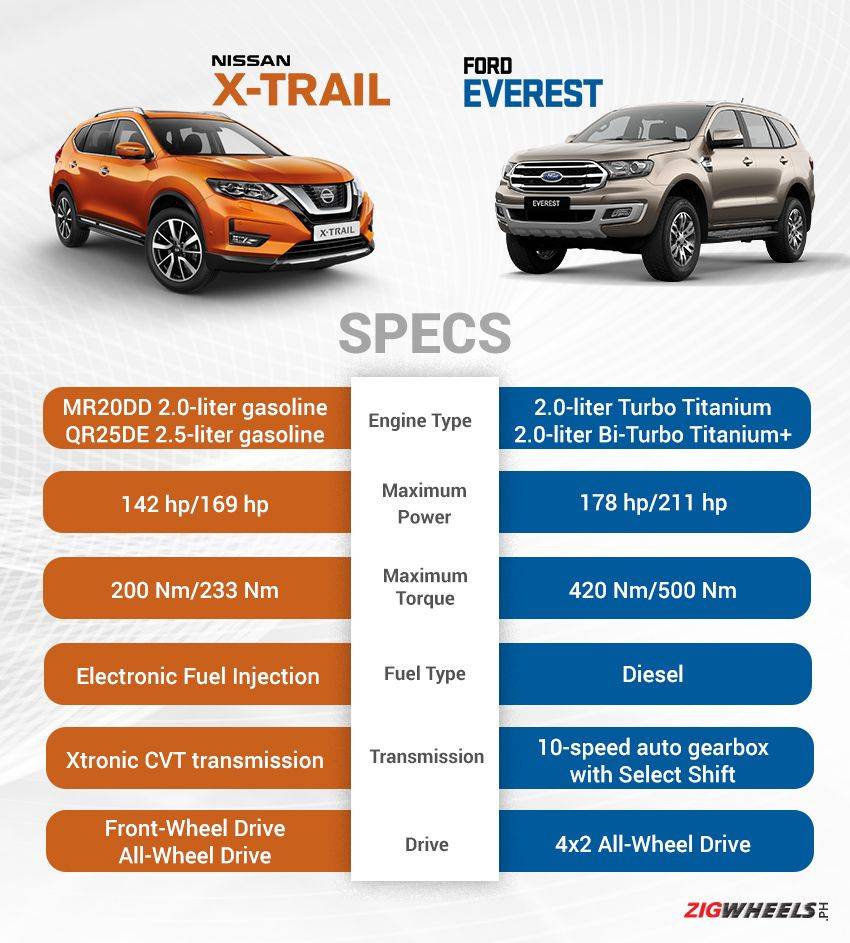 The X-Trail specs sheet tells is offerd in both 4x2 and 4x4 variants. The 4x2 is powered by MR20DD 2.0-liter gasoline mill that generates 142 hp and 200 Nm of torque. The 4x4 variant, on the other hand, carries QR25DE 2.5-liter gasoline motor that can produce 169 hp and 233 Nm. Both variants can be mated to Nissan's latest Xtronic CVT transmission.
The Everest also offers both 4x2 and 4x4 Titanium variants. The 4x2 is powered by a 2.0-liter turbodiesel that can generate 178 hp and 420 Nm of torque. The 4x4 carries the new 2.0-liter bi-turbo engine which can produce 211 hp and 500 Nm of torque. Both can be mated to Ford's latest 10-speed automatic transmission.
Nissan X-Trail vs Ford Everest: Safety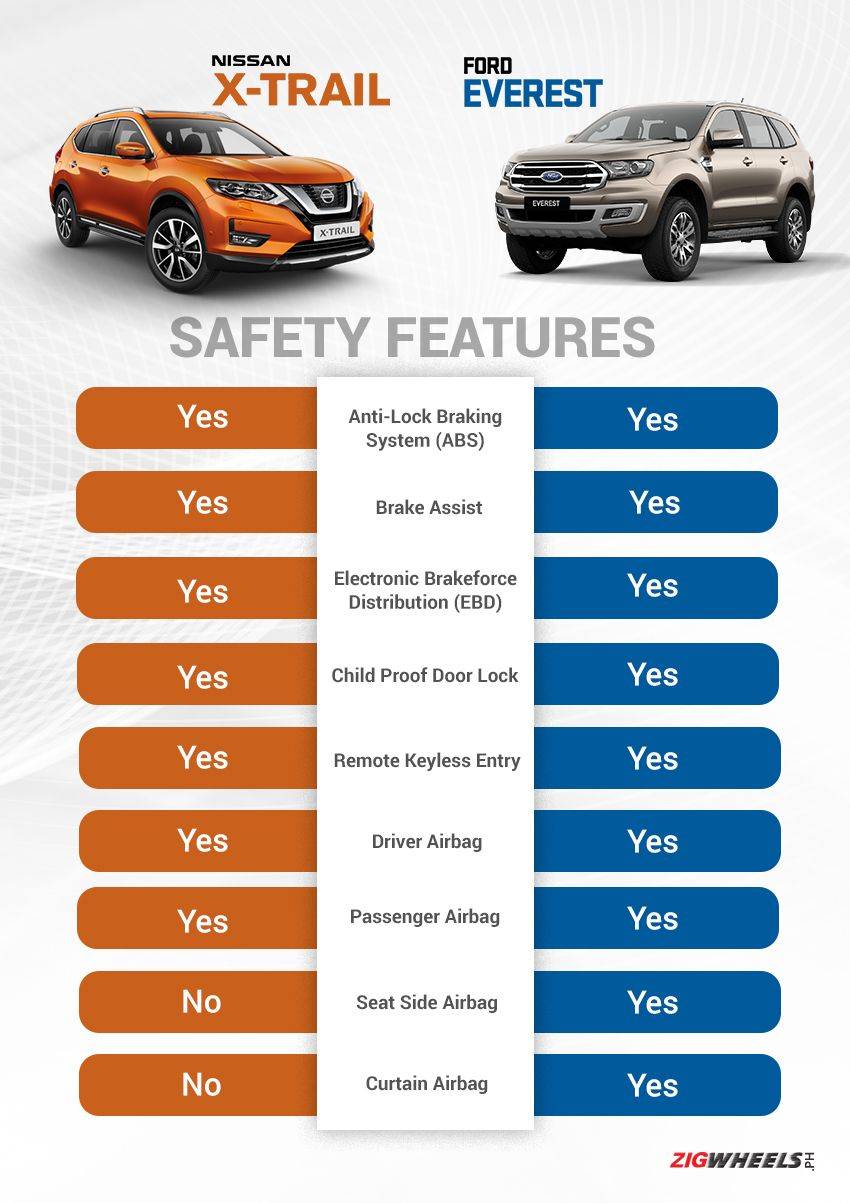 Both the cars are equipped with standard safety features found in most vehicles today such as an anti-lock braking system and electronic brakeforce distribution.
The X-Trail also offers some extra safety tech features such as a 360-degree monitor, blind spot warning system, and rear cross traffic alert. The high-end variant is also equipped with additional features such as a forward-collision warning system and forward emergency braking.
The Everest specs also come with some additional safety tech features such as pedestrian detection, auto high beam control, a hands-free liftgate system, cruise control, hill launch assist, and hill descent control. The high-end variant also includes additional seat side and curtain airbags.
Nissan X-Trail vs Ford Everest: Price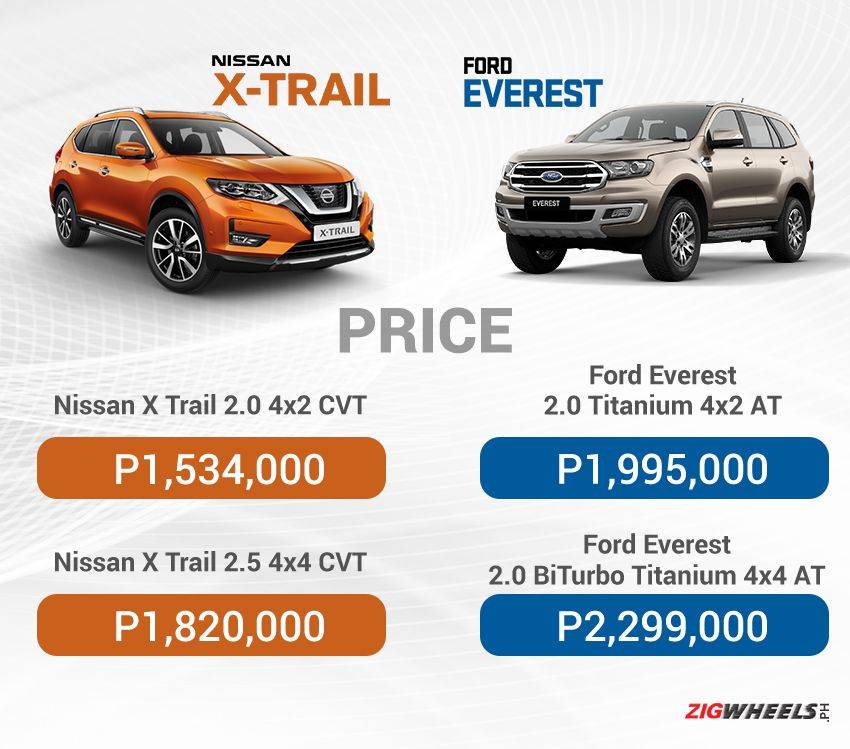 The X-Trail is definitely the more affordable choice between the two, still managing to stay below P2 million even for its high-end variant. The entry-level variant for the Everest is already at a relatively high price range, priced at almost P2 million — this is certainly not a budget SUV.
Most SUV owners typically make the jump from compact SUVs to mid-size SUVs when they want to upgrade. The X-Trail is an ideal car for families who want a compact city SUV and prefer maximized space. It's also a rather affordable SUV in the segment considering its specs, however, it does lack premium features and that typical muscular SUV image.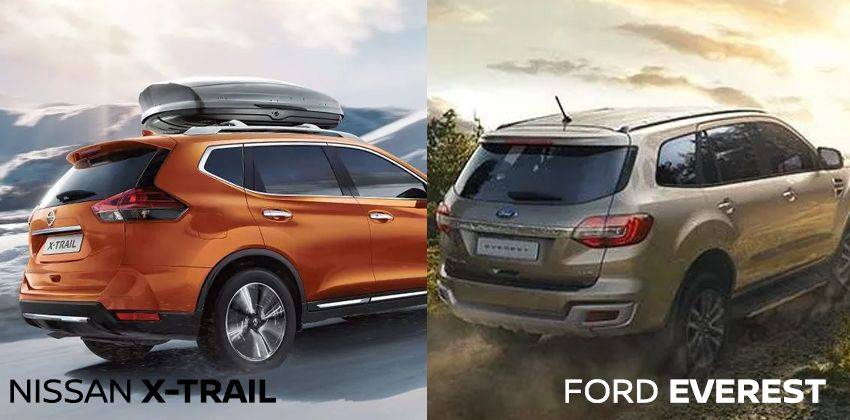 The Everest is definitely a powerful SUV and is ideal for those who enjoy driving across rough terrain. It does offer a more powerful driving experience compared to the X-Trail, especially with Ford's newest BiTurbo engine. If you have the budget for it and are set on an SUV, then the Everest is the best choice.
Which team are you on, the Nissan X Trail or Ford Everest? Share with us your thoughts on our social media.
Also Read: 2020 Ford Everest: Turbo vs Bi-Turbo
You might also be interested in
Latest Nissan X–Trail Cars Videos on Zigwheels