Solar energy will recharge this Mitsubishi Outlander PHEV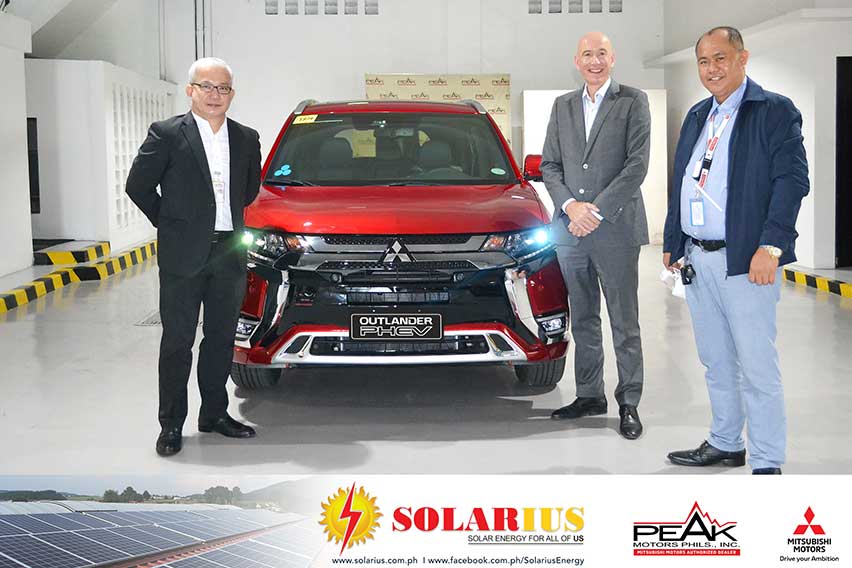 MANILA: Leading solar dealer Solarius Energy acquired a unit of Mitsubishi Outlander PHEV as the company's official mobility partner. Mitsubishi Motors Philippines Corporation (MMPC) officially turned over the brand-new unit to Solarius Energy CEO Peter Wilson through Peak Motors Philippines, Inc.-Manila Bay.
Solarius Energy is the leading solar energy solutions provider for residential, commercial, and industrial establishments with grid-tie, hybrid, and off-grid systems in North Luzon.
In a statement, Wilson said, "Solarius is proud to be the first solar company in the Philippines to drive a plug-in hybrid electric vehicle (PHEV) with Mistubishi's world leading, innovative technology.  The Outlander PHEV will be charged with solar energy for maximum environmental benefits and savings. We are spearheading the country's transition to clean and sustainable electric vehicles.  Solarius now offers solar electric vehicle charging solutions to customers throughout Luzon."
The Mitsubishi Outlander PHEV is the first-ever plug-in hybrid sports utility vehicle (SUV) that was developed. It has recorded total sales of over 260,000 units throughout Europe, North America, Japan, and Australia. The Outlander carries Mitsubishi's legacy in modern technology and automotive engineering.  The vehicle is developed with the best features of Mitsubishi's outstanding models including the high-powered Pajero SUV, the iconic Lancer Revolution, and the fully electric i-MiEV.
MMPC President and CEO Mutsuhiro Oshikiro expressed his gratitude to Solarius Energy for the trust in the Mitsubishi Outlander PHEV. He stated, "MMPC is confident that Mr. Wilson will be highly satisfied with the driving performance of the Outlander and will very much appreciate the comfort, convenience and efficiency that it offers. We also support the vision of Solarius Energy in creating technology that promotes the preservation of natural resources and sustainable energy."
Photo from Mitsubishi Motors Philippines Corporation
Also read: L300 and Strada are Mitsubishi's Jan. top-sellers
Explore Mitsubishi Outlander PHEV
Mitsubishi Outlander PHEV Promos, DP & Monthly Installment
You might also be interested in
Latest Mitsubishi Outlander PHEV Cars Videos on Zigwheels