Honda Click 125i: Hits and misses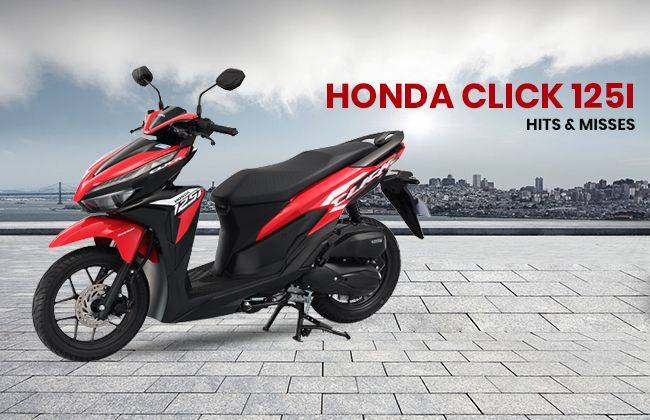 Beating the traffic through a two-wheel companion has never been this stylish and cool. Initially introduced in 2015 as Honda's latest "Game Changer", the Honda Click 125i is set to go head to head with Yamaha's Mio series and Suzuki Skydrive FI. The all-new version is built with more advanced styling and smoother riding experience.
The Japanese automaker Honda has equipped the Click 125i with the same 125cc liquid-cooled, Programmed Fuel Injected engine with Enhanced Smart Power and an Alternating Current Generator (ACG) starter. This engine is mated with a V-Belt Automatic transmission with fully transistorized ignition system. Some features like the Combi Brake System and Park Brake Lock are present in this muscular scooter as added safety features.
There is no wonder that AT bikes have taken the motorcycle industry by storm and Click 125i is one of the well-known, if not, most affordable ones.
Click 125i is 1919 mm long, 679 mm wide, and 1062 mm tall. It has a total ground clearance of 132mm and a dry weight of 111 kg. It is available in four colours which are Red, Black, Orange, and Blue for only Php 76,900!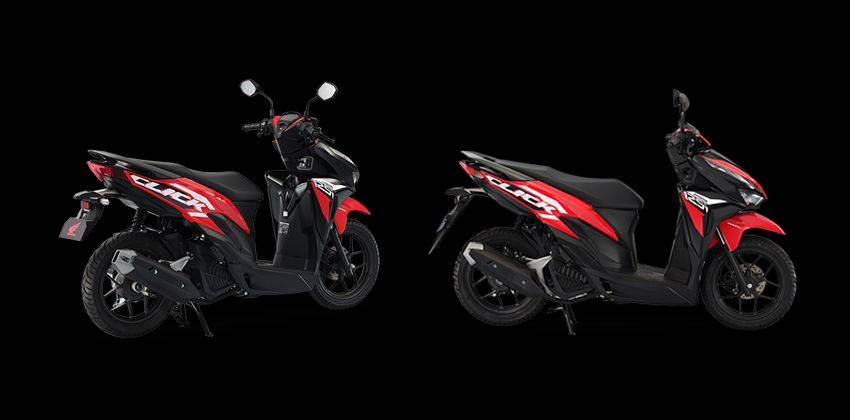 What are the advantages and disadvantages of Honda Click 125i?
Here are the things that Honda hit and miss with this scooter this time:
Advantages of having the Honda Click 125i
It is equipped with liquid-cooled PGM-Fi engine - This scooter is powered by a 125cc four-stroke SOHC liquid-cooled eSP engine that can fire up to 11 horsepower at 8500 revs per minute and 10.8 Nm torque at 5000 rpm. It also has the Programmed Fuel Injection or PGM-Fi technology that is also present among its cars like CR-V, Civic, and HR-V. The PGM-Fi helps in providing outstanding power and driveability while reducing gas emissions and enhancing fuel efficiency.
How does PGM-Fi works?
It works through a mini-computer called Powertrain Contol Module or PCM. This is connected to sensors that monitor the inputs just like the throttle position, engine temperature, crankshaft position, intake manifold pressure, atmospheric pressure, exhaust-gas oxygen content, and intake air temperature. The PCM uses the information from these sensors in order to determine the fuel requirements of the engine. Then it will activate the fuel injector at exactly the right moment for optimum efficiency. In addition, the PCM can also sense if there is something wrong with the various parts and store a trouble code that can lead a technician to the right area of concern.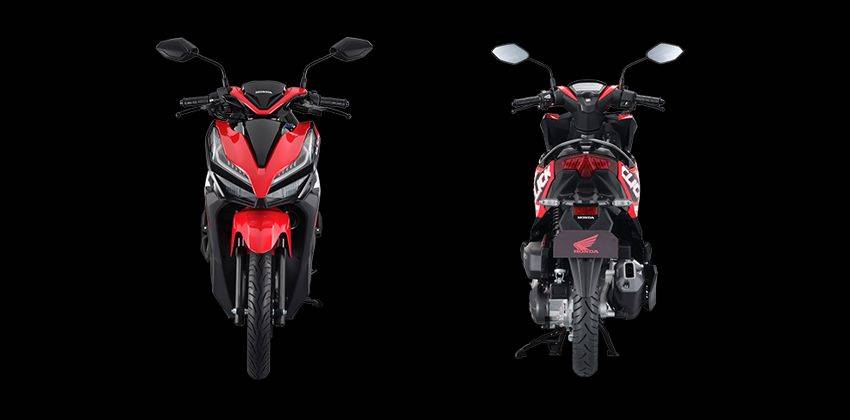 It features an all-LED Lighting System - From the dual headlight, daytime running lights up to the position and taillights, Honda Click 125i specs sheet is equipped with LED and its design was even updated to for a more aggressive-looking stance.
It has a full digital meter panel - Surprisingly, this affordable premium bike has a full digital meter panel that lets you see your riding information such as speed and fuel consumption at one glance. This accentuates the modernity of this bike which complements its holistic design.
It has sports style mufflers and tubeless tires - One unique feature of this motorcycle is the muffler design that is patterned with sports motorcycle. It also has an aluminium end cap that further emphasize its sporty aura. In addition, it also has tubeless tires for both front and rear so you can keep your style rolling with comfort, confidence, and improved safety.
It is equipped with a Combined Braking System - Also known as CBS, the Combined Braking System means that the brake will act on both front and rear wheels together simultaneously when brakes are being applied. The Front Hydraulic Disc Brake and Rear Mechanical Leading Trailing brakes are both equipped by the CBS. Through this, you can be assured that your riding experience will be totally safe.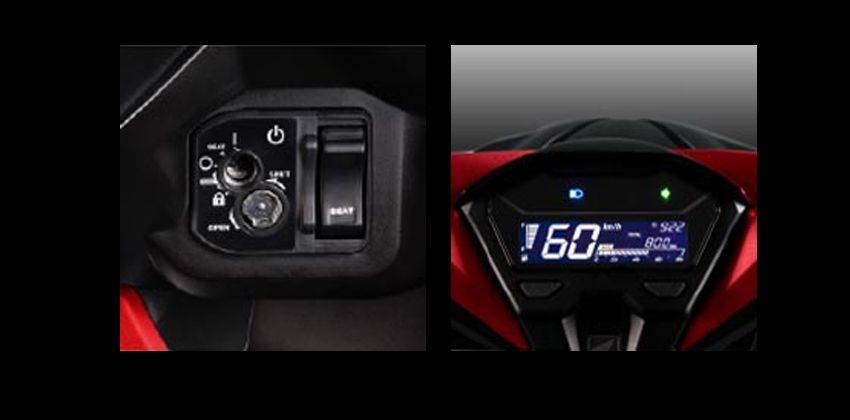 It employs a Secure Key Shutter - This mechanism is an added security feature that protects the ignition switch from being jammed by small objects and makes it harder for others to pick its lock.
It has a large U-Box capacity - The 18-litre U-box is convenient and spacious. It can fit a full-face helmet and your other belongings like documents and/or mobile phone. This is already a big catch since not all of the scooters nowadays offer a spacious u-box.
It also has an Idling Stop System - There is no doubt that this is one of the greatest advanced features that was ever built for motorcycles. Through this, you will be able to maximize your fuel efficiency and also save costs on fuel in the long run.
Most importantly, it is affordable - If you're already saving up to buy yourself a scooter like Honda Click 125i, this one is a very affordable and excellent choice! It is priced at only PHP 76,900 so you will definitely not burn a hole in your pocket.
Disadvantages of having a Honda Click 125i
The tubeless tires have some problems as it tend to be not proportionate to the overall body structure and size of the motorcycle. The thinner tires also seem to lose grip when a rider makes a quick change in direction.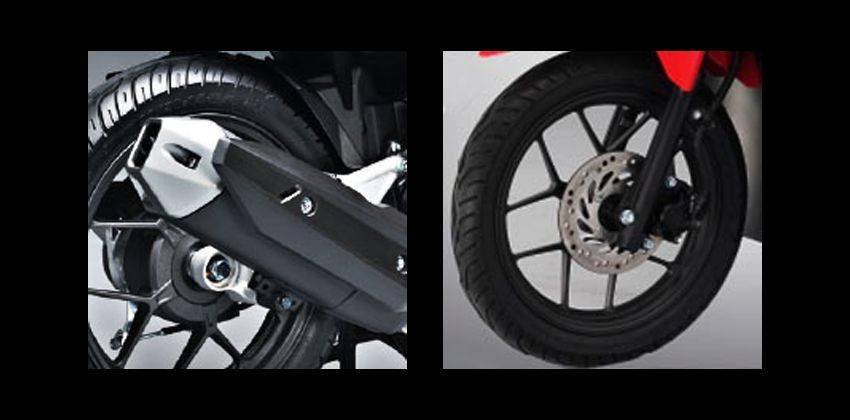 Its footboard is a little cramped so taller people might have some problems on riding this scooter for a long time. Since this is something that most scooter lovers consider, this might be a little bit of a backlash for this premium scooter.
The overall design might appeal to be aggressive and sporty in a holistic way but the bulging front design can be a little bit off given that the rear end has a very sleek design. So trying to see it in a whole picture, the front and rear design can be a little bit of unbalanced or inordinate.
In addition, this scooter boasts a fuel efficiency of 53 kilometres per litre which is already great enough for a scooter that is less than a hundred thousand pesos; not to mention the advanced tech and safety features that it has.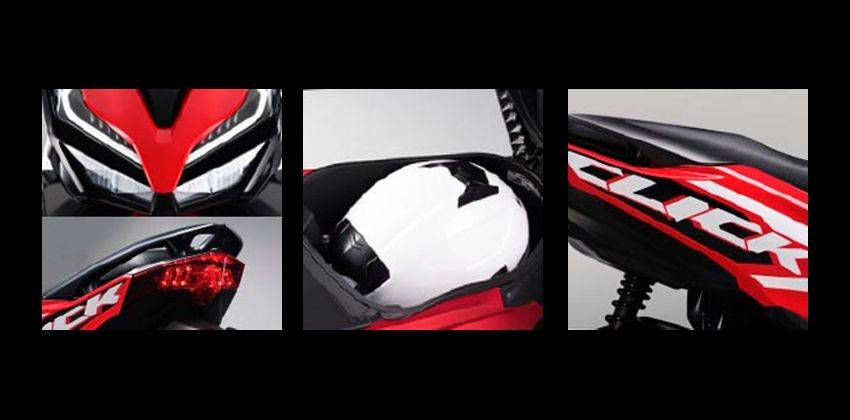 With the ongoing traffic situation in Metro Manila, it might be very beneficial for commuters like you, yes you, to think of alternatives that can possibly make your daily commutes easier. Since this motorcycle is affordable enough and has some features that are very impressive, this might be a great catch!
Excited to ride on your new Honda Click 125i? Contact the Honda dealer store near you and book for a test ride now!
Also Read: Honda Click 125i: Features explained
Honda Motorcycle Models
Honda Click 125i

Honda Click 160

Honda PCX160

Honda ADV160

Honda TMX125 Alpha

Honda X-ADV

Honda BeAT

Honda CB150X

Honda TMX Supremo

Honda Gold Wing

Honda Rebel

Honda DIO

Honda XRM125 Motard

Honda CBR150R

Honda CRF150L

Honda XRM125 DSX

Honda CBR500R

Honda CRF1100L Africa Twin Adventure Sports

Honda XRM125 DS

Honda CB1000R

Honda Genio

Honda RS125 Fi

Honda Wave RSX

Honda CL500

Honda CRF1100L Africa Twin

Honda CBR650R

Honda Airblade160

Honda XL750 Transalp

Honda CRF300 Rally

Honda CB500F

Honda CBR1000RR

Honda Rebel 1100

Honda XR150L

Honda CRF300L

Honda CRF250RX

Honda CB500X

Honda CB650R

Honda Supra GTR 150
Honda Motorcycles Price

You might also be interested in

Compare & Recommended
Engine Type

Single Cylinder, 4-Stroke, 2-Valve, Air-Cooled, SOHC Engine

Single Cylinder, 2 Valves, 4-Stroke, Air Cooled, SOHC Engine

Single Cylinder, 4-Stroke, SOHC Air Cooled Engine

Single Cylinder, 4-Stroke, 2-Valve, Air-Cooled, SOHC Engine

Single Cylinder, 4-Stroke, 4 Valves, Liquid-Cooled, SOHC
Honda Click 125i Motorcycle Articles From Carmudi
Honda Click 125i: Hits and misses
Select your city to start search
Or select from popular cities