Yamaha Nmax 2019: Maintenance guide
If you are a fan of maxi scooters, then you must know about the Yamaha Nmax 2019. It is one of the best option available in the market today and can be yours for Php 109,000. It comes with a number of excellent features like LCD dash or instrument cluster, comfortable seat, large windscreen, stylish looks, etc. You will find even more interesting elements if you go through the Yamaha Nmax 2019 specs.
No matter how good a job Yamaha has done with the Nmax, its effort will be ruined if the scooter isn't maintained properly. This goes with any vehicle or machine. If you want your prized possession to last much longer, you have to take good care of it. We understand the importance of regular maintenance and taking proper care of your vehicle, and therefore, we have come up with a short yet useful maintenance guide for Yamaha Nmax. Tips mentioned in this guide are basic enough that everyone could find them useful and maintain their Nmax.
Following are a few maintenance tips-
Tip 1
Timely servicing
This is one of the fundamental steps of maintaining your Nmax. And people tend to ignore it the most. Yamaha has mentioned the service intervals and tasks to be performed on each service in the user manual of the scooter. Don't you think there must be some good reason behind it? Yamaha must have not done it to fill up some more pages in the manual, right? All you need to do is take your Nmax to the nearest authorized service centre on time. This simple task will give you outstanding results.
Tip 2
Tire condition and replacement
Another essential element of your Nmax is the tires. They are the ones in connection with the ground all the time and take some severe beatings throughout their lives. People look after the tires the least. Sometimes the tires are used even after they are badly worn out. This not only puts you in danger but also others on the road.
The wear and tear of the tires depend on many factors like driving surface, driving style, tire pressure, added load, etc. So make sure you inspect your tires periodically for any sign of wear, say tread depth or major cracks. And get them replaced if necessary.
Tip 3
Tire pressure
It is also extremely important to maintain the recommended tire pressure. You can find the exact pressure rating that you should maintain in your Yamaha Nmax owner's manual. Unmonitored tire pressure affects many things like performance, fuel efficiency, ride quality, braking performance, etc.
Tip 4
Brake pads
Yamaha has provided the Nmax with disc brakes on both the wheels. It enhances the braking performance of the scooter. It also comes with ABS that takes things to the next level. However, disc brakes and even ABS would fail miserably if you have worn out brake pads. Checking the condition of brake pads isn't a difficult task. Make sure they are well within their working range so that you have got 100% braking performance all the time.
Tip 5
Engine oil level
Numerous maintenance tips keep an engine up and running. We are mentioning the most basic one, that is checking the engine oil level. If you don't know how to do it, you can refer to the owner's manual or use the Internet to find out. It is a simple task and would help you in keeping the fabulous 155 cc liquid-cooled single-cylinder engine of the Nmax stay healthy.
Tip 6
Proper cleaning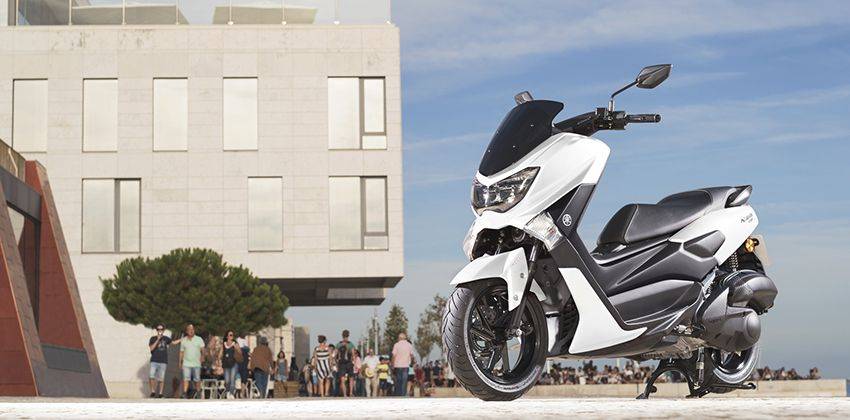 Just like your body, your Yamaha Nmax 2019 also needs to have a bath. But not that often. Overdoing it is not recommended. For daily cleaning, use a high-quality microfiber cloth to wipe your Nmax. There are also various polish and coatings available in the market to keep your scooter shining all the time. However, not every polish can be used. If possible, try to get a good ceramic coating. It is expensive, but a good-quality one would last you years and protect your Nmax body and paint.
These were some of the basic maintenance tips that you can follow to keep your Nmax in a good condition. Let us know what tips or measures you follow to maintain your drive or are there any basic ones that you would add to this list.
Yamaha Motorcycle Models
Yamaha Nmax

Yamaha Aerox 155

Yamaha Sniper 155

Yamaha Xmax

Yamaha Mio i 125

Yamaha Mio Gear

Yamaha YZF R15M

Yamaha Mio Gravis

Yamaha Mio Sporty

Yamaha MT-15

Yamaha Mio Fazzio

Yamaha XSR155

Yamaha YZF-R3

Yamaha TMAX

Yamaha YTX 125

Yamaha Mio Soul i 125

Yamaha YZF R7

Yamaha BOLT R-SPEC

Yamaha Tracer 9 GT

Yamaha XSR700

Yamaha TMAX Techmax

Yamaha Serow 250

Yamaha MT-07

Yamaha MT-09

Yamaha Tenere 700

Yamaha WR155R

Yamaha XTZ 125

Yamaha MT-10 SP

Yamaha XSR900

Yamaha SR400

Yamaha YZF R1M

Yamaha Super Tenere ES

Yamaha MT-03
Yamaha Motorcycles Price

You might also be interested in
Yamaha Nmax Motorcycle Articles From Carmudi
Yamaha PH launches 2021 Nmax

Ruben Manahan IV,

Mar 02, 2021

Yamaha PH officially unveils 2020 Nmax

Ruben Manahan IV,

Sep 07, 2020

Will the Yamaha Nmax be offered at the same price as its predecessor?

Ruben Manahan IV,

Jul 22, 2020

Yamaha PH Opens 500th Shop

Ruben Manahan IV,

Aug 09, 2019
Yamaha Nmax 2019: Maintenance guide
Choose a city to get promos and prices in your area