2021 Isuzu D-Max: Redefining toughness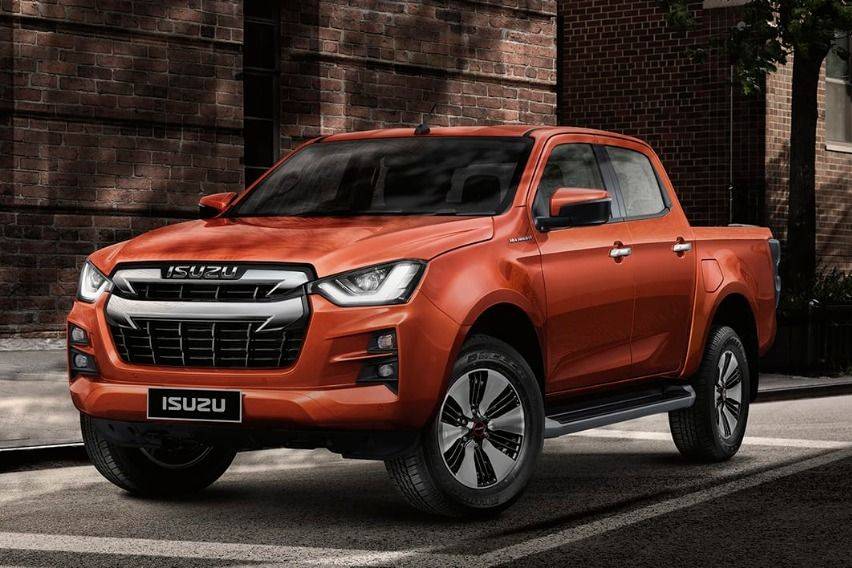 Just recently, Isuzu Philippines recently brought in the newest generation of the D-Max, which banners state-of-the-art safety features, enhanced infotainment technology, and more powerful performance.
The all-new D-Max comes in nine different variants, which are powered by rugged and refined 4JJ3-TCX and RZ4E diesel engines. The pickup truck is now available in six-speed automatic and six-speed manual variants. It uses an electric control VGS turbocharger for lesser lag and greater power. The D-Max is specially designed with an upgraded combustion chamber that reduces emissions and lessens the fuel consumption.
The D-Max boasts several active safety features including a brake override system, anti-lock brake system, electronic brakeforce distribution, brake assist, electronic stability control, traction control system, hill start assist, and hill descent control. The vehicle is equipped with three-point emergency locking retractor (ELR) seatbelts on all seats. It also comes with additional underbody protection features. The Isuzu D-Max gets an advanced driver assist system (ADAS) that uses intelligent features for pre-crash safety, speed assist, headlamp control, lane support, rear and side assist, parking aid, and post-crash safety. The D-Max is the only pickup truck that comes with the advanced Smart 3D Camera which monitors the surrounding area to determine the distance of the vehicle from every obstruction on the road.
Just like its previous generations, the D-Max still possesses a wide stance and bold design which makes it perfect for both on-road and off-road applications. For maximum visibility, the Isuzu D-Max is equipped with new bi-LED headlamps, daytime running lights (DRLs), and tail lamps. It also features a newly designed integrated rear bumper that provides added protection and a step to easily access the payload cargo.
The D-Max features a comfortable, flexible, functional interior that includes an ergonomic steering wheel, dual-zone climate control, rear air-conditioning vent, bottle holders, leather seats, large multi-information and infotainment displays, and multiple USB ports. You can even link your smartphone to the vehicle's entertainment system through Apple CarPlay and Android Auto.
If you're considering a pickup truck as your next car purchase, check out the spec chart of the Isuzu D-Max below to see if this highly durable vehicle suits your preference and lifestyle.
Photos from Isuzu Philippines Corporation
SPECIFICATIONS

Isuzu D-Max 3.0 4x4 LS-E AT

Isuzu D-Max 3.0 4x4 LS MT

Isuzu D-Max 3.0 4x2 LS-A AT

Isuzu D-Max 3.0 4x2 LS MT

Isuzu D-Max RZ4E 4x2 LS AT

Isuzu D-Max RZ4E 4x2 LS MT

Isuzu D-Max 3.0 LT 4x4 MT

Isuzu D-Max RZ4E LT 4x2 MT

Isuzu D-Max RZ4E 4x2 Single Cab MT

Overall Length (mm)

5,277

5,265

5,277

5,265

5,265

5,265

5,265

5,285

5,020

Overall Width (mm)

1,880

1,870

1,880

1,870

1,870

1,870

1,870

1,810

1,810

Overall Height (mm)

1,810

1,810

1,810

1,785

1,785

1,785

1,785

1,695

1,700

Wheelbase (mm)

3,125

3,125

3,125

3,125

3,125

3,125

3,125

3,125

3,125

Ground Clearance (mm)

240

240

240

235

235

235

235

195

195

Gross Vehicle Weight (kg)

2,600

2,600

2,500

2,500

2,500

2,500

2,800

2,700

2,700

Engine Model

4JJ3-TCX

4JJ3-TCX

4JJ3-TCX

4JJ3-TCX

RZ4E-TC

RZ4E-TC

4JJ3-TCX

RZ4E-TC

RZ4E-TC

Engine Type

4-cylinder In-line Blue Power Diesel Engine with Turbo Intercooler, Semi-midship Weight Distribution

4-cylinder In-line Blue Power Diesel Engine with Turbo Intercooler, Semi-midship Weight Distribution

4-cylinder In-line Blue Power Diesel Engine with Turbo Intercooler, Semi-midship Weight Distribution

4-cylinder In-line Blue Power Diesel Engine with Turbo Intercooler, Semi-midship Weight Distribution

4-cylinder In-line Blue Power Diesel Engine with Turbo Intercooler, Semi-midship Weight Distribution

4-cylinder In-line Blue Power Diesel Engine with Turbo Intercooler, Semi-midship Weight Distribution

4-cylinder In-line Blue Power Diesel Engine with Turbo Intercooler, Semi-midship Weight Distribution

4-cylinder In-line Blue Power Diesel Engine with Turbo Intercooler, Semi-midship Weight Distribution

4-cylinder In-line Blue Power Diesel Engine with Turbo Intercooler, Semi-midship Weight Distribution

Maximum Power Output (ps / rpm)

190 / 3,600

190 / 3,600

190 / 3,600

190 / 3,600

150 / 3,600

150 / 3,600

190 / 3,600

150 / 3,600

150 / 3,600

Maximum Torque (Nm / rpm)

450 / 1,600-2,600

450 / 1,600-2,600

450 / 1,600-2,600

450 / 1,600-2,600

350 / 1,800-2,600

350 / 1,800-2,600

450 / 1,600-2,600

350 / 1,800-2,600

350 / 1,800-2,600

Displacement (cc)

2,999

2,999

2,999

2,999

1,898

1,898

2,999

1,898

1,898

Fuel Tank (L)

76

76

76

76

76

76

76

76

76

Fuel System

Electronic Controlled Fuel Injection

Electronic Controlled Fuel Injection

Electronic Controlled Fuel Injection

Electronic Controlled Fuel Injection

Electronic Controlled Fuel Injection

Electronic Controlled Fuel Injection

Electronic Controlled Fuel Injection

Electronic Controlled Fuel Injection

Electronic Controlled Fuel Injection

Turbocharger

Electronic VGS Turbo

Electronic VGS Turbo

Electronic VGS Turbo

Electronic VGS Turbo

Electronic VGS Turbo

Electronic VGS Turbo

Electronic VGS Turbo

Electronic VGS Turbo

Electronic VGS Turbo

Transmission Model

AWR6845-II

MVL-6S

AWR6845-II

MVL-6S

AWR6845-II

MVL-6Y

MVL-6S

MVL-6Y

MVL-6Y

Transmission Type

6-speed Automatic Transmission with Sequential Shift

6-speed Manual Transmission with Reverse Lock-out

6-speed Automatic Transmission with Sequential Shift

6-speed Manual Transmission with Reverse Lock-out

6-speed Automatic Transmission with Sequential Shift

6-speed Manual Transmission with Reverse Lock-out

6-speed Manual Transmission with Reverse Lock-out

6-speed Manual Transmission with Reverse Lock-out

6-speed Manual Transmission with Reverse Lock-out

Transfer Control Switch

With

With

Without

Without

Without

Without

With

Without

Without

Aluminum Rear Drive Shift

With

With

Without

Without

Without

Without

With

Without

Without

E-Differential Lock

Without

With

Without

Without

Without

Without

Without

Without

Without

Steering Type

Tilt and Telescopic

Tilt and Telescopic

Tilt and Telescopic

Tilt and Telescopic

Tilt and Telescopic

Tilt and Telescopic

Fixed

Fixed

Fixed

Brakes

Front: Ventilated Disc Brake with Return Spring

Rear: Auto-adjust Drum Brake

Front: Ventilated Disc Brake with Return Spring

Rear: Auto-adjust Drum Brake

Front: Ventilated Disc Brake with Return Spring

Rear: Auto-adjust Drum Brake

Front: Ventilated Disc Brake with Return Spring

Rear: Auto-adjust Drum Brake

Front: Ventilated Disc Brake with Return Spring

Rear: Auto-adjust Drum Brake

Front: Ventilated Disc Brake with Return Spring

Rear: Auto-adjust Drum Brake

Front: Ventilated Disc Brake with Return Spring

Rear: Auto-adjust Drum Brake

Front: Ventilated Disc Brake with Return Spring

Rear: Auto-adjust Drum Brake

Front: Ventilated Disc Brake with Return Spring

Rear: Auto-adjust Drum Brake

Suspension

Front: Double Wishbone Coil Spring with High Mounted Upper Control Arm and Stabilizer

Rear: Long Span Semi-elliptical Soft Ride Leaf Spring

Front: Double Wishbone Coil Spring with High Mounted Upper Control Arm and Stabilizer

Rear: Long Span Semi-elliptical Soft Ride Leaf Spring

Front: Double Wishbone Coil Spring with High Mounted Upper Control Arm and Stabilizer

Rear: Long Span Semi-elliptical Soft Ride Leaf Spring

Front: Double Wishbone Coil Spring with High Mounted Upper Control Arm and Stabilizer

Rear: Long Span Semi-elliptical Soft Ride Leaf Spring

Front: Double Wishbone Coil Spring with High Mounted Upper Control Arm and Stabilizer

Rear: Long Span Semi-elliptical Soft Ride Leaf Spring

Front: Double Wishbone Coil Spring with High Mounted Upper Control Arm and Stabilizer

Rear: Long Span Semi-elliptical Soft Ride Leaf Spring

Front: Double Wishbone Coil Spring with High Mounted Upper Control Arm and Stabilizer

Rear: Long Span Semi-elliptical Leaf Spring

Front: Double Wishbone Coil Spring and Stabilizer

Rear: Long Span Semi-elliptical Leaf Spring

Front: Double Wishbone Coil Spring and Stabilizer

Rear: Long Span Semi-elliptical Leaf Spring

Wheels and Tires

265 / 60 R18 All-Terrain, Matte Dark Gray

265 / 60 R18 All-Terrain, Silver

265 / 60 R18 All-Terrain, Matte Dark Gray

255 / 65 R17 HT, Silver

255 / 65 R17 HT, Silver

255 / 65 R17 HT, Silver

255 / 65 R17 HT, Steel

195R15C - Steel

195R15C - Steel

Spare Wheel

Full Tire Size - Steel

Full Tire Size - Steel

Full Tire Size - Steel

Full Tire Size - Steel

Full Tire Size - Steel

Full Tire Size - Steel

Full Tire Size - Steel

Full Tire Size - Steel

Full Tire Size - Steel

Headlamp Type

Bi-LED Projector

Bi-LED Projector

Multi-reflector Halogen

Multi-reflector Halogen

Multi-reflector Halogen

Multi-reflector Halogen

Multi-reflector Halogen

Multi-reflector Halogen

Multi-reflector Halogen

Headlamp Leveling

Automatic

Manual

Manual

Manual

Manual

Manual

Without

Without

Without

Daytime Running Light (DRL)

LED Type at Headlamp

LED Type at Headlamp

Halogen Type at Fog Lamp

Halogen Type at Fog Lamp

Halogen Type at Fog Lamp

Halogen Type at Fog Lamp

Without

Without

Without

Follow me Home Headlamp

With

With

With

With

With

With

With

With

Without

Headlamp Battery Saver

With

With

With

With

With

With

With

With

Without

Headlamp Auto-on/off

With

Without

Without

Without

Without

Without

Without

Without

Without

Fog Lamps

LED Type

LED Type

Halogen Type

Halogen Type

Halogen Type

Halogen Type

Without

Without

Without

Antenna

Front Center Roof Mount

Front Center Roof Mount

Front Center Roof Mount

Front Center Roof Mount

Front Center Roof Mount

Front Center Roof Mount

Front Center Roof Mount

Front Center Roof Mount

Front Center Roof Mount

Radiator Grille

Gun Metallic

Chrome

Gun Metallic

Medium Gray Metallic

Medium Gray Metallic

Medium Gray Metallic

Material Color

Material Color

Material Color

Front Bumper

Body Color Energy Absorb Bumper

Body Color Energy Absorb Bumper

Body Color Energy Absorb Bumper

Body Color Energy Absorb Bumper

Body Color Energy Absorb Bumper

Body Color Energy Absorb Bumper

Material Color Energy Absorb Bumper

Material Color Energy Absorb Bumper

Material Color Energy Absorb Bumper

Side View Mirrors

Power Adjust and Fold with Integrated Side Turn Lamp

Power Adjust and Fold with Integrated Side Turn Lamp

Power Adjust and Fold with Integrated Side Turn Lamp

Power Adjust and Manual Fold with Integrated Side Turn Lamp

Power Adjust and Manual Fold with Integrated Side Turn Lamp

Power Adjust and Manual Fold with Integrated Side Turn Lamp

Manual Adjust and Fold

Manual Adjust and Fold

Manual Adjust and Fold

Door Handles

Dark Gray Metallic

Chrome

Dark Gray Metallic

Body Color

Body Color

Body Color

Material Black

Material Black

Material Black

Rear Bumper

2-step Integrated Type, Body Color

2-step Integrated Type, Body Color

2-step Integrated Type, Body Color

2-step Integrated Type, Body Color

2-step Integrated Type, Body Color

2-step Integrated Type, Body Color

2-step Integrated Type, Material Gray Color

2-step, Material Gray Color

Without

Rear Combination Lamp Type

Double LED with Light Guide

Double LED with Light Guide

Double LED with Light Guide

Double LED with Light Guide

Multi-reflector

Multi-reflector

Multi-reflector

Multi-reflector

Horizontal Type

Emergency Stop Signal

With

With

With

With

With

With

With

With

Without

Rear Fog Lamp

With

With

Without

Without

Without

Without

Without

Without

Without

Bedliner

With

With

With

With

With

With

Without

Without

Without

Cargo Extender

With

Without

With

Without

Without

Without

Without

Without

Without

Roof Rail

100 kg Capacity

100 kg Capacity

100 kg Capacity

Without

Without

Without

Without

Without

Without

Over Fender

With

Without

With

Without

Without

Without

Without

Without

Without

Front Bumper Guard

With

Without

With

Without

Without

Without

Without

Without

Without

Instrument Meters

Electroluminescent with 4.2-inch Multi-information Display

Electroluminescent with 4.2-inch Multi-information Display

Electroluminescent with 4.2-inch Multi-information Display

Electroluminescent with 4.2-inch Multi-information Display

Electroluminescent with 4.2-inch Multi-information Display

Electroluminescent with 4.2-inch Multi-information Display

3.5-inch Monochrome Display

3.5-inch Monochrome Display

3.5-inch Monochrome Display

Infotainment System

10.1-inch Full Touchscreen Display with Apple CarPlay and Android Auto, Bluetooth Connectivity, Aux-in, and USB

10.1-inch Full Touchscreen Display with Apple CarPlay and Android Auto, Bluetooth Connectivity, Aux-in, and USB

10.1-inch Full Touchscreen Display with Apple CarPlay and Android Auto, Bluetooth Connectivity, Aux-in, and USB

10.1-inch Full Touchscreen Display with Apple CarPlay and Android Auto, Bluetooth Connectivity, Aux-in, and USB

10.1-inch Full Touchscreen Display with Apple CarPlay and Android Auto, Bluetooth Connectivity, Aux-in, and USB

10.1-inch Full Touchscreen Display with Apple CarPlay and Android Auto, Bluetooth Connectivity, Aux-in, and USB

Single-DIN, Bluetooth, Aux-in, and USB

Single-DIN, Bluetooth, Aux-in, and USB

Single-DIN, Bluetooth, Aux-in, and USB

Navigation System

With

With

With

With

With

With

Without

Without

Without

Clinometer

With

With

With

With

With

With

Without

Without

Without

Speakers

8 Speakers

6 Speakers

6 Speakers

6 Speakers

6 Speakers

6 Speakers

2 Speakers with Provision Harness at Rear

2 Speakers with Provision Harness at Rear

2 Speakers

Steering Wheel Material

Leather

Leather

Urethane with Decoration

Urethane with Decoration

Urethane with Decoration

Urethane with Decoration

Urethane

Urethane

Urethane

Steering Wheel Switch

Audio, Phone, Voice Control, MID, and ADAS

Audio, Phone, Voice Control, and MID

Audio, Phone, Voice Control, and MID

Audio, Phone, Voice Control, and MID

Audio, Phone, Voice Control, and MID

Audio, Phone, Voice Control, and MID

Without

Without

Without

Seat Material

Brown Leather

Black Fabric

Black Fabric

Black Fabric

Black Fabric

Black Fabric

Cloth

Cloth

Cloth

SRS Airbags

7-position

2-position

2-position

2-position

2-position

2-position

2-position

2-position

2-position

Brake Override System

With

With

With

With

With

With

With

With

With

Anti-lock Brake System

With

With

With

With

With

With

With

With

Without

Electronic Brakeforce Distribution

With

With

With

With

With

With

With

With

Without

Brake Assist

With

With

With

With

With

With

With

With

Without

Electronic Stability Control

With

With

With

With

With

With

Without

Without

Without

Traction Control System

With

With

With

With

With

With

Without

Without

Without

Hill Start Assist

With

With

With

With

With

With

Without

Without

Without

Hill Descent Control

With

With

With

With

With

With

Without

Without

Without

Rear View Mirror

Auto-dimming

Day and Night

Day and Night

Day and Night

Day and Night

Day and Night

Conventional

Conventional

Conventional

Air Conditioning Control

Auto-climate

3-dial Switch

3-dial Switch

3-dial Switch

3-dial Switch

3-dial Switch

3-dial Switch

3-dial Switch

3-dial Switch

Air Conditioning Dual Zone

With

With

With

With

With

With

Without

Without

Without

Pollen Filter

With

With

With

With

With

With

Without

Without

Without

Rear Ventilation

With

With

With

With

With

With

Without

Without

Without

Remote Car Lock System

Frequency Operated Button

Frequency Operated Button

Remote Keyless Entry

Remote Keyless Entry

Remote Keyless Entry

Remote Keyless Entry

Conventional

Conventional

Conventional

Anti-relay Attack Function

With

With

Without

Without

Without

Without

Without

Without

Without

Remote Start Engine

With

Without

Without

Without

Without

Without

Without

Without

Without

Immobilizer

With

With

With

With

With

With

Without

Without

Without

Walk Away Door Lock

With

With

Without

Without

Without

Without

Without

Without

Without

12V Accessory Socket

With

With

With

With

With

With

Without

Without

Without

USB Port

With

With

With

With

With

With

With

With

With

Wipers

Rain Sensing

Variable Intermittent

Variable Intermittent

Variable Intermittent

Variable Intermittent

Variable Intermittent

Intermittent

Intermittent

Standard

Adaptive Cruise Control

With

Without

Without

Without

Without

Without

Without

Without

Without

Manual Speed Limiter

With

Without

Without

Without

Without

Without

Without

Without

Without

Lane Departure Warning

With

Without

Without

Without

Without

Without

Without

Without

Without

Blind Spot Monitoring

With

With

With

With

Without

Without

Without

Without

Without

Parking Aid

4-eye with Rear View Camera

4-eye with Rear View Camera

4-eye with Rear View Camera

4-eye with Rear View Camera

4-eye with Rear View Camera

4-eye with Rear View Camera

Without

Without

Without

Body Colors

Valencia Orange, Onyx Black, Mercury Silver, and Splash White

Mercury Silver, Red Spinel, Sapphire Blue, Galena Gray, and Splash White

Mercury Silver, Red Spinel, Sapphire Blue, Galena Gray, and Splash White

Mercury Silver, Red Spinel, Sapphire Blue, Galena Gray, and Splash White

Onyx Black, Mercury Silver, Sapphire Blue, and Splash White

Onyx Black, Mercury Silver, Sapphire Blue, and Splash White

Splash White

Splash White

Splash White

Price

P1,825,000

P1,630,000

P1,390,000

P1,320,000

P1,309,000

P1,219,000

P1,288,000

P987,000

P857,000
Sell your car at the best price
Verified and genuine buyers
Free listing
List your car
Explore Isuzu D-Max
Isuzu D-Max
₱917,000 - 1.905 Million
Emi Starts : ₱15,731 x 60
Isuzu D-Max Promos, DP & Monthly Installment

You might also be interested in
Isuzu D-Max Car Articles From Carmudi
Isuzu PH refreshes D-Max

Ruben Manahan IV,

Apr 24, 2023

Isuzu PH to unveil updated D-Max

Ruben Manahan IV,

Apr 03, 2023

Cabin Check: What's inside the Isuzu D-Max?

Isuzu D-Max bags awards at 2022 PHRX

Ruben Manahan IV,

Dec 15, 2022

Isuzu D-Max receives newest 'Pick-up of the Year' award

Ruben Manahan IV,

Nov 17, 2022
2021 Isuzu D-Max: Redefining toughness
Choose a city to get promos and prices in your area