How you can take back summer with the all-new 2021 Mercedes-Benz GLB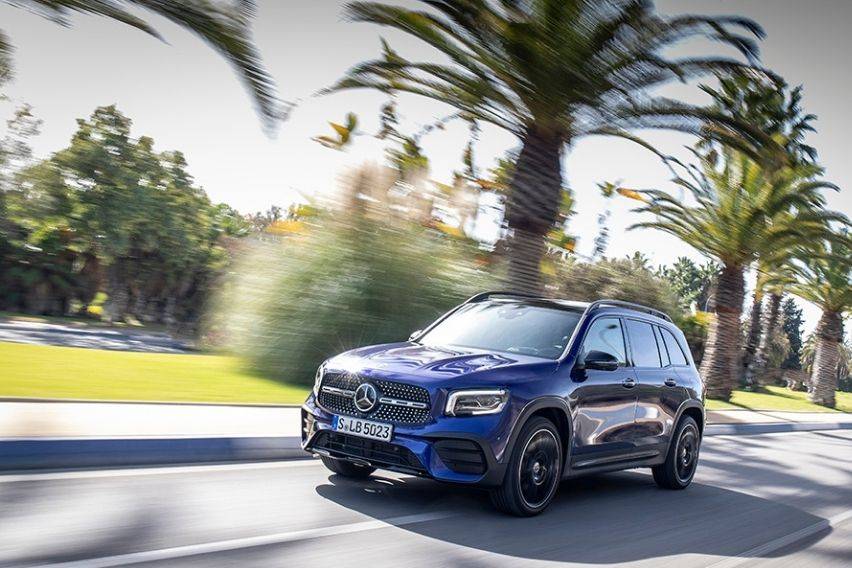 Summer has always been about heading on out and enjoying outings with friends and family. Your social media feed would be flooded with posts and pictures of summer fun, heading for the beach, exploring new places, scenic spots, and food trips. It's hard to imagine that all these are mere memories now as we struggle to keep the pandemic at bay, staying inside for Year Two of lockdowns.
That certainly can't stop you from creating new memories out on the open road in a safe manner especially with the all-new 2021 Mercedes-Benz GLB. Here are five ways for you take take back the summer!
Take the long way home
One of the few silver linings with the lockdown are the reduced number of vehicles on the road. Sometimes all you want to do is take your keys and drive away to nowhere. The all-new 2021 Mercedes-Benz GLB isn't just one of the most luxurious ways to get around town but is also the most versatile compact SUVs in the Philippine market. Time will come when you can take advantage of bringing along six of your friends and family on a road trip, but even just taking the Mercedes-Benz GLB around the metro for your very own "me-time" you can create all-new memories.
Thanks to Dynamic Select, the all-new 2021 Mercedes-Benz GLB can adapt to any driving situation that suit your needs. Selecting "Sport" mode will stiffen your suspension, throttle response, and steering characteristics — giving you the best feel for the vehicle. You can always go for "Comfort" mode for leisurely drives while "ECO" showcases the Mercedes-Benz's amazing fuel economy.
Thanks to the all-new Mercedes-Benz GLB's longer 2,829mm wheelbase and LED Dynamic headlights, you command an imposing presence that commands respect and admiration. Customers also have the option for the AMG package, giving the Mercedes-Benz GLB slick 19-inch alloy wheels side skirts and polished aluminum roof rails. Just because you're not bringing a sports car doesn't mean you can't look good.
Grab a bite and arrive in style
No road trip is ever complete with the occasional stopover to grab a bite to eat. The pandemic has been rough on the restaurant industry but thankfully, they have found ways to make it safer for customers to dine in. Al fresco dining allows you to have your meal in the great outdoors, so why not do so while admiring the all-new 2021 Mercedes-Benz GLB?
The Mercedes-Benz GLB has space for seven people which should be enough for you to bring along your loved ones without cramping them in tight confines. Passengers will enjoy premium space and comfort that no other compact SUV can provide. The luxurious interior is well appointed and includes decadent Black Articuno Dinamica Microfiber seats.
Epic sounds for an epic road trip
After spending the past few months indoors in the peace and quiet of your home, the need to bust out your get-psyched mix is certainly a given. A good music playlist can determine an epic road trip or just another ride-sharing experience. The all-new 2021 Mercedes-Benz GLB is equipped with the brand's innovative Mercedes Benz User Experience or MBUX, a smart infotainment system that reacts to touch, voice commands and gestures. Access all your sick beats from the seven-inch touchscreen on the center stack, a touchpad on the center console and as well as a button on the steering wheel, of course you can always just tell it what to do, thanks to advanced natural-language communication commands.
The Mercedes-Benz GLB also has advanced smartphone integration to synchronize your smartphone thanks to Android Auto and Apple CarPlay. This affords seamless integration with your smartphone and access to various apps for both music and navigation.
Enjoy nature's canvas
Every day, we have seen the sun rise and set from our houses. But isn't it worth the drive to your favorite place to see the sun set this time of year? After a year of the country's longest lockdown, this summer is for us to make time for this rare experience. Now that the community quarantine has eased a bit, grab your keys and head to your quiet place where there are less people to watch the sun set. Take a few moments to take in the stunning view of the sky.
The all-new 2021 Mercedes-Benz GLB features the Mercedes-Benz Intelligent Drive system which is a suite of driver assistance systems that take the stress and hassle of your regular commute. Mercedes-Benz believes that every journey should be as safe and unique as the last one. 
Explore new hobbies and routines
While working at home offers a unique way to get the your work done, it can get quite repetitive and can negatively affect productivity as well as your mental well-being. Exploring a new hobby can break the monotony. Why not start building on your own personal garden? Allow the plants to help build a peaceful and soothing atmosphere at home to keep our spirits up this summer. Plants come in all shapes and sizes, and it helps that the all-new 2021 Mercedes-Benz GLB has the most versatile interior space as well as a wide and comfortable loading cabin. The collapsible seats allow you to load the tallest houseplants, and even your pets as well!
If these five tips have you interested in the all-new 2021 Mercedes-Benz GLB, head out to the nearest Mercedes-Benz dealerships near you at EDSA Greenhills, Bonifacio Global City, Alabang and Cebu City to check the unit. Or you may visit www.mercedes-benz.ph/GLB to know more.
Photos from Mercedes-Benz Philippines
Explore Mercedes-Benz GLB-Class
You might also be interested in
Latest Mercedes-Benz GLB-Class Cars Videos on Zigwheels