The cute ute that is the Suzuki Jimny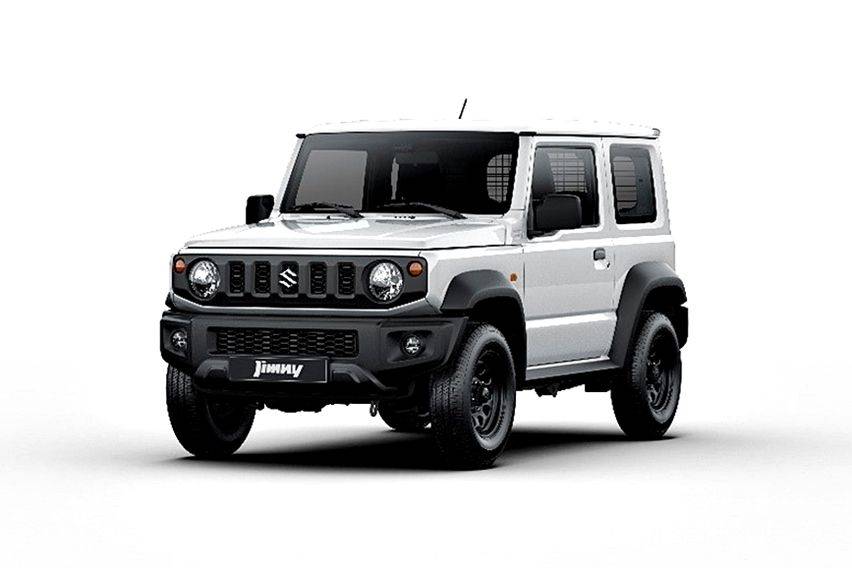 If you love spending free time by enjoying the great outdoors, you will certainly need a ride that has the ability to carry you and your gear even along challenging road conditions. If you still haven't found your ideal off-road vehicle, you may want to consider Suzuki's attractive entry for this category, the Suzuki Jimny.
You can select among the Jimny's three variants: the Jimny GL 5MT, the Jimny GL 4AT, and the Jimny GLX 4AT.
Suzuki purposely designed the Jimny with small dimensions so it can negotiate narrow mountain trails which are inaccessible to large vehicles.
Every adventure requires a corresponding set of gears for you to fully enjoy the thrill that's why Suzuki made sure that the Jimny has a sufficient space to load outdoor equipment with the vehicle's flexible luggage space that can be expanded with the foldable rear seatbacks.
Passengers can expect a smooth ride even on rough road conditions as this off-roader is motivated by a fuel-efficient K15B engine that produces an output of up to 75kW at 6,000 rpm and a torque of up to 130Nm at 4,400 rpm. The power plant is mated to a five-speed manual transmission for the GL-M/T variant and four-speed automatic transmission for the GL-AT and GLX-AT variants.
The Jimny is fitted with Suzuki Safety Support that assists the driver in maintaining road safety. To strengthen the vehicle's crash protection, the Jimny is developed with Suzuki's Total Effective Control Technology (TECT) concept. Suzuki also guaranteed that not only the driver and passengers, but also the pedestrians, are protected on the road. The vehicle's front structure is designed to minimize physical injuries in case of a collision with a pedestrian. Aside from these features, the Jimny is also equipped with dual front airbags and safety technologies which include the electronic stability program (ESP).
We have listed down the full specifications of each Suzuki Jimny variant to help you identify which one suits your adventures.
Photos from Suzuki and Eric Tipan
SPECIFICATIONS

Suzuki Jimny GL 5MT

Suzuki Jimny GL 4AT

Suzuki Jimny GLX 4AT

Overall Length

Front Bumper to Rear Bumper: 3, 480 mm

Front Bumper to Spare Tire Cover: 3, 650 mm

Front Bumper to Rear Bumper: 3, 480 mm

Front Bumper to Spare Tire Cover: 3, 650 mm

Front Bumper to Rear Bumper: 3, 480 mm

Front Bumper to Spare Tire Cover: 3, 650 mm

Overall Width (mm)

1, 645

1, 645

1, 645

Overall Height (mm)

1, 725

1, 725

1, 725

Wheelbase (mm)

2, 250

2, 250

2, 250

Tread (mm)

Front: 1, 395

Rear: 1, 405

Front: 1, 395

Rear: 1, 405

Front: 1, 395

Rear: 1, 405 

Minimum Turning Radius (m)

4.9

4.9

4.9

Minimum Ground Clearance (mm)

210

210

210

Approach Angle

28 degrees

28 degrees

28 degrees

Departure Angle

49 degrees

49 degrees

49 degrees

Ramp Brake Over Angle

28 degrees

28 degrees

28 degrees

Engine Type

K15B

K15B

K15B

Number of Cylinders

4

4

4

Number of Valves

16

16

16

Maximum Output (kW/rpm)

75/6,000

75/6,000

75/6,000

Maximum Torque (Nm/rpm)

130/4,400

130/4,400

130/4,400

Fuel Distribution

Multipoint injection

Multipoint injection

Multipoint injection

Transmission Type

5MT

4AT

4AT

Bore x Stroke (mm)

74.0 x 85.0

74.0 x 85.0

74.0 x 85.0

Piston Displacement

1,462 (1.5L) cc

1,462 (1.5L) cc

1,462 (1.5L) cc

Compression Ratio

10

10

10

Drive System

4x4 All Grip Pro

4x4 All Grip Pro

4x4 All Grip Pro

Steering

Recirculating ball

Recirculating ball

Recirculating ball

Brakes

Front: Solid disc

Rear: Drum, leading and trailing

Front: Solid disc

Rear: Drum, leading and trailing

Front: Solid disc

Rear: Drum, leading and trailing

Suspension

Front: Three-link rigid axle with coil spring

Rear: Three-link rigid axle with coil spring

Front: Three-link rigid axle with coil spring

Rear: Three-link rigid axle with coil spring

Front: Three-link rigid axle with coil spring

Rear: Three-link rigid axle with coil spring

Tires

195 / 80 R15

195 / 80 R15

195 / 80 R15

Wheels

195 / 80 R + alloy wheels

195 / 80 R + alloy wheels

195 / 80 R + alloy wheels

Spare Tire

195 / 80 R + alloy wheels

195 / 80 R + alloy wheels

195 / 80 R + alloy wheels

Spare Tire Cover

Without

Without

Full Cover

Seating Capacity

4

4

4

Luggage Capacity (liters)

830

830

830

Fuel Tank Capacity (liters)

40

40

40

Luggage Rear Seatback Capacity (VDA Method, Without Luggage Box) (liters)

Folded: 377

Raised: 85

Folded: 377

Raised: 85

Folded: 377

Raised: 85

Curb Weight (kg)

1,090 / 1,095

1,110/1,110

1,110 /1,110

Gross Vehicle Weight (kg)

1,435

1,435

1,435

SRS Dual Front Airbags

With

With

With

Pedal Release System

Brake and Clutch

Brake and Clutch

Brake and Clutch

Isofix Child Seat Anchorages (x2)

With

With

With

Side Impact Door Beams

With

With

With

Anti-lock Brake System (ABS)

With

With

With

Electronic Stability Program (ESP)

With

With

With

Hill Hold Control

With

With

With

Brake Assist Function

Without

Without

With

High-mount Stop Lamp

LED

LED

LED

Immobilizer

With

With

With

Seatbelts

Front: Three-point ELR seatbelts with pretensioners and force limiters

Second Row: Three-point ELR seatbelts x 2

Front: Three-point ELR seatbelts with pretensioners and force limiters

Second Row: Three-point ELR seatbelts x 2

Front: Three-point ELR seatbelts with pretensioners and force limiters

Second Row: Three-point ELR seatbelts x 2

AT Shift Lock / Key Interlock

Without

With

With

Hill Descent Control

With

With

With

Reverse Parking Camera

Without

Without

With

Reverse Parking Sensor

With

With

With

Steering Wheel

Urethane

Urethane

Leather Covered

Steering Wheel Audio Controls

With

With

With

Steering Wheel Cruise Control

Without

Without

With

Steering Wheel Tilt-adjust

With

With

With

Power Steering

With

With

With

Tachometer

With

With

With

Light-off and Key Reminder

With

With

With

Digital Clock

With

With

With

Door Ajar Reminder

With

With

With

Low Fuel Warning

With

With

With

Electric Windows (Front)

Driver (Up/Down Auto) and Passenger Side

Driver (Up/Down Auto) and Passenger Side

Driver (Up/Down Auto) and Passenger Side

Gear Shift Indicator (AT)

Without

With

With

Clinometer Display

Without

Without

Pitching, Rolling, Compass, Barrometric Pressure, and Altimeter

Mirror Link Connectivity for Android

With

With

With

Air-condition

Manual

Manual

Automatic

Cruise Control

Without

Without

With

Audio Antenna

Mounted at Front and Rear of Roof

Mounted at Front and Rear of Roof

Mounted at Front and Rear of Roof

Headlamp Levelling

Without

Without

Manual

Central Door Locking Switch

Driver's Side

Driver's Side

Driver's Side

Remote Control Door Locks

With Hazard Lamp Answerback Function

With Hazard Lamp Answerback Function

With Hazard Lamp Answerback Function

Heater

With

With

With

Pollen Filter

With

With

With

Audio

Nine-inch Multimedia Audio Touchscreen

Nine-inch Multimedia Audio Touchscreen

Nine-inch Multimedia Audio Touchscreen

Speakers

Front (x2)

Front (x2)

Front (x2) and Rear (x2)

Offline Navigation

With

With

With

USB Connectivity

With

With

With

Bluetooth Connectivity

With

With

With

Sun Visors

Driver and Passenger Side

Driver and Passenger Side

Driver and Passenger Side (With Ticket Holder and Vanity Mirror)

Shift Knob

Urethane Chrome

Urethane Chrome

Urethane Piano Black

Cupholder

Center Console

Center Console

Center Console

Front Cabin Light

Three-position

Three-position

Three-position

Assist Grips

Passenger Side

Passenger Side

Passenger Side

Parking Brake Release Button

Chrome

Chrome

Chrome

USB Port

Center Console

Center Console

Center Console

12V Accessory Socket

Instrument panel (x1)

Instrument panel (x1)

Instrument panel (x1) and Rear (x1)

Remote Fuel Lid Opener

With

With

With

Inside Door Handles

Chrome

Chrome

Chrome

Door Lock Knob

Black

Black

Black

Seat Upholstery Material

Fabric

Fabric

Fabric

Front Seats

Walk-in Mechanism (Passenger Side)

Walk-in Mechanism (Passenger Side)

Walk-in Mechanism (Passenger Side)

Rear Seat

50:50-split Single-folding and Head Restraint (x2)

50:50-split Single-folding and Head Restraint (x2)

50:50-split Single-folding and Head Restraint (x2)

Luggage Box (For Flat Floor)

Without

Without

With

Wheel Arch Extensions

With

With

With

Outside Door Handles

Black

Black

Body colored

Front Grille

Vertical Design and Colored

Vertical Design and Colored

Vertical Design and Colored

Tailgate Opener

Handle-operated

Handle-operated

Handle-operated

Drip Rails

With

With

With

Headlamps

Halogen Multi-reflector

Halogen Multi-reflector

LED Projector Low Beam

Wipers

Front: Two Speeds Low, High + Intermittent + Washer

Rear: One Speed + Washer

Front: Two Speeds Low, High + Intermittent + Washer

Rear: One Speed + Washer

Front: Two Speeds Low, High + Intermittent + Washer

Rear: One Speed + Washer

Rear Window Demister

With

With

With

Outside Door Mirrors Electrical Adjust

With

With

With

Day / Night Rearview Mirror Manual Dimming

With

With

With

Front Fog Lamps

With

With

With

Lamp Washer

Without

Without

With

Automatic Lamps

Without

Without

With

Headlamp Levelling Device

Without

Without

Manual

Outside Door Mirrors

Black (Unpainted)

Black (Unpainted)

Black (Painted)

Available Colors

Solid Jungle Green, Solid Medium Gray, White, Pearl Bluish Black, and Metallic Silky Silver

Solid Jungle Green, Solid Medium Gray, White, Pearl Bluish Black, and Metallic Silky Silver

Solid Jungle Green, Solid Medium Gray, White, Solid Kinetic Yellow, Metallic Brisk Blue, and Metallic Chiffon Ivory

Price

P1,055,000

P1,115,000

P1,165,000 (Monotone)

P1,175,000

(Two Tone)
You might also be interested in