Chevrolet Tahoe - What to expect?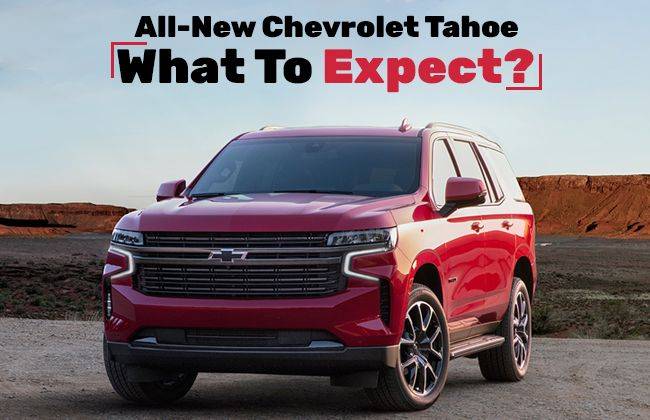 Chevrolet looks to prep its fleet early and gets ahead of the game as they unveiled the 2021 Chevrolet Tahoe in Detroit December of last year. Although large and massive vehicles are a rarity in the narrow and busy streets of the Metro, a select few still appreciate the advantages these smooth-riding tanks offer. If you're one who can afford these vehicles of massive breadth packed with SUV-specific amenities coupled fuel-gulping engines, the 2021 Chevrolet Tahoe could well just be the solution you're looking for.
This 2021 full-size SUV is 170 mm longer than its predecessor endowing the 2021 Chevy Tahoe with an enormously spacious cabin and cargo room. For comparison, the 2021 Chevrolet Tahoe boasts 25-percent more cargo room at the back of the third-row seats than the already roomy 2020 Ford Expedition. Standing toe-to-toe with the ongoing Tahoe, the 2021 model offers larger dimensions altogether with more than four inches of difference in the wheelbase and more than six inches in its overall length. Thanks to the all-new chassis this full-size SUV was built on, superior ride smoothness and driving comfort are guaranteed.
The all-new Chevrolet Tahoe has a lot going on, here are a few important things you need to know before it hits the local automotive market.
An improved front fascia
From the outside, the 2021 Chevrolet Tahoe sports a relatively updated face with modern LED lights and a minimalistic but dominating grille. It's the kind you won't get scared of but you know will demand respect when you see it closing in from your rear-view mirrors. The new styling of the 2021 Chevy Tahoe's front fascia looks more like a calm and sophisticated beast that can run you over. The angled daytime running lights improve the muscular features that are easily noticeable thanks to its clean and commanding façade. This extends to the sides and the back with a pair of LED taillights to match the simple lines and clean aesthetics of the 2021 Chevy Tahoe.
Better exterior fixtures
Not only does the all-new Tahoe boast an updated look but it also features relatively advanced exterior features. One of these notable implements is the active grille shutters that come in standard in all six trim levels this full-size SUV has to offer. The active grille shutters help with aerodynamics by closing itself during specific speeds when the 2021 Chevrolet Tahoe runs in faster driving conditions. The Tahoe drives smoothly even at speeds of 80 to 100 kmph. Not that you'd expect to run a hundred in the streets of the Metro but just in case EDSA opens up, you can expect the 2021 Chevrolet Tahoe to handle itself well.
Better suspensions
To complement the active grille shutters, the 2021 Chevrolet Tahoe is outfitted with a new set of a suspension system that allows the mammoth of an SUV to breeze through uneven pavements, potholes, and speed bumps. This new architecture features an independent rear suspension as well as a longer wheelbase. This not only improves driving dynamics and handling. This adaptive suspension system makes the Chevy Tahoe a great option for braving rough roads and taking on new adventures and will make it an effective and relevant five-door full-size SUV in the Philippines.
Spacious cabin
To say that the 2021 Chevrolet Tahoe is massive is an understatement. The extent of its mass can be experienced when you step inside the cabin. Here are a few numbers for comparison.
| | | |
| --- | --- | --- |
| Specifications | 2020 Chevy Tahoe | 2021 Chevy Tahoe |
| Length | 116 in | 120.9 in |
| Wheelbase | 204 in | 210.7 in |
| Second Row Legroom | 39 in | 42 in |
| Third Row Legroom | 24.8 in | 34.9 in |
| Cargo Room | 15.3 cubic ft | 25.5 cubic ft |
| Total Cargo Space | 94.7 cubic ft | 122.9 cubic ft |
This leaves you with room to carry friends and families after an hour or two at your favorite samgeupsal spot. And guess what gives the 2021 Tahoe power to haul in all the heavy cargo?
Buff horses
Beating under its hood, are engines built for power and efficiency. New engines are made available to go with Chevy's longest-running nameplate including a 6.2L V8 and a 3.0L Duramax® Diesel engine that can be paired with a 10-speed automatic tranny.
The prices for the 2021 Tahoe have not been released but expect the pricing to come before the on-sale date comes mid-2020.
Also read: 2021 Chevrolet Suburban - What to expect
Sell your car at the best price
Verified and genuine buyers
Free listing
List your car
Chevrolet Car Models
Chevrolet Spark

Chevrolet Trailblazer

Chevrolet Camaro

Chevrolet Tracker

Chevrolet Suburban

Chevrolet Corvette

Chevrolet Tahoe

Chevrolet Trax
Chevrolet Cars Price


You might also be interested in
Chevrolet Tahoe Car Articles From Carmudi
Chevrolet Tahoe now available in PH dealerships

Ruben Manahan IV,

May 11, 2023

Chevrolet gives Tahoe more power with RST Performance Edition
Choose a city to get promos and prices in your area