Isuzu Philippines to unveil the mu-X Boondock on September 28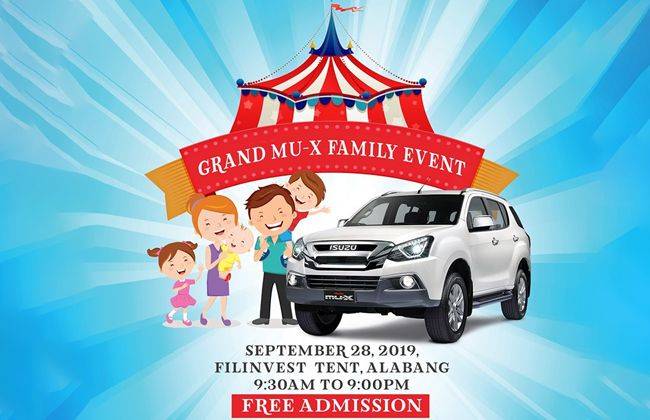 MANILA: We all waited badly for the Isuzu D-Max Boondock edition to arrive on the Philippine shores, didn't we? Thankfully enough, the better looking and much more capable pickup truck was launched after a not so long wait. While the pickup devotees are now content with their wished fulfilled, the arrival of the D-Max Boondock triggered the urge of a Boondock edition of the automaker's ever so popular SUV, the mu-X. Guess what? Isuzu is indeed bringing the mu-X Boondock edition to the Philippines on the 28th of September, 2019.
Isuzu is set to organise the "Grand mu-X Family Event" on 28 September 2019, later this month. And, a flyer of the event doing rounds over the internet includes an image of the upcoming Isuzu mu-X Boondock that will be revealed on the same day. Just like the Isuzu D-Max Boondock, the mu-X Boondock is also going to be an off-road dedicated SUV. Changes and additions on the Japanese SUV should include the 265/70 R 17 all-terrain tyres that we have already seen on the D-Max Boondock. Moreover, the likes of increased ride height, roof crossbars, and flamboyant Boondock decals should also make their way to the off-road dedicated SUV.
We expect the Isuzu mu-X Boondock to come based on the 3.0 LS-A 4x2 variant of the popular and potent SUV. While this is already a good enough proposition, a special 4x4 SUV with amazing off-road capabilities will not only cause a stir in the market but also accumulate high sales figures for the automobile manufacturer. It's less than 10 days to go for the Isuzu "Grand mu-X Family Event", and the excitement is already quite high, isn't it?
In case you missed one of our previous stories, Mitsubishi has also teased a PHEV SUV Concept that it will showcase at the upcoming 2019 Tokyo Motor Show. Also, the Japanese automaker has introduced a refreshed model of the L300/Delica in Taiwan. The newest iteration of the van is a perfect blend of retro and modern bits. Know more about the updated Taiwanese Mitsubishi L300/Delica here.
Also Read: 2020 Isuzu D-Max LS-A launched in Cebu city
Explore Isuzu mu-X
Isuzu mu-X
₱1.35 - ₱2.14 Million

MA starts : ₱30,670
Isuzu mu-X Promos, DP & Monthly Installment
You might also be interested in
Latest Isuzu mu-X Cars Videos on Zigwheels