Mitsubishi Montero Sport: Maintenance guide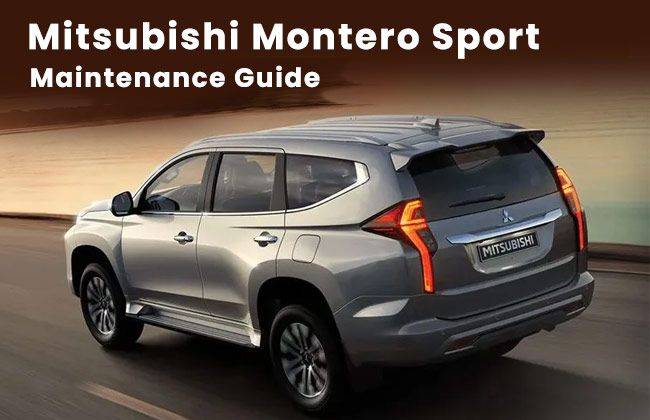 More is good. That's how Mitsubishi Motors Philippines Corporation (MMPC) markets the all-new Mitsubishi Montero Sport. With features that boast "more luxury," technology that's "more advanced," and fixtures that make this five-door seven-seater mid-size SUV look "more tough" than any other sport utility vehicle on the local market. It offers a dominating road presence and a large cabin space with lots of head and legroom as a consequence of its substantial dimensional breadth. It stands at 1,805 mm tall, is 1,815 mm wide, and is 4,785 mm long, more than enough to fit a Filipino family of five with a bag full of groceries. 
Under the hood, the Mitsubishi Montero Sport specs sheet features a 2.4L in-line 16-valve MIVEC and VGT engine that can put down 181 buff horses and 430 Nm of torque making this Japanese car manufacturer's entry to the local mid-size SUV segment more than a capable daily driver and a weekender. Plus, the electronic fuel injection (EFI) via common rail fuel system delivery makes helps with the overall fuel economy. 
With all the "more" it has to offer; one would think that a vehicle as formidable and as functional as the Mitsubishi Montero Sport will require relatively "more" when it comes to maintenance. For those wanting to find out the right way to show their SUV's some love, here's a quick and basic maintenance guide for the Mitsubishi Montero Sport. 
Understand your driving pattern
Driving your Mitsubishi Montero Sport is one thing, knowing how it works and how it responds to your every action is another. While all Montero Sport SUVs were made using the same global standard, one must always consider that your driving pattern will affect your vehicle's longevity and overall integrity. 
Those who drive vehicles with manual transmission will know that proper shifting will not only make your driving experience smoother but can also prolong the lifespan of your drivetrain. Early shifting or short-shifting is bad since it can cause your vehicle to stall. Shifting too late, on the other hand, can be twice as bad since it will hurt your gearbox, transmission, and clutch. Doing this when you're running in a higher gear and accelerating with a low rpm will prove to be bad for the overall health of your vehicle. 
Understanding your driving pattern will allow you to think it over and adjust your driving style. The first key to maintaining a vehicle starts with the driver. 
Familiarize yourself with the icons
Modern vehicles like the all-new Mitsubishi Montero Sport are outfitted with newer technologies like sensors, early warning systems, and all kinds of implements will have accompanying icons and indicators that will notify you when something is amiss. Checking these icons will help you understand your vehicle better and will make your daily or weekly inspection easy. The icons that flash on your dashboard are often warning indicators you might need to familiarize yourself with. 
You can always check the owner's manual for reference but here are a few warning icons you need to check more often. 
Check Engine Light
Service Engine Light
Electrical Fault Light
Brake Warning Light
ABS Warning Light
Coolant Warning Light
Oil Warning Light
It's always best to check for these warning indicators minutes after you turn the engine on. It's best to contact your dealership if you find it hard to address any situation concerning these warning indicators. Like in any situation, prevention is always better (and cheaper) than cure. 
Don't mix and match your fuel
Another way to help maintain the longevity and the overall integrity of your vehicle is by feeding it with the right fuel. A good practice is to stick with a fuel you've been using, different fuel companies will have various diesel fuels that may have varying cetane rating. Some diesel fuels are designed for high-performance engines while others are engineered for better fuel economy. Sticking with one diesel fuel will help you keep filling up your tank and feeding your engine with the right food. 
Remember to always talk to your dealership to help you in building the right habit when performing minor maintenance check-ups for your Mitsubishi Montero Sport. Always bring your mid-size SUV to authorized servicing dealers for major periodic maintenance check-ups to ensure that your vehicle is professionally serviced. 
Also read: Mitsubishi Montero Sport – Pros and cons
Explore Mitsubishi Montero Sport
Mitsubishi Montero Sport Promos, DP & Monthly Installment
You might also be interested in
Latest Mitsubishi Montero Sport Cars Videos on Zigwheels