Toyota Avanza 2015 vs Honda Mobilio vs Suzuki Ertiga- Seven Seat Survival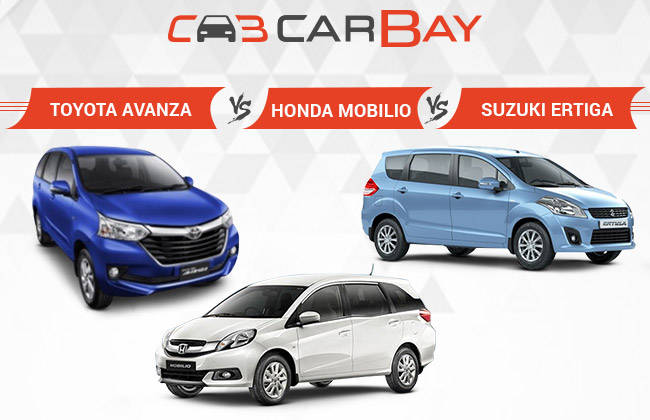 Toyota Avanza 2015 has finally been revealed and is all set to give the existing 7-seater vehicle line up a tough time. With brands like Suzuki and Honda already dominating the MPV segment, the arrival of Avanza will change the scenario. Each being stylish, comfortable, and fuel-efficient they further make your buying decision a running battle.
It is a known fact that multi-utility vehicle are in great demand and serves as a complete family car. In the recent times, mini MUV's have taken over the costlier and luxury loaded sedan segment as they offer both comfort and performance that are at pace with the upper-class cars. Now with Suzuki Ertiga, Honda Mobilio, and Toyota Avanza, you have a wide range to choose from under the P1- million option.
We at Carbay understand that buying a car is a one-time decision and should be the one that suits your family need at best. To ease your tension, we below present a comparison study between Suzuki Ertiga GLX 1.4 AT/MT, Toyota Avanza 2015 1.5G at and Honda Mobilio 1.5 RS Navi CVT.
Dimensions:
Conclusion-
Going through the above spec sheet, the three clearly gives a close call to each other. Each one has its own plus and negatives, it is for you to decide which among them suits your need the most. Though, Suzuki offers the cheapest car in the lot, but for a bit more you can have an Avanza with greater utility and versatility. Honda Mobilio, on the other hand, is expensive of the entire lot, but don't worry as every penny pf yours is worth spending. The car comes packed with best engine spec, safety and entertainment kit.
So, guys go ahead prioritize your requirements and bring home your wonder car.
You might also be interested in
Latest Toyota Avanza Cars Videos on Zigwheels