WATCH: Late astronomer Carl Sagan's voice featured in new Jeep video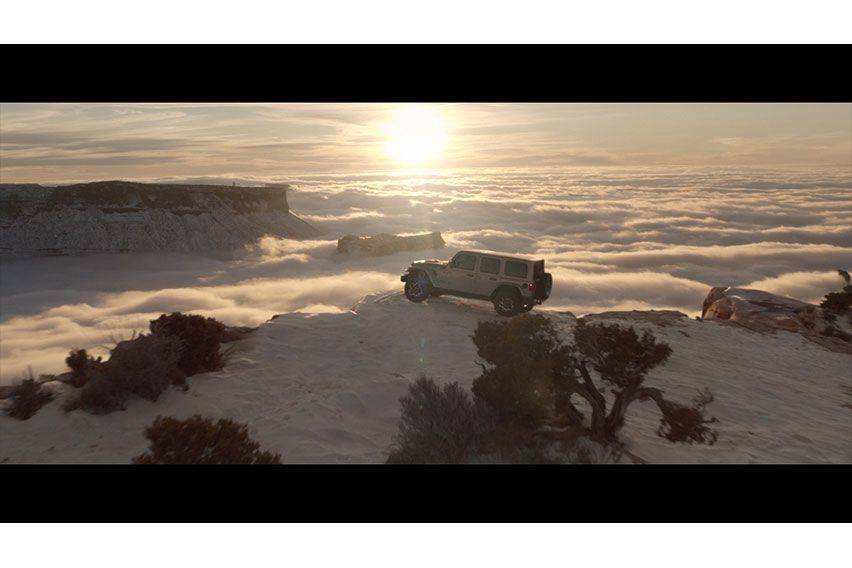 MANILA: The Jeep brand partnered with Ann Druyan,  widow of Carl Sagan, in the making of a 90-second video, "Pale Blue Dot," which features the new Jeep Wrangler 4xe and emphasizes initiatives to combat climate change.
With each completed view of the "Pale Blue Dot" on the YouTube page of Jeep, the brand will contribute to the Coalition for Rainforest Nations and the Carl Sagan Institute of Cornell University for its project against climate change.
The "Pale Blue Dot" video features passages from the 1994 book of Sagan entitled, "Pale Blue Dot: A Vision of the Human Future in Space," wherein he explained the image in detail. The video was also made in collaboration with Doner Agency, which is located in Michigan, USA.
Ann Druyan — a Peabody and Emmy award-winning American director, producer, and writer — closely worked with Jeep on creative aspects of the video, depending entirely on the narration of her late husband, a renowned scientist.
On February 14, 1990, Sagan provided the whole world with an astounding vantage point of the Earth.
In 1981, Sagan, a member of an imaging team, started urging the National Aeronautics and Space Administration (NASA) to turn the camera of Voyager 1 for one final look homeward once it had accomplished the first exploration of the outer planets.
The outcome of the image of the Earth as it appeared to be a small-sized speck from out far beyond Neptune, almost 6,437,376,000 km away, was referred to as "the pale blue dot."
Earlier this September, the Jeep brand launched its new Wrangler 4xe, which signaled the coming of the most eco-friendly, technically innovative, and capable Wrangler yet.
Jeep Wrangler 4xe models will be rolled out in the United States, China, and Europe by the first part of 2021.
The Jeep Compass 4xe and Jeep Renegade 4xe models, which had its debut in 2019 at Geneva, already started arriving in Europe.  The new Jeep 4xe models follow the launch of the Jeep Grand Commander Plug-In Hybrid Electric Vehicle (PHEV), which was done in China last year.
The plug-in hybrid powertrain of Wrangler 4xe has the capability of generating up to 40 km of almost-silent, zero-emission, electric-only propulsion.  This makes the Jeep model friendly for commuters as an all-electric daily vehicle off-road and blends with open-air freedom that only the Jeep Wrangler provides.
The electrified Jeep vehicles also include the "4xe" emblem. Moreover, these vehicles are deemed as reliable and efficient as they elevate 4x4 capability, driver confidence, and performance.
Fiat Chrysler Automobiles N.V. (FCA) Chief Marketing Officer Olivier Francois explained, "Jeep is in a process of electrification of its lineup, and we feel a big responsibility to market it properly because it is not just a technical upgrade (but)  a new chapter that opens for the brand. The core of the brand's DNA is exploration, adventure, and freedom, so our customers already have a deep and powerful relationship with nature and with our planet."
He added, "Entrusting us with passages from her husband Carl Sagan's iconic 'Pale Blue Dot' oration is an act of faith and generosity from Ann that is absolutely incredible. We very clearly felt an enormous duty to both protect their shared legacy, and also advocate for this universal message of caring for our planet by giving our global audience the ability to support two climate change causes that are very important to us both, by simply watching 'Pale Blue Dot' video across our social channels."
Ann Druyan, founder and CEO of Cosmos Studios, added, "In October 2017, Olivier came to me with a request to use Carl's iconic soliloquy to introduce a new Jeep model. For obvious reasons, I asked him to please come back to me when Fiat Chrysler made an electric Jeep. Exactly two years passed and he called, saying, 'We made you a car, Annie.' In addition, he had the idea that the 'Pale Blue Dot' announcement could become a kind of Earth-friendly engine of its own, generating contributions for the two environmental nonprofits of my choice, through the unskipped views of the online video. Fiat Chrysler has already given the first installment of that support. If enough of us download the video and watch it, that contribution will increase more than tenfold."
Aside from the YouTube initiative, the "Pale Blue Dot" video will be televised on September 22, Tuesday at 8 p.m. ET (Wednesday, 8 a.m. Philippine time) during the American broadcast premiere of "Cosmos: Possible Worlds" on Fox.
Watch the "Pale Blue Dot" here.
Photos from Jeep
Also read: Jeep unveils 'greenest' Wrangler
You might also be interested in
Latest Jeep Wrangler Cars Videos on Zigwheels