Yamaha YZF-R3: Know its alternatives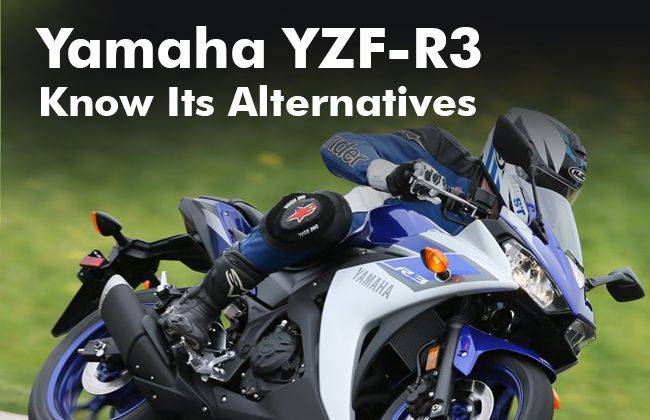 Apart from being popular for its contribution in the motorsports, Yamaha is also known for making some of the most reliable motorcycles on the planet. It has got a plethora of products on offer for the customers. However, it has kept fans waiting for a 300 cc motorcycle for years. Finally, the longing was over in 2015 with the launch of the new Yamaha YZF-R3.
This was a bike that had parts and styling borrowed from its elder siblings that has already left their mark in their respective segments. The YZF-R3 is one of the best motorcycles that one can buy in the 300 cc segment. But just like in any course of life, the fight here is pretty strong. So, here are a few alternatives to the Php 239,000 Yamaha YZF-R3 that you can consider.
KTM RC 390
KTM has been bringing some great products lately. The KTM RC 390 is an unbelievably fast motorcycle that comes at a competitive price tag of Php 399,000. What makes it special is its power-to-weight ratio. This orange beast is powered by a 373.3 cc, single-cylinder liquid-cooled engine. It runs at a higher compression ratio and produces a max power of 43.5 PS at 9,000 revs and generates 36 Nm of peak torque at 7,000 revs. The mill is paired with a 6-speed gearbox. This is a race track oriented machine and hence has a very dedicated riding position.
KTM has also thrown in the slick Metzelers to give all the grip you would need to score some fastest lap times. The power delivery is abrupt and so is the acceleration. Apart from a large rotor at the front, the RC 390 comes with dual channel ABS to provide the required stopping power. The instrument cluster here is fully digital and has got a plethora of information to display. One of the things that we do not like about the RC 390 is its tiny fuel tank. With just 9.5-litre of capacity and a thirsty engine, you will be visiting fuel stations more than you would have estimated.
Kawasaki Ninja 300
The Ninja 300 has been around for quite some time now, and the good thing is that it can still give its rivals a run for their money. Kawasaki really turned the market upside down when the Kawasaki Ninja 300 was first introduced. Today, it is surrounded by new competitors that have got more power and latest tech on board to lure in customers. Yes, Kawasaki has not given the Ninja 300 the necessary updates that it deserves, but even today this machine won't disappoint you. It is powered by a 296 cc, parallel-twin, liquid-cooled engine that churns out 39.4 hp at 11,000 revs and 27 Nm of peak torque at 10,000 revs. It is an extremely refined and rev-happy engine. The riding position is not that demanding and touring on this one is possible. You will also get a good range as it has a 17-litre capacity fuel tank. All this can be yours at Php 265,000.
Kawasaki Ninja 400
Kawasaki recently launched its brand-new Ninja 400. This bike has got everything that its younger sibling, the Ninja 300, was missing out. It is powered by a 399cc parallel-twin engine which will keep you grinning because of its 48.9 horsepower and 38 Nm of torque. It reaches triple-digit speeds in no time. The styling of the Kawasaki Ninja 400 is inspired by its higher displacement brothers, the Ninja 650, the Ninja ZX-10R and the Ninja H2. The dual LED headlight setup helps you recognize that it is a Ninja. The braking at the front is handled by a 310mm semi-floating disc brake, which is the same ones used on the Ninja ZX-14R, making it the largest in its class. Kawasaki has also incorporated a new instrument cluster that comprises an analog tachometer and digital speedometer. There is also a tiny digital display for the gear position indicator and clock. We are really impressed by the Ninja 400 but all these improvements do come at a price. This Kawa costs Php 295,000. If you are a pure Kawasaki or Ninja fan but your needs are not being satisfied by the Ninja 300, then this bike is the one you should pick.
Yamaha Motorcycle Models
Yamaha Nmax

Yamaha Sniper 155

Yamaha Aerox 155

Yamaha Mio Gear

Yamaha Mio i 125

Yamaha Xmax

Yamaha YZF R15M

Yamaha XSR155

Yamaha Mio Sporty

Yamaha MT-15

Yamaha Mio Fazzio

Yamaha YZF-R3

Yamaha Mio Gravis

Yamaha Mio Soul i 125

Yamaha YTX 125

Yamaha Super Tenere ES

Yamaha XSR900

Yamaha YZF R1M

Yamaha XSR700

Yamaha SR400

Yamaha Tracer 9 GT

Yamaha MT-07

Yamaha MT-10 SP

Yamaha TMAX Techmax

Yamaha Tenere 700

Yamaha MT-09

Yamaha YZF R7

Yamaha BOLT R-SPEC

Yamaha TMAX

Yamaha XTZ 125

Yamaha Serow 250

Yamaha MT-03

Yamaha WR155R
Yamaha Motorcycles

You might also be interested in

Yamaha YZF-R3 Motorcycle Articles From Carmudi
Yamaha YZF-R3: Know its alternatives
Select your city to start search
Or select from popular cities