Are you ready for your SUV upgrade?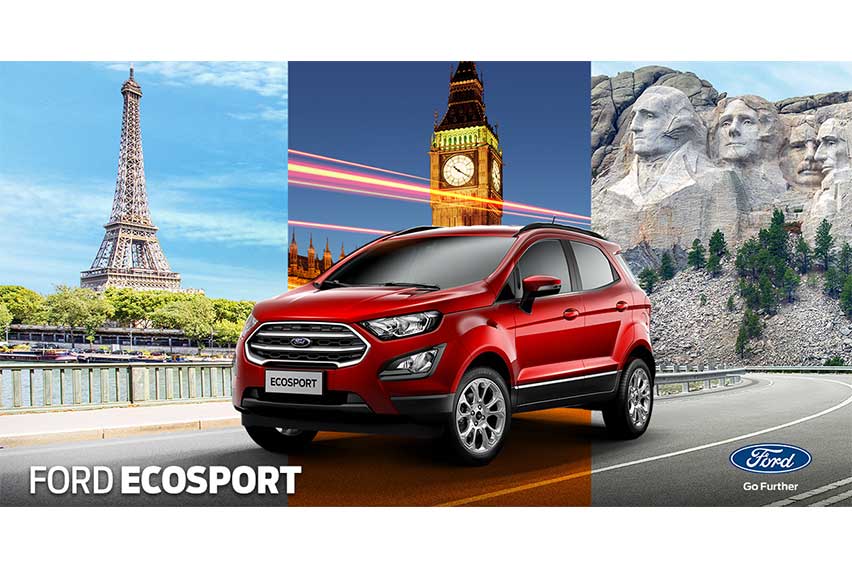 Personal or private mobility has been put on an even bigger spotlight with the advent of the pandemic last year. Given the already much-publicized strain on our public transportation, health protocols to stem the transmission of COVID-19 further limited not only the number but the capacity of our everyday carriers from Point A to Point B.
Many of us thus had to pull the trigger on buying our own ride – sometimes even before we were good and ready to do so. Common knowledge had it that people on a tight budget were confined to buying the barest of subcompacts, and could just forget about even considering an SUV.
Ford Philippines says otherwise, maintaining that owning your own SUV is a much easier dream to achieve than previously thought. However, it's not just about affordability but, more importantly, quality. We take a look at seven compelling reasons to get the Ford EcoSport, the American brand's original category killer in the mini SUV department.
So, why should you get a Ford EcoSport today?
The EcoSport is a globally accepted SUV.
This SUV is renowned all over the world. Mention "EcoSport" in the United States, Europe, Middle East, and Asia and you'll get knowing assent for its signature design, performance, and driver-assist features. It also has an established reputation for versatility, fun-to-drive qualities, and efficiency.
It's a "proper" SUV.
Don't be deceived by its "small SUV" classification; the EcoSport is truly head and shoulders above the typical sedan. We start with a generous ground clearance of 209mm, which will give you the confidence to negotiate floods, uneven roads. This surely outclasses the average sedan.
In the space department, the EcoSport can accommodate maximum total cargo of 1,178 liters with the rear seatbacks folded. Not enough, you say? How about more than 20 stowage compartments for your coffee cups, smartphones, tablets, umbrellas, 1.5 liter bottles, and more? A center console also features a sliding armrest with a storage bin. In the Titanium's backseat is an additional retractable armrest with cupholders.
The engines are where it's at.
The EcoSport is amply motivated by either a 1.0-liter EcoBoost (125ps, 170Nm) or a 1.5-liter engine (123ps, 150Nm) – both promising the values of power and efficiency. The EcoBoost, in particular, has taken home an International Engine of the Year award many times. Drivers can access the output via a six-speed automatic or five-speed manual transmission, translating into fast and smooth acceleration.
Parking is a piece of cake with the rearview camera. 
Shift into reverse gear and the EcoSport's built-in rearview camera automatically activates. View it on the system's screen and instantly be more confident with your parking prowess.
You can be connected with confidence.
The enhanced Sync3 system of the EcoSport boasts Apple CarPlay, Android Auto, and AppLink 3.0 connectivity. That means you can access all sorts of things on your smartphone or device while your hands stay on the wheel and your eyes on the road. Use simple voice commands to make calls, listen to text messages, and play your favorite music.
It has tech with a touch(screen). 
A convenient touchscreen display allows you to access key vehicle controls and settings. The interface on the EcoSport has been redefined and rendered more intuitively much like your smartphone for easier comprehension and heightened legibility.
The Trend variant gets a nine-inch color touchscreen.
It won't break the bank.
SUVs are typically in the P1 million price point. Not the Ford EcoSport, which is now available at a starting price of P799,000 – or with a P23,000 all-in low down payment. At this price, the EcoSport now takes its place among the best value-for-money SUVs in the market today. Think about it: There are sedans more expensive than the EcoSport. This Ford vehicle gives you the most bang for your hard-earned buck as it offers quality, performance, versatility, and the vaunted Ford driving experience.
So, you've seen all the reasons to upgrade to a Ford EcoSport. Again there's no reason to settle for anything less because, well, the price says everything. If you need more convincing (which we doubt), visit https://www.ford.com.ph/suvs/ecosport.html or your nearest Ford dealer.
Photos from Ford Philippines
Ford Ecosport Promos, DP & Monthly Installment
You might also be interested in
Latest Ford Ecosport Cars Videos on Zigwheels