2019 Mercedes-Benz A-Class - Full details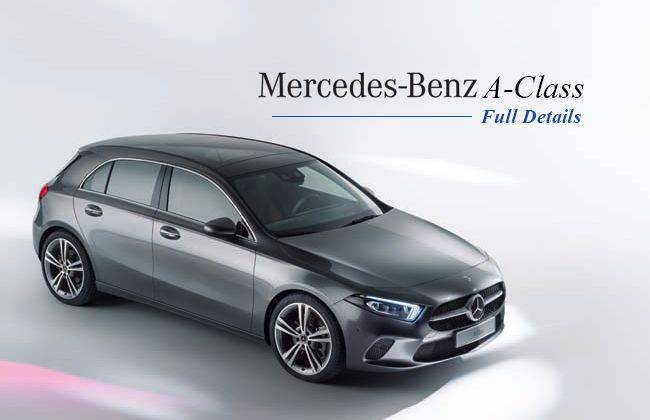 It took quite a long period of time for Mercedes to bring the new 2019 A-Class here in the Philippines. Yes, we were a bit annoyed and disappointed with all the waiting but once the car arrived at the dealerships, it was so good that all our annoyance and disappoint faded away in a second; the new 2019 Mercedes-Benz A-Class is that good and here are all its details.

Exterior design
The new A-Class carries a bolder design than its predecessor. Mercedes calls this design language the 'Sensual Purity' and it lives up to its name, believe us! Most of the curves are replaced by sharp lines. Some of the key exterior features that are bound to attract your attention are-
Sporty diamond radiator grille
Angry-looking LED headlamps with DRLs
Sporty alloy wheels
Two-part rear LED taillamps
All these features make the new A-Class a confident car that is ready to jump off the start line.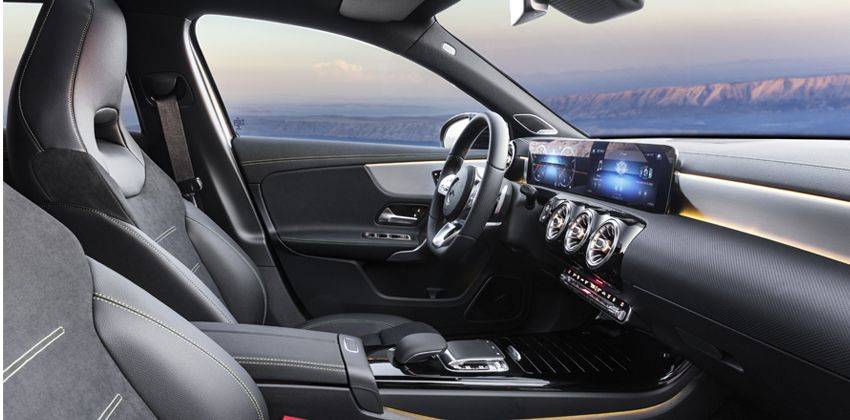 Interior design
It is a Mercedes and you really can't expect anything less than perfection from it. And that's exactly what the 2019 A-Class offers with its interior. The colour combinations of the interior theme are carefully selected. One of our favourite interior features is the turbine-like AC vents that add the extra touch of sportiness.
2019 Mercedes-Benz A-Class dimensions-
| | |
| --- | --- |
| Length | 4419 mm |
| Width | 1796 mm |
| Height | 1440 mm |
| Wheelbase |  2729 mm |

The entire cabin gives a wrap-around-like feeling and all the occupants sit very comfortably; cocooned in the luxury. The new 2019 Mercedes-Benz A-Class specs also have the MBUX (Mercedes-Benz User Experience) which includes a seamless wide display for instrument cluster as well as for car's controls. It looks fantastic!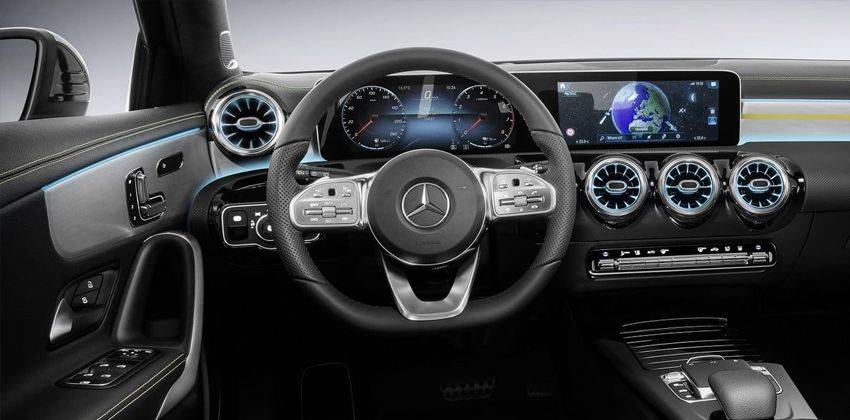 Apart from that, the A-Class also gets the brand's LINGUATRONIC voice control system and a very neat and advanced head-up display.
Engine
We know you've been waiting to know what's under the hood of the new A-Class. There are three variants of the 2019 A-Class - A 180, A 200 and A 200 Edition 1. All of them are powered by the same engine with a bit of different tuning.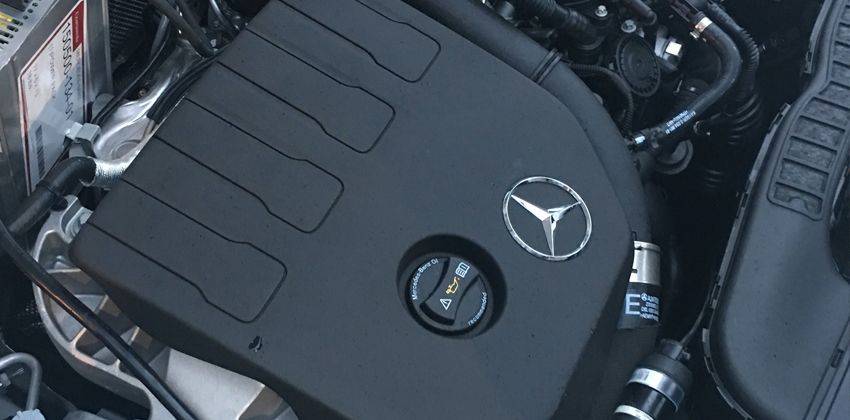 So, the engine is a 1.3-litre turbocharged 4-cylinder engine and in the A 180 it produces 136 PS of max power at 5000 rpm and 200 Nm of torque at 1460 rpm. The same engine in the other two variants pumps out 163 PS of max power at 5500 rpm and 250 Nm of torque at 1620 rpm. The transmission amongst all the three variants is the same - a 7-speed DCT.
Safety features
We are talking about a German-made car here, so safety is among the top-most priorities. The new A-Class specs sheet is loaded with high-end safety features. It has a Driving Assistance Package which include-
Active Distance Assist DISTRONIC
Active Speed Limit Assist
Extended automatic moving-off on motorways
Route-Based Speed Adjustment
Active Steering Assist
Active Lane Change Assist
Active Emergency Stop Assist with SOS function
Active Brake Assist
Cross-traffic function
Congestion emergency braking function
Evasive Steering Assist, and much more
And on top of all this, you get the other basic features as well like ABS, EBD, airbags, etc.
Out of three variants, the A 200 Edition 1 is kind of a special variant as it is inspired by Mercedes' AMG line. So it is a bit different from the other two models. It gets features like green insertions on the aprons, 19-inch AMG alloys, Nappa leather-covered flat-bottom steering wheel, Dinamica microfibre, etc. that make it special.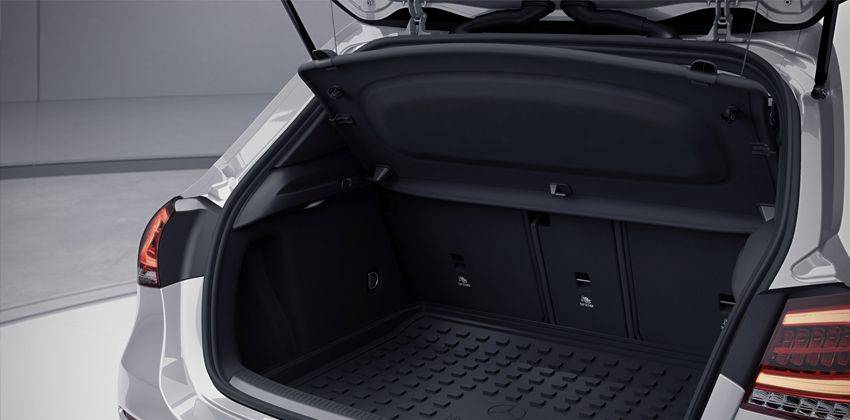 With the new A-Class, Mercedes has done a brilliant job and it looks like that this car is going to give some sleepless nights to its rivals like the Audi A1, BMW 1 Series, and Mazda MX-5 RF. As for the price, the 2019 Mercedes-Benz A-Class price starts at PHP 2.49 million for the A 180 variant.
So, there you have it guys, these were some of the key details that you should have known about the new A-Class. All things aside, if you have any doubts, go out and take a test ride and chances are that all of your doubts, even the tiniest ones, will be cleared.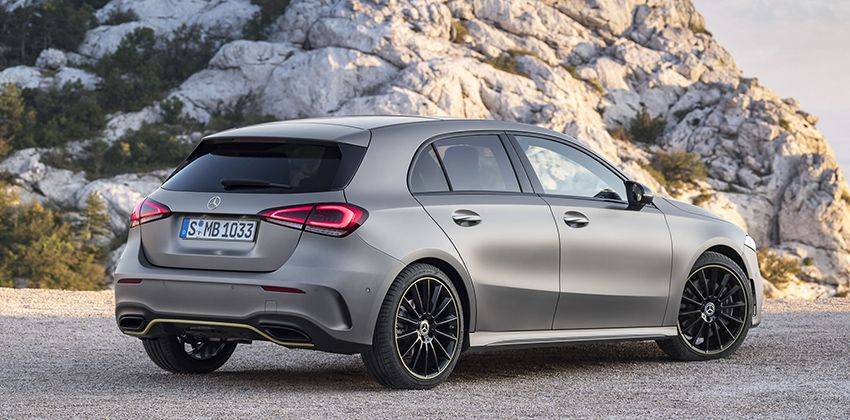 2019 Mercedes-Benz A-Class price list-
| | |
| --- | --- |
| Variant | Price |
| A 180 Progressive | Php 2.49 million |
| A 200 Progressive | Php 2.99 million |
| A 200 Edition 1 |  Php 3.29 million |
Also Read: 2020 Mercedes-Benz GLA teased, to come out on December 11, 2019
You might also be interested in
Explore Mercedes-Benz A-Class
Latest Mercedes-Benz A-Class Cars Videos on Zigwheels