2020 Subaru Levorg STI Sport Black is a station wagon with a flair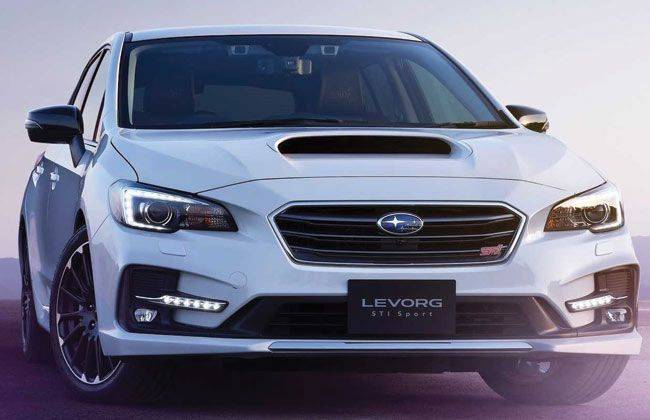 MANILA: When we hear the words "station wagon", the image formed inside of our heads is of a bulky and bland looking car. Reason being the perception that has formed over the years about these wagons. However, automakers do defy norms once in a while and come up with some spectacular offerings. One such car is the 2020 Subaru Levorg STI Sport Black. Introduced in the Japanese market, not only this station wagon packs some scintillating looks but also houses a potent engine.
The upswept headlamps with built-in LED DRLs along with the horizontally stacked LED DRLs on either end of the front bumper both provide the Levorg STI Sport Black with the characteristics of a modern-day hatch or sedan. Furthermore, the hood scoop brings that muscle to the station wagon. Move to the side, and the 15-spoke alloys make sure that you don't emphasise too much on the wagon-style structure of the Levorg STI Sport Black.
As we mentioned earlier, the 2020 Subaru Levorg STI Sport Black is as interesting under the hood as it in on the outside. The station wagon gets its power from a WRX derived 2.0-liter turbocharged boxer mill that produces a maximum power of 300 PS along with a peak torque of 400 Nm. Note that the standard WRX motor makes 268 PS only. Now with good 32 PS more, the Levorg STI Sport Black packs in as much power as the WRX STI. There is also the symmetrical all-wheel drive, in case you were wondering.
Thanks to the more power that the station wagon receives, a 0-100 kmph run can be done and dusted in no more than 5.1-seconds. The top speed stands at 242 kmph, way more than what we generally expect from station wagons. If we compare the number of Levorg STI Sport Black with those of the WRX STI, the latter takes 4.9-seconds for a 0-100 kmph run before topping out at 251 kmph. While the WRX STI gets a six-speed manual transmission, the station wagon, on the other hand, has to do with Subaru Lineartronic continuously variable transmission.
The sad part? The 2020 Subaru Levorg STI Sport Black is a Japan exclusive model. Hence, we're left with our own Levorg which comes housing a 2.0-litre turbo that makes 170 PS.  Do you know Subaru unveiled the XV GT at the 2019 Manila International Auto Show last month?
Also Read:- 2020 Subaru Levorg V-Sport is here – and it's not what you expected
Subaru Levorg Promos, DP & Monthly Installment
You might also be interested in
Latest Subaru Levorg Cars Videos on Zigwheels