Honda BeAt Scooter 2019 [Hits and Misses]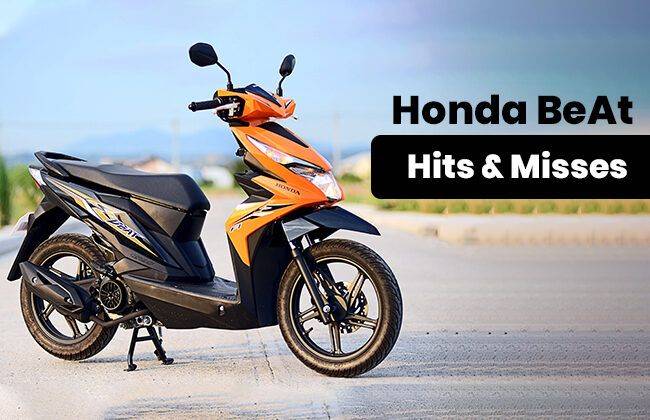 Honda BeAt is one of the most popular scooters in the country, especially amongst young students, that has been giving a tough fight to its competitors.
It is available in attractive colour options that actually vary depending on which variant you pick, but all of them look pretty nice. The BeAt has been around in the market for a while now and sold in good numbers.
So, we thought, perhaps, this would be a good time to talk about the hits and misses of the BeAt.
Let's get started.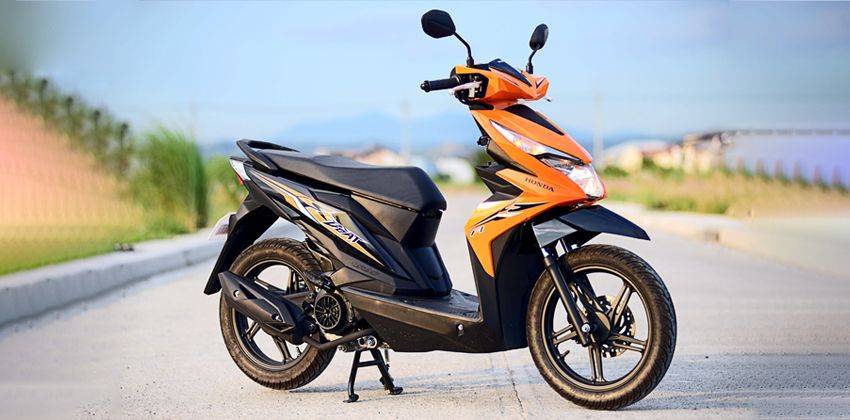 Honda BeAt Hits
Modern design
Nowadays, it has become a trend to have a stylish and modern scooter. However, not every scooter available in the market is truly modern when it comes to design and looks. Honda has invested many working hours to make sure that the BeAt isn't just any other scooter. This is clear by the way it looks. The BeAt features a modern and sleek design that attracts the younger crowd more.
The styling begins right from the front with the sharp headlight and side turn signal assembly. It really brings out the sporty side of the scooter. We also like the sporty front fender. The sharpness continues to the side with the blacked-out muffler and alloy wheels. The rear end is flanked by a much attractive tail light.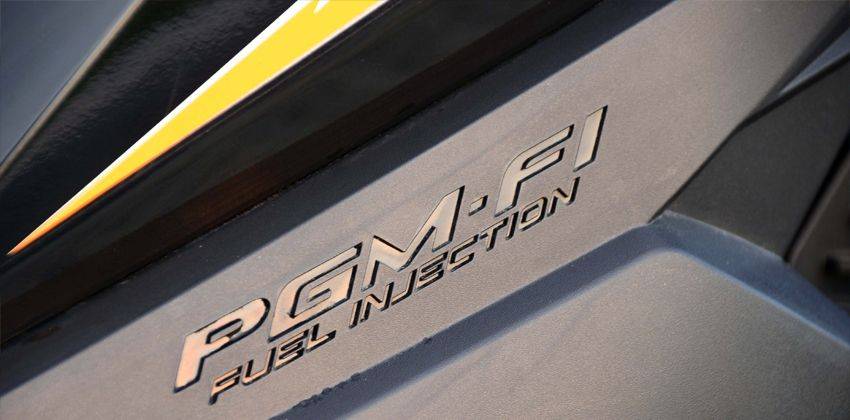 Engine
Listed in the Honda BeAt specs sheet is a 110 cc, single-cylinder, air-cooled, 4-stroke engine that churns out 8.55 hp of max power at 7500 rpm and 9.01 Nm of peak torque that kicks in at 6000 rpm.
The engine is pretty refined and smooth and is completely designed to perform flawlessly in the city conditions.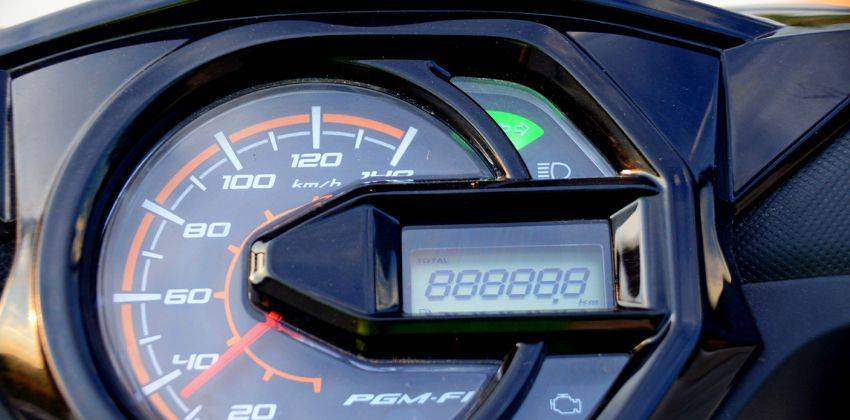 Fuel efficiency
One of the most popular or frequently asked questions that we hear about the Honda BeAt is what is honda beat fuel consumption per liter?
Answer: Honda claims that the BeAt will give a mileage of up to 63 km/l, which is really commendable, thanks to it's ISS or Idle Stop System. The ISS is a technology from high end cars. 
Honda Philippines has provided certain features in the BeAt, which we will talk about in just a moment, that help the rider to extract out the max from the scooter. Even if we round up the claimed fuel efficiency figure from 63 to 60 km/l, we would be getting a total range of 240 km in a full tank.
Isn't that impressive?
Eco Indicator
The eco indicator present in the instrument console is the easiest and simplest way to get the most out of your BeAt. It lights up when the scooter is being ridden in the most fuel-efficient way as possible.
So, all you have to do is to make sure whenever you are riding, the eco indicator is on.
Idling stop system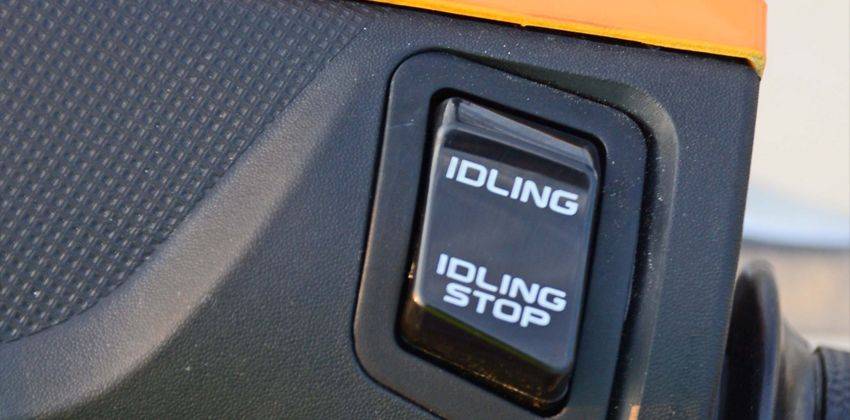 Apart from the eco indicator, BeAt's idling stop system also helps to save fuel. Basically, it automatically switches off the engine during traffic or short-stops and prevents unnecessary fuel consumption.
It isn't a gimmick and surprisingly works well in silence to give you a better an improved fuel efficiency. However, this feature isn't available in all Honda BeAt variants but only in the top-end model.
Honda BeAt Misses
Limited under-seat storage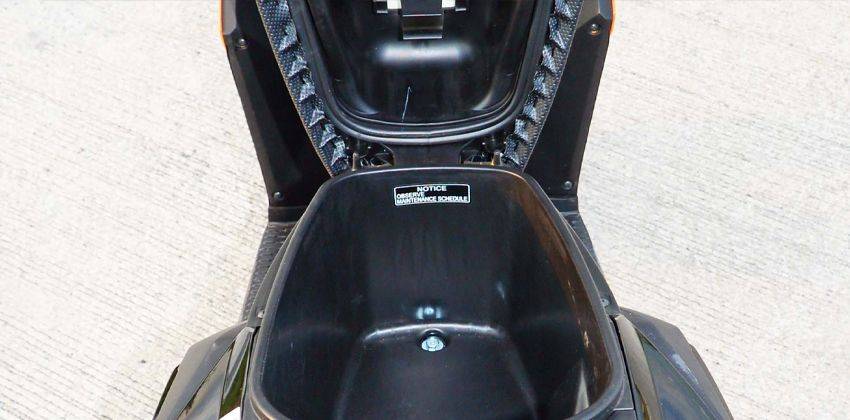 In order to make the BeAt sleek and slim, Honda compromised with the under-seat storage capacity of the scooter. It is of 11-litres and unfortunately, it can't accommodate a helmet in it.
Now, this could be a deal-breaker for many because people would like to store their helmet in the scooter after the ride. Carrying a helmet while taking care of your errands could become a bit cumbersome and irritating.
Unstable at high-speeds
We have noticed that riding the BeAt at a high-speed (90-100 kmph) makes it quite unstable. It is a pretty lightweight scooter weighing in at just 90 kg which works in its favour while riding in the city but against it when it comes to high-speed stability.
Although the BeAt isn't built for doing highway speeds, people would still try to push it to its limits and that could be dangerous.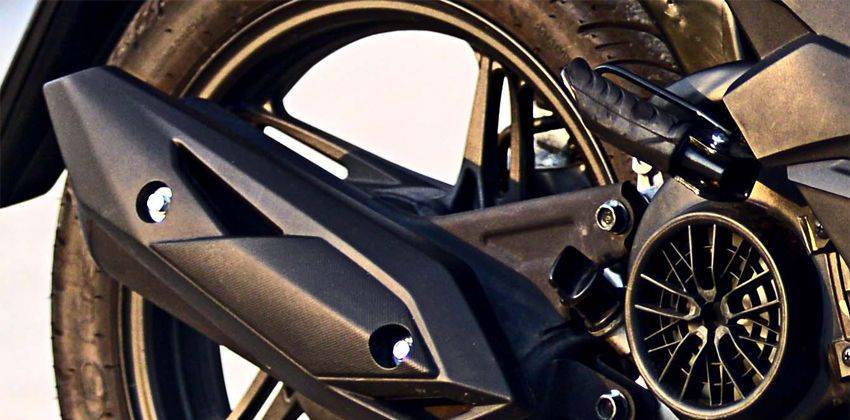 No ABS
We can't just ignore the fact that the BeAt does not come with ABS even as an option. And it is quite disappointing. Honda did try to compensate for that by providing its CBS (Combi Brake System) in the range-topping Premium variant but still, we would have preferred to have ABS instead.
Uncomfortable saddle
Many people have reported about the uncomfortable saddle of the Honda BeAt. It should be pretty okay for small rides, say from home to office and back, but if you are looking to spend more time on the saddle, you might experience some uncomfortableness as the seat lacks in proper cushioning.
No LED lighting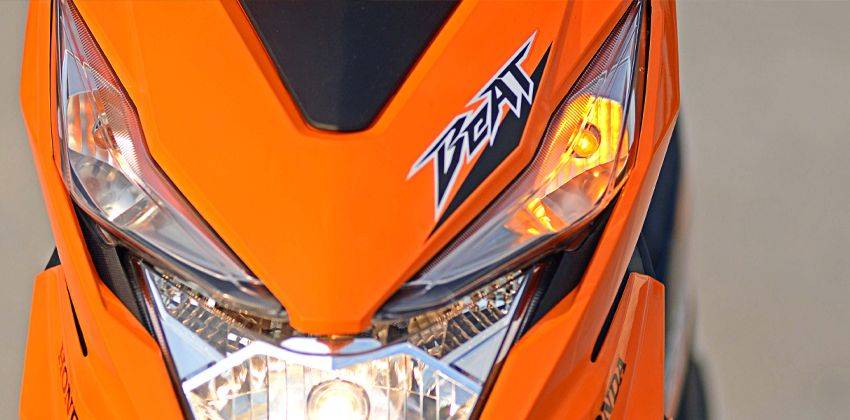 Perhaps, one of the main features that make a scooter modern in today's world is the presence of LEDs. The BeAt does not even come with an LED headlight let alone full LED lighting.
These were the hits and misses of the Honda BeAt. If you have some point to add, do let us know in the comments. Honda BeAt price for its base or standard variant (Fashion Sport and Street) is Php 66,400 whereas the range-topping CBS model (Premium) will set you back by Php 69,900.
Also Read: Honda BeAT - Is it worth the price?
You might also be interested in
Latest Honda BeAT Bikes Videos on Zigwheels