Honda PH says new BeAT is ideal scooter for first-time riders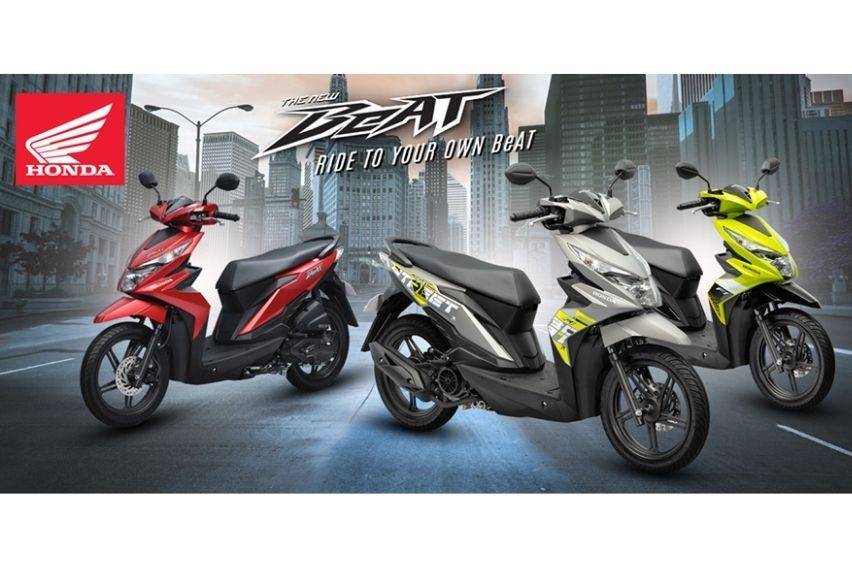 MANILA: Honda Philippines, Inc. (HPI) has officially launched the new BeAT, which features enhanced smart power (eSP), a combi brake system (CBS), and a fuel-efficient engine. Notably, according to Honda, this scooter is best suited for first-time riders.
The BeAT comes with an informative digital meter panel with eco indicator, tubeless tires, a striking headlight and signal light combination cluster, sharp taillight brake, and signal light cluster. It has a seating height of 740mm, which makes it even more suitable for new riders.
The CBS in the new BeAT helps optimize energy output by minimizing efficient combustion with a silent start and an eco-friendly engine.
The BeAT also comes with an idling stop system (ISS) that automatically switches the engine off at brief stops to make the scooter fuel-efficient.
Along with the launch of the new BeAT, HPI shared these "four Bs" that every first-time motorcycle rider should keep in mind:
Buddy
Find a friend who knows about motorcycles. It is important to talk to someone who knows about motorcycle riding before buying as they can provide know-how about riding and share stories that can help in deciding which motorcycle model to purchase.
Binge-watch videos about motorcycle riding
A lot of moto-vlogs featuring road trips from other motorcycle riders are uploaded on social media. Watching these videos will surely fuel one's passion in starting their first-ever motorcycle ride. Motorcycle vlogs and reviews can also serve as a guide in buying a motorcycle and other motor parts.
Buy the right motorcycle
For those who have no riding experience yet, Honda recommends scooters as they are fully automatic, light, easy to handle, and equipped with safety features. One of their beginner-friendly scooter models is the new BeAT, which makes every ride smooth and economical.
Be a student
Enroll in a driving center. Honda is the only motorcycle manufacturer that has its own driving school in the Philippines. The Honda Safety Driving Center (HSDC) is the road safety advocacy arm of HPI and a premier training ground for proper driving and riding skills. It helps its students learn the fundamentals of motorcycle operations, road safety, and courtesy to fellow riders.
HSDC instructors always remind aspiring riders how important road safety is. They believe that "skills and techniques can be mastered later, but what is essential is that all road users share the same values when it comes to road safety."
HSDC provides training on how to lift a fallen motorcycle, pillion riding, emergency braking, identifying standard switches and controls, safe cornering, proper riding posture, and the pros and cons of brakes.
Interested student riders can visit the HSDC Official Facebook page for more details.
By following these four Bs, every rider will surely experience the joy of mobility and thrill of riding.
The new Honda BeAT is available in three stripe designs: Street, Fashion Sport, and Premium. Prices start at P67,400.
To learn more about Honda motorcycles, log on to the official website of HPI at hondaph.com and follow Honda Philippines, Inc. on Facebook and @hondaph_mc on Instagram. For inquiries, call (02)-8581-6700 to 6799 or (0917) 884-6632.
Image from Honda Philippines
Also read: Honda 'Keep on Driving' deals extended until Sept. 30
Honda Motorcycle Models
Honda ADV160

Honda Click 125i

Honda PCX160

Honda Click 160

Honda BeAT

Honda CB650R

Honda TMX125 Alpha

Honda Airblade160

Honda Genio

Honda Supra GTR 150
Honda Motorcycles Price

You might also be interested in

Compare & Recommended
Engine Type

Single Cylinder, 4-Stroke, SOHC Liquid-Cooled Engine

Single Cylinder, 4-Stroke, 2-Valve, Air-Cooled, SOHC Engine

Single Cylinder, 4-Stroke, 2-Valve, Air-Cooled, SOHC Engine
Honda BeAT Motorcycle Articles From Carmudi
Honda BeAT 50th Anniversary Limited Edition available only until Dec.

Honda PH introduces all-new BeAT

Ruben Manahan IV,

Sep 25, 2023

Honda BeAT: a dependable ride amid skyrocketing prices

Ruben Manahan IV,

Nov 23, 2022

REVIEW: Honda BeAT Street

Ruben Manahan IV,

Mar 17, 2022

Covering the beat: A look at why riders are choosing the new BeAT
Honda PH says new BeAT is ideal scooter for first-time riders
Choose a city to get promos and prices in your area