Top electric motorcycles for sale in the Philippines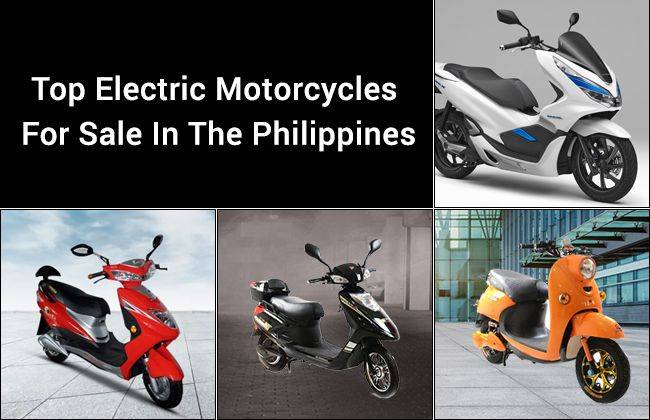 There's no more surprise that electric motorcycles are gaining popularity nowadays not just in the Western countries but also in Asia. Aside from the lower operational costs, more affordable prices, and easier handling, using electric motorcycles can be more environment-friendly since it is not emitting toxic gas like what gasoline or diesel-powered vehicles do. It is also easier to learn to drive this type of motorcycle and is quieter to operate.
How does electric motorcycle work?
An electric motorcycle works essentially the same way a gas-powered motorcycle works: it is propelled by an engine, and that engine requires fuel. The main difference is that the gas fuel in a conventional motorcycle is replaced by either batteries or fuel cells in an electric version.
Although electric motorcycles are still crawling its way towards achieving stardom in the Philippine market, some automotive companies have already shared their breakthroughs in the local scene.
We've listed down some of the best electric motorcycles that were already introduced in the local market and here are the brands that have easily caught our attention:
Honda PCX Electric
Japanese automotive giant Honda did some pretty good on launching its electric motorcycle in the Philippines in February 2019. Through their coordination with fellow Japan-based company Komaihaltec and the Romblon Electric Company (ROMELCO), they built three horizontal-axis wind turbines producing 300kW of power at speeds of 3-25m/second that were then linked with Romblon's three diesel power plants to answer the power shortage problem in the province. 
Upon accomplishing this and powering up the province, they have built mobile power packs and 17 battery charging stations called the Exchangers then leased their first 100 Honda PCX e-scooters among the locals. Not only did they help the province on solving their problem but it also helped the people there towards having more comfortable and easier but eco-friendly transportation.
The PCX Electric is almost the same with its gasoline-powered sibling PCX 150. Apart from the curvaceous body, the stylish headlamp, and taillight, it also got the digital instrument cluster and the comfortable seat. It is powered by a newly developed 96V EV system using two serially connected 48V lithium-ion batteries that produces up to 5.7 horsepower at 5500 rpm and 18 Nm torque at 500 rpm. It is currently available solely in Romblon province priced at PHP 2,000 per month for four years (equivalent to around PHP 96,000).
Motorstar Viber
Dubbed as one of the best electric scooters in the Philippines, MotorStar Viber employs a low-speed hub motor with a battery pack that is a bank of six 12V lead-acid type battery with a capacity of 20 mAh. It only takes around 6 to 10 hours to fully charge the batteries and can cover up to 80-100 kilometers depending on how you ride it.
As for the braking system, drum brakes are employed on both the front and rear wheels.
The size of this e-scooter is very compact where its length is at 1880 mm, width is at 660 mm, and 1150 tall. It is offered in black and red colors for only PHP 39,000. It was tested to consume only 2kW per hour and has a dry weight of 62.3 kilograms. Other features include a backrest and side reflectors. 
GXSUN Zoomer
This low-key player brand named GXSUN offers its Zoomer model with a brushless motor sine wave that has a maximum speed of 50 kilometers per hour and reaches a range of up to 50 kilometers when fully charged for three hours. It is equipped with Lithium Polymer LiPo4 72v which has a capacity of 20 mAh.
It uses hydraulic disc brakes for the front and rear wheels. 
Although the design is noticeably close to the Honda Zoomer, this e-scooter boasts easy start-up and easy handling. Other features include an extra button for reverse, keyless ignition and alarm system, and compatibility to bazooka speaker installment under the seat.
TailG Nwow Turtle King and Linshia
One of the local mainstays is the TailG Nwow Turtle King e-scooter. It boasts an authentic style of scooters that is offered in various designs and colors. Priced at PHP 39,800, it has a speed of 45 to 55 kilometers per hour and reaches a range of up to 80 to 100 kilometers. Despite its smaller size, it's pretty amazing that this performs better than the larger GXSUN Zoomer.
Another entry from TailG motorcycles offered locally by Nwow is the Linshia. It reaches up to 70 to 90 kilometers at a speed range of 45 to 55 kilometers per hour. It is slightly lighter than the 180 kg Turtle King given its dry weight of 150 kilograms. Linshia is priced at PHP 35,000.
There are not many technical specifications available for these two models yet but we highly expect that with the upcoming booming of e-motorcycles in the Philippines, this brand can definitely go head to head with its closest competitors.
Electric Motorcycles Price List
| | |
| --- | --- |
| Honda PCX Electric | PHP 96,000 (approx.) |
| MotorStar Viber | PHP 39,000 |
| GXSUN Zoomer | PHP 45,000 |
| TailG Turtle King | PHP 39,800 |
| TailG Linshia | PHP 35,000 |
If the price is your top priority on buying an electric motorcycle, the TailG Linshia can be a good option but if you are after the technical specs and riding performance, the Honda PCX Electric is the best choice, especially once it becomes available nationwide.
On the other hand, apart from the mentioned models above, we are also highly anticipating the arrival of these three premium electronic motorcycle brands' new models in the Philippine market:
The futuristic Vespa Elettrica produced by Italian company Piaggio can reach up to 100 kilometers when fully charged and its electric-powered motor can produce up to 5.4 horsepower and 199 Nm torque.
Energica Ego is named as one of the first electric bikes that was designed by a team of Le Mans and F1 engineers in Italy. This premium e-bike has a top speed of 150 mph and can reach up to 149 kilometers with its motor firing up to 136 horsepower and 195 Nm torque.
Unveiled in the 2019 Esposizione Internazionale Ciclo Motociclo e Accessori (EICMA) 2019 IN Milan by Taiwanese company Kymco is their revolutionary concept bike called RevoNEX. This electric motorcycle can go from 0 to 100 kmph in just 3.9 seconds.
Japan-based Yamaha is also bound to set foot in the e-motorcycle scene through its EC-05 while Bangkok-based EV manufacturer Swag announced as well that they are conceptualizing an electric bike that will also be available in the Philippines.
With the uproar of the call for having an eco-friendly lifestyle across the world, there is no wonder that more of our two-wheeler friend will go electric in the future.
Stay updated for the latest news about electric motorcycles and the automotive industry! Keep reading our articles here in Zigwheels Philippines!
Also read: Top 5 electric vehicles on sale in PH
MotorStar Motorcycle Models
You might also be interested in