The king of MPVs: Checking out the Toyota Innova variants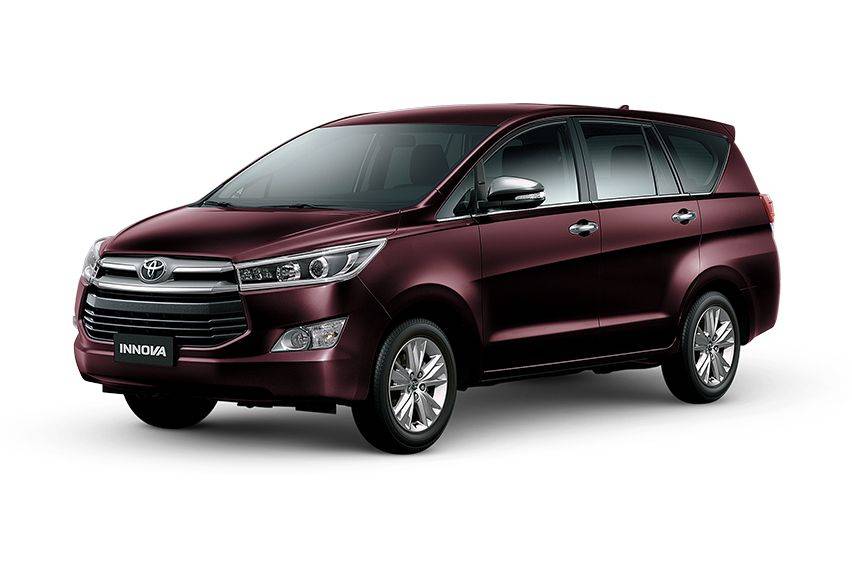 The Toyota Innova has surely been the face of its segment in the Philippines as a road trip-ready multi-purpose vehicle (MPV).
The cabin has steadily evolved with an array of tech and amenities such as a wide touchscreen display with phone connectivity.
Comfort is also a priority as the Innova provides full convenience through its foldable seat back trays, captain seats (for V trims), and expansive legroom and headroom.
Complete safety is attained through its seven SRS airbags for full passenger and driver protection.
The Toyota Innova comes in five main variants — V, G, Touring Sport, E, and J variants.
Let's take a quick look at the specs of the Innova's variants.
SPECIFICATIONS

 

Toyota Innova 2.8 G

 

 

Toyota Innova 2.8 Touring Sport

 

 

Toyota Innova 2.8 E

 

Toyota Innova 2.0 E

 

Toyota Innova J

 

 

 

Length

  4,735 mm

4,735 mm

  4,735 mm

            4,735 mm

      4,735 mm

        4,735 mm

        4,735 mm

       4,735 mm

Width

   1,830 mm

1,830 mm

  1,830 mm

           1,830 mm

      1,830 mm

        1,830 mm

        1,830 mm

       1,830 mm

Height

    1,795 mm

    1,795 mm

    1,795 mm

           1,795 mm

      1,795 mm

        1,795 mm

        1,795 mm

       1,795 mm

Engine type

1GD-FTV Direct Injection Four-Stroke Common Rail Diesel

1GD-FTV Direct Injection Four-Stroke Common Rail Diesel

1GD-FTV Direct Injection Four-Stroke Common Rail Diesel

1GD-FTV Direct Injection Four-Stroke Common Rail Diesel

1TR-FE Dual Variable-Valve Timing-Intelligent (Dual VVT-i)

1GD-FTV Direct Injection Four-Stroke Common Rail Diesel

1TR-FE Dual Variable-Valve Timing-Intelligent (Dual VVT-i)

1GD-FTV Direct Injection Four-Stroke Common Rail Diesel

1TR-FE Dual Variable-Valve Timing-Intelligent (Dual VVT-i)

Displacement

2,755 cc

2,755 cc

2,755 cc

2,755 cc

1,998 cc

2,755 cc

1,998 cc

2,755 cc

1,998 cc

Exhaust Emissions Standards

Euro 4

Euro 4

Euro 4

Euro 4

Euro 4

Euro 4

Euro 4

Euro 4

Euro 4

Maximum output

171 hp

171 hp

171 hp

171 hp

136 hp

171 hp

136 hp

171 hp

136 hp

Maximum Torque

360 Nm

360 Nm

360 Nm

360 Nm

183 Nm

360 Nm

183 Nm

360 Nm

183 Nm

Wheelbase

2,750 mm

2,750 mm

  2,750 mm

           2,750 mm

     2,750 mm

        2,750 mm

         2,750 mm

        2,750 mm

Transmission

6-Speed AT with Sequential Control

6-Speed AT with Sequential Control

5-speed MT

6-Speed AT with Sequential Control

5-speed MT

6-Speed AT with Sequential Control

6-Speed AT with  Sequential Control

5-speed MT

5-speed MT

5-speed MT

Wheels

215/55 R17, Alloy with Center Cap

205/65 R16, Alloy with Center Cap

205/65 R16, Alloy with Center Cap

205/65 R16, Matte Black Alloy with Center Cap

205/65 R16, Alloy with Center Cap

205/65 R16, Alloy with Center Cap

205/65 R16, Alloy with Center Cap

205/65 R16, Steel with Full Cap

Fuel capacity

55 liters

55 liters

55 liters

55 liters

55 liters

55 liters

55 liters

55 liters

Seating capacity

         7

       8

         8

                    8

               8

                   8

                8

                  8

Brakes

(Front)  Ventilated Discs

(Rear) Leading-Trailing Drum

(Front)  Ventilated Discs

(Rear) Leading-Trailing Drum

(Front)  Ventilated Discs

(Rear) Leading-Trailing Drum

(Front)  Ventilated Discs

(Rear) Leading-Trailing Drum

(Front)  Ventilated Discs

(Rear) Leading-Trailing Drum

(Front)  Ventilated Discs

(Rear) Leading-Trailing Drum

(Front)  Ventilated Discs

(Rear) Leading-Trailing Drum

(Front)  Ventilated Discs

(Rear) Leading-Trailing Drum

Suspension

(Front) Independent, Coil Spring, Double Wishbone with Stabilizer

(Rear) 4-Link, Coil Spring

(Front) Independent, Coil Spring, Double Wishbone with Stabilizer

(Rear) 4-Link, Coil Spring

(Front) Independent, Coil Spring, Double Wishbone with Stabilizer

(Rear) 4-Link, Coil Spring

(Front) Independent, Coil Spring, Double Wishbone with Stabilizer

(Rear) 4-Link, Coil Spring

(Front) Independent, Coil Spring, Double Wishbone with Stabilizer

(Rear) 4-Link, Coil Spring

(Front) Independent, Coil Spring, Double Wishbone with Stabilizer

(Rear) 4-Link, Coil Spring

(Front) Independent, Coil Spring, Double Wishbone with Stabilizer

(Rear) 4-Link, Coil Spring

(Front) Independent, Coil Spring, Double Wishbone with Stabilizer

(Rear)  4-Link, Coil Spring

Steering wheel with Switches

4-Spoke, Leather + Wood + Silver Trim with Audio, Tel and MID Switch

4-Spoke, Leather + Wood + Silver Trim with Audio, Tel and MID Switch

4-Spoke, Leather + Wood + Silver Trim with Audio, Tel and MID Switch

4-Spoke, Urethane + Silver Trim with Audio, Tel and MID Switch

4-Spoke, Leather + Wood + Silver Trim with Audio, Tel and MID Switch

4-Spoke, Urethane + Silver Trim with Audio, Tel and MID Switch

4-Spoke, Urethane + Silver Trim with Audio, Tel and MID Switch

4-Spoke, Urethane

Front Headlamp

LED Projector Type with Clearance Lamp

Multi-reflector Halogen

Multi-reflector Halogen

Smoked Multi-reflector Halogen

Multi-reflector Halogen

Multi-reflector Halogen

Multi-reflector Halogen

Multi-reflector Halogen

Outside Door Handle

Chrome, Grip Type

Chrome, Grip Type

Chrome, Grip Type

Color, Grip Type

Chrome, Grip Type

Color, Grip Type

Color, Grip Type

Color, Grip Type

Outside view mirror

Chrome with side turn lamp, retract, puddle lamp

Color with side turn lamp, retract, puddle lamp

Color with side turn lamp, retract, puddle lamp

Color-keyed with side turn lamp

Color with side turn lamp, retract, puddle lamp

Color-keyed with side turn lamp

Color-keyed with side turn lamp

Color-keyed with side turn lamp

Front Grille

Painted with Chrome

Painted with Chrome

Painted with Chrome

Black with Chrome

Painted with Chrome

Resin with Silver Paint

Resin with Silver Paint

Resin with Silver Paint

Wiper

(Front) Intermittent with time adjuster + mist

(Rear) With

(Front) Intermittent with time adjuster + mist

(Rear) With

(Front) Intermittent with time adjuster + mist

(Rear) With

(Front) Intermittent + Mist

(Rear) With

(Front) Intermittent with time adjuster + mist

(Rear) With

(Front) Intermittent + Mist

(Rear) With

(Front) Intermittent + Mist

(Rear) With

(Front) Intermittent + Mist

(Rear) With

Sunvisor

Driver + Passenger (With Mirror + Lid + Lamp)

Driver + Passenger (With Mirror + Lid + Lamp)

Driver + Passenger (With Mirror + Lid + Lamp)

Driver + Passenger (With Mirror + Lid)

Driver + Passenger (With Mirror + Lid + Lamp)

Driver + Passenger (With Mirror + Lid)

Driver + Passenger (With Mirror + Lid)

With

Front fog lamps

LED with Chrome Bezel

Halogen With Chrome Bezel

Halogen With Chrome Bezel

Halogen With Chrome Bezel

Halogen With Chrome Bezel

Halogen With Chrome Bezel

Halogen With Chrome Bezel

Without

Antenna

With (fin type)

With (fin type)

With (fin type)

With (fin type)

With (fin type)

With (fin type)

With (fin type)

With (fin type)

Front personal lamp/room lamp/luggage lamp

with + ambient light/ with + rear personal + ambient light/ with

with + ambient light/ with + rear personal + ambient light/ with

with + ambient light/ with + rear personal + ambient light/ with

With

with + ambient light/ with + rear personal + ambient light/ with

With

With

With

Wireless door lock

With (with smart entry)

With

With

With

With

With

With

Without

Push start system

With

Without

Without

Without

Without

Without

Without

Without

Shift Lever Knob

Leather + Chrome Ornament

Leather + Chrome Ornament

Leather + Chrome Ornament

Urethane

Leather + Chrome Ornament

Urethane

Urethane

Urethane

Drive Mode Select

With (With Eco + Power Switch)

With (With Eco + Power Switch)

With (With Eco + Power Switch)

With (With Eco + Power Switch)

With (With Eco + Power Switch)

With (With Eco + Power Switch)

With (With Eco + Power Switch)

With

Glove box

With (With Key + Damper)

With (With Key + Damper)

With (With Key + Damper)

With (with Key)

With (With Key + Damper)

With (with Key)

With (with Key)

With (with Key)

Console box

With ( With Soft Lid + Wood)

With (with soft lid)

With (with soft lid)

With (with lid)

With (with soft lid)

With (with lid)

With (with lid)

With (with lid)

Multi-information display

With (TFT Type)

With (TFT Type)

With (TFT Type)

With (DOT Type)

With (TFT Type)

With ( With DOT Type)

With (DOT Type)

Without

Door trim

Fabric with Integrated Armrest and Silver Trim and Door Pocket (front and rear)

Fabric with Integrated Armrest and Silver Trim and Door Pocket (front and rear)

Fabric with Integrated Armrest and Silver Trim and Door Pocket (front and rear)

Fabric with Integrated Armrest and Door Pocket (Front and Rear

Fabric with Integrated Armrest and Silver Trim and Door Pocket (front and rear)

Fabric with Integrated Armrest and Door Pocket (Front and Rear

Fabric with Integrated Armrest and Door Pocket (Front and Rear

Fabric with Integrated Armrest and Door Pocket (Front and Rear

Power door lock

With

With

With

With

With

With

With

With

Power window

With (one-touch up and down)

With (driver one-touch up and down)

With (driver one-touch up and down)

With (driver one-touch up and down)

With (driver one-touch up and down)

With (driver one-touch up and down)

With (driver one-touch up and down)

With (driver one-touch down)

Eco Meter

Eco Lamp + Zone Display

Eco Lamp + Zone Display

Eco Lamp + Zone Display

Eco Lamp + Zone Display

Eco Lamp + Zone Display

Eco Lamp + Zone Display

Eco Lamp + Zone Display

Eco Lamp

Door Ajar Warning/Seatbelt warning

With (each door display) / With (Driver + Passenger)

With (each door display) / With (Driver + Passenger)

With (each door display) / With (Driver + Passenger)

With (each door display) / With (Driver + Passenger)

With (each door display) / With (Driver + Passenger)

With (each door display) / With (Driver + Passenger)

With (each door display) / With (Driver + Passenger)

With / With (Driver+Passenger)

Audio system

Display audio CD/DVD/Tuner/MP3/BT/Navigation with USB and Auxiliary input

Display audio CD/Tuner/MP3/BT/Navigation with USB and Auxiliary Input

Display audio CD/Tuner/MP3/BT/Navigation with USB and Auxiliary Input

Display audio CD/Tuner/MP3/BT/Navigation-ready with USB and Auxiliary Input

Display audio CD/Tuner/MP3/BT/Navigation with USB and Auxiliary Input

CD/Tuner/MP3/ BT with USB and Auxiliary Input

CD/Tuner/MP3/ BT with USB and Auxiliary Input

CD/Tuner/MP3/with USB and Auxiliary Input

Illuminated Entry

With (all-room lamp)

With (all-room lamp)

With (All-room lamp)

With (dome lamp only)

With (all-room lamp only)

With (dome lamp only)

With (dome lamp only)

With (dome lamp only)

Speakers

6 speakers

6 speakers

6 speakers

6 speakers

6 speakers

6 speakers

6 speakers

4 speakers

Air-conditioning system

Automatic Climate Control

Automatic Climate Control

Automatic Climate Control

Manual

Automatic Climate Control

Manual

Manual

Manual

Safety features

Driver Assist (with Vehicle Stability Control, Hill Start Assist Control, Brake Assist), Emergency Brake Signal,  Anti-lock Brake System (ABS) with Electronic Brake Force Distribution, high mount stop lamp (LED type), vehicle security system (alarm with immobilizer), seatbelts

Anti-lock Brake System (ABS) with Electronic Brake Force Distribution,  high mount stop lamp (LED type),  vehicle security system (alarm with immobilizer), Seatbelts

Anti-lock Brake System (ABS) with Electronic Brake Force Distribution,  high mount stop lamp (LED type),  vehicle security system (alarm with immobilizer), Seatbelts

Anti-lock Brake System (ABS) with Electronic Brake Force Distribution, high mount stop lamp (LED type),  vehicle security system (alarm with immobilizer),  Seatbelts

Anti-lock Brake System (ABS) with Electronic Brake Force Distribution, high mount stop lamp (LED type),  vehicle security system (alarm with immobilizer),  Seatbelts

Anti-lock Brake System (ABS) with Electronic Brake Force Distribution,  high mount stop lamp (LED type), Seatbelts

Anti-lock Brake System (ABS) with Electronic Brake Force Distribution, high mount stop lamp (LED type), Seatbelts

Anti-lock Brake System (ABS) with Electronic Brake Force Distribution,  high mount stop lamp (LED type), Seatbelts

SRS Airbags

Driver (with Knee) and Passenger, Side, Curtain Shield

Driver (with Knee) and Passenger

Driver (with Knee) and Passenger

Driver (with Knee) and Passenger

Driver (with Knee) and Passenger

Driver (with Knee) and Passenger

Driver (with Knee) and Passenger

Driver (with Knee) and Passenger

Back-up sensor

With

With

With

With

With

Without

Without

Without

Available colors

White Pearl, Blackish Red Mica, Alumina Jade Metallic

White Pearl, Black, Blackish Red Mica, Alumina Jade Metallic, Thermalyte

White Pearl, Thermalyte, Black, Blackish Red Mica, Alumina Jade Metallic

Freedom White, Red Mica Metallic, Thermalyte

Thermalyte, Black, Blackish Red Mica, Alumina Jade Metallic

Black, Thermalyte, Blackish Red Mica, Red Mica Metallic

Black, Thermalyte, Blackish Red Mica, Red Mica Metallic

Freedom White, Thermalyte, Red Mica Metallic

Price

White Pearl- P1,694,000

Blackish Red Mica, Alumina Jade Metallic- P1,679,000

White Pearl- P1,537,000

Black, Blackish Red Mica, Alumina Jade Metallic, Thermalyte-P1,522,000

White Pearl- P1,467,000

Thermalyte, Black, Blackish Red Mica, Alumina Jade Metallic-P1,452,000

P1,390,000

P1,320,000

P1,320,000

P1,320,000

P1,250,000

P1,248,000

P1,178,000

P1,146,000

P1,036,000
Photos from Toyota Motor Philippines
Toyota Innova Promos, DP & Monthly Installment
You might also be interested in
Latest Toyota Innova Cars Videos on Zigwheels