Honda Click 150i: Hits and misses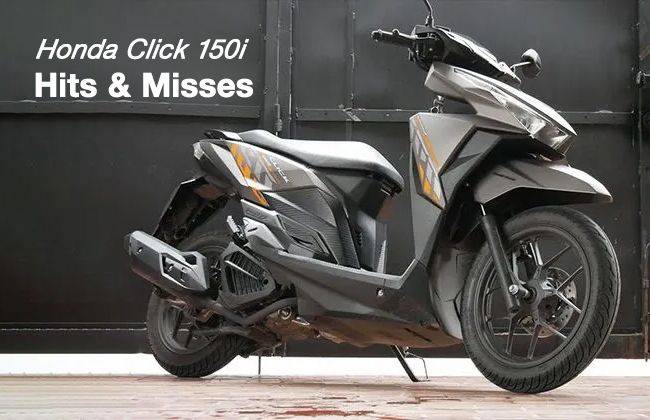 The Honda Click 150i first made waves after its release in 2018. It was introduced as Honda's front-offering in the local scooter segment alongside its more premium sister, the Honda Click 125i. Despite being a year old, it's still one of the most in-demand scooters on the market.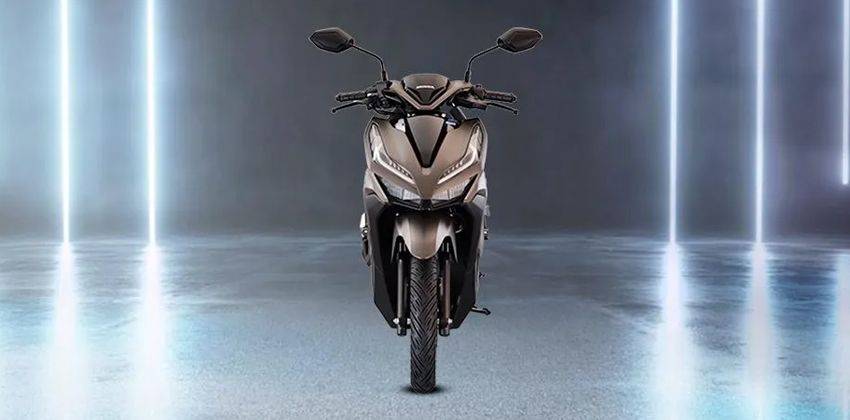 It has a modern look-at-me design, with its sporty muffler and LED Dual Keen headlight. However, what really gave the Click 150i its notoriety is its plethora of tech features. A few that you can expect are the enhanced smart power, a start-stop system, and the playful answer back system, which makes it easier for a rider to locate their scooter even in a crowded parking lot.
Motorcycle scooters have become one of the largest auto markets in the Philippines because of its compact size and affordable rates. With numerous models at competitive prices to choose from, it can be challenging to distinguish which is the best. Which is why we listed Honda Click 150i pros and cons to help you decide if it's the right pick for you.
Honda Click 150i price in Philippines
| | |
| --- | --- |
| Honda CLICK 150i |  Php 98,900 |

The Click 150i is part of Honda's mid-variant AT scooter lineup, between the Honda BeAT and PCX 150. It is Php 20,000 more expensive than its sister, the 125i. However, media test riders have noted that the 150i does pack more of a punch. Down payment starts as low as Php 8,500 with a monthly payment of Php 4,764 for 36 months. Those who pay with cash and instalment will also receive a free XPOT/M Half Face Helmet.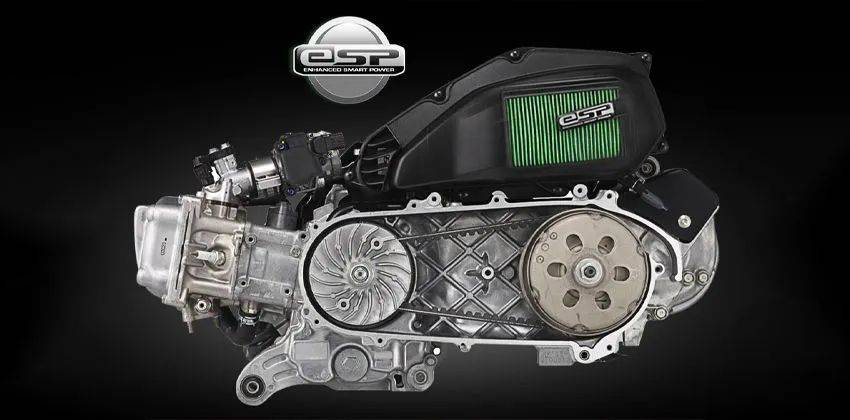 Honda Click 150i engine specs
| | |
| --- | --- |
| Engine | 150cc liquid-cooled PGM-FI |
| Power | 13 hp |
| Torque | 13.4 Nm |
| Battery Type | 12V-5Ah MF |
| Gearbox | V-belt automatic |
| Fuel System | Fuel injection |
| Mileage | 52 km/L |
The 150cc liquid-cooled PGM-FI engine is equipped with features to boost mileage such as Enhanced Smart Power, an idling stop system, and an ACG starter. This allows it to quickly accelerate to 60kph and handle uphill maneuvers with ease. It's also fitted with a Combi Brake System Lock for quick hard braking.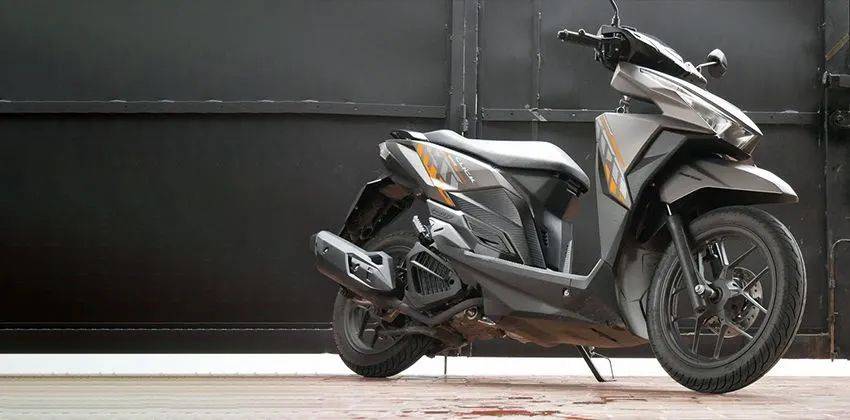 Honda Click 150i Pros
Design: The latest Click 150i is definitely the most good-looking one of all the generations. Inspiration was taken from Honda's NSX sports-car, which explains its bold and striking design. It even has an aluminium end cap — a feature most commonly found on high-end big bikes. It has twin LED antler-shaped headlamps and position lights, LED tail-lamps, and LED turn signals. The Honda 150i specs also sport 3Dd emblems and come in a variety of exclusive color decals such as Anchor Gray, Metallic, Vivid Blue Blue Metallic, Nitric Orange, and Space Magenta Metallic.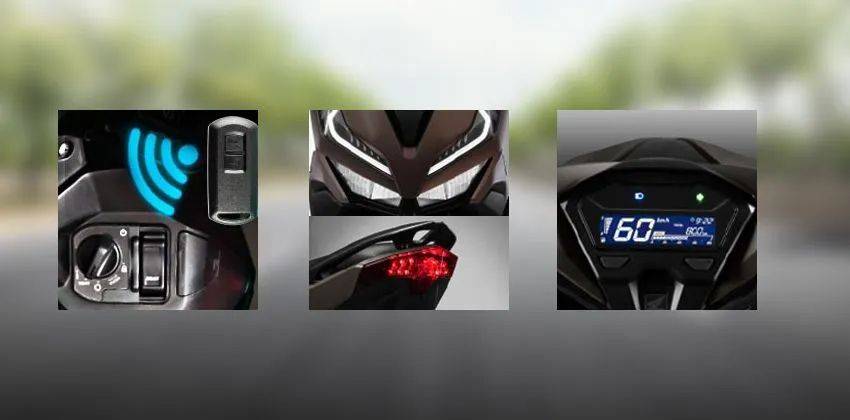 Features: What makes the Click 150i especially attractive is the handful of features integrated in the bike. It has a full digital console for easy access to fuel levels and the speed metre while riding. It also has Honda's signature smart key which includes keyless ignition, answer back technology, and an anti-theft alarm system. Most of these features can typically be found on more expensive maxi-scooters, so the 150i really gives you a bang for your buck when it comes to tech features.
Fuel efficiency: The 150i's Start-Stop and fuel injection system keeps fuel economy at 52km/l. The engine automatically shuts off when the bike is idle for at least five seconds and starts up immediately when it's ready to start moving again. This can help you save on gasoline costs.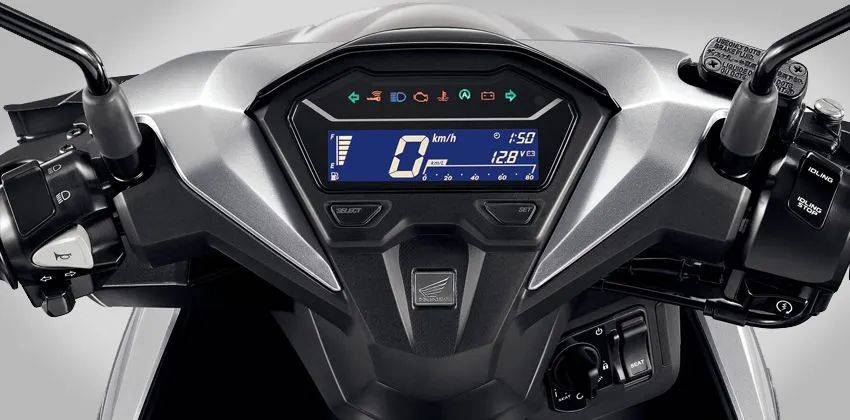 Ride performance: The 150i has no can easily execute sharp turns and maneuvers thanks to its short 1,280 mm wheelbase. It has a smooth takeoff and still manages to remain relaxed even when accelerating. The Start-Stop feature also makes the balancing the scooter effortless, with the Park Brake Lock system ensuring that you won't suddenly shoot off while idle. However, 150i's stockiness is more suited for city driving.
Honda Click 150i Cons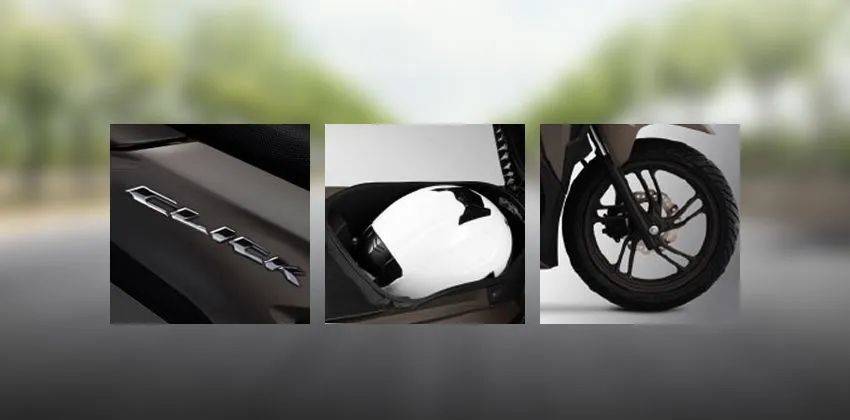 Saddle: Despite the 150i's skinny build, the saddle is wide and comfortable enough to accommodate two grown adults without making it feel cramped. The seat, however, is relatively high. This means you might have to stand on your tiptoes when stationary. The saddle compartment is 18 litres which, while could be bigger, is still enough to hold a full-face helmet.
Safety: While having numerous tech features, the 150i sadly lacks an automatic brake system (ABS), which is a standard safety feature found on virtually all vehicles and bikes. Should this have been paired with the Combi Brake System, it could have made for excellent safety ratings.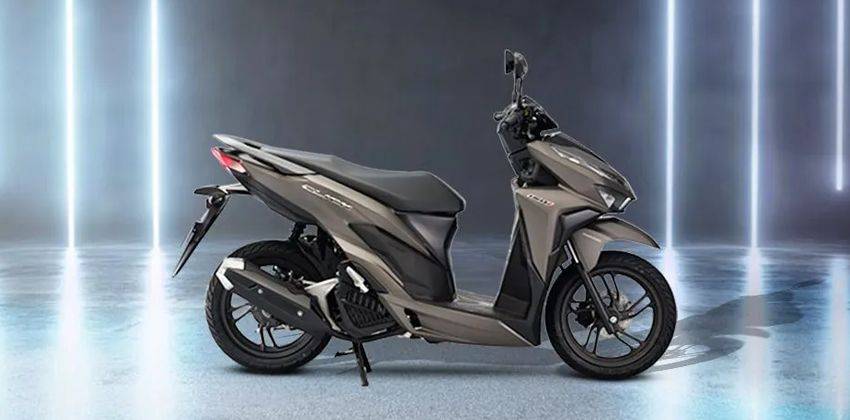 Verdict
The Honda Click 150i has proved to be an excellent bike and is especially ideal for first-time bike owners, yuppies on a budget, or even students. For the price of Php 98,900, you can already take advantage of features that would typically require you to shell out more. The slim and subdued modern style of the bike doesn't make it too flashy but still gives it a sophisticated look.
Honda has always been very competitive in the motorbike market and still delivered with the Click 150i. If you're not too picky about the saddle and the absence of an ABS, then the Honda Click 150i is definitely worth checking out.
Also Read: Honda Click 150i - Is it worth the price?
You might also be interested in
Latest Honda Click 150i Motorcycles Videos on Zigwheels