Yamaha Mio i125: Top 5 alternatives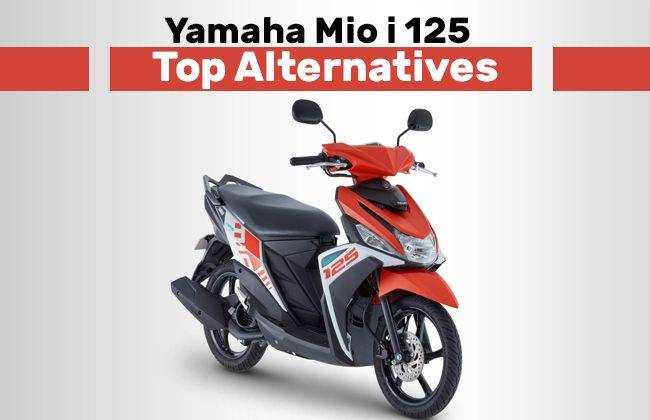 Marketed as the perfect scooter for the "Miollenials", the Yamaha Mio i125 lives with the expectations of being an elegant looking, youthful, and modern motorcycle for thrifty moto sapiens.
The entry-level model of the new generation Mio series is a definitive fusion of riding prowess, and amazing specifications that will not burn a hole in your pocket. The Mio i125 is available in two trims - the Standard and the S.
Asia's Next Top Model Cycle 5 Winner Maureen Wroblewitz is the ambassadress for this model, particularly the standard variant that appears to have more chic and funky design language. This makes an impression that this scooter is a great option for the empowered women out there, in lieu of the Women's Month, this scooter can definitely help you on unleashing "An Extraordinary You". On the other hand, the top-spec level reveals a more premium, silent, and muscular stance.
Mio i125 Specifications
When it comes to the dimensions and engine setup, both standard and S trims share the same specifications. Both trims are 1870 mm long, 685 mm wide, and 1035 mm with a ground clearance of 135 mm and a seat height of 750 mm.
Equipped with a 125 cc air-cooled, single-cylinder, 4-stroke, 2-valve SOHC engine that fires up to 9.5 horsepower at 8000 revs and 9.6 Nm torque at 5500 revs, the Mio i125 spec sheet is still packed with Yamaha's signature Blue Core Technology for more powerful riding performance and improved fuel efficiency.
Among the top features of this scooter is the Smart Stand Switch, Stop and Start System, as well as the Yamaha Integrated Key Shutter and Answer Back Key System.
What are the Top Alternatives for Yamaha Mio i125?
Well if you are wondering if there are any other options for you in the 125 cc scooter segment, the good news is, YES, THERE'S A LOT. We have listed down the top five alternatives for Mio i125 to help you decide:
Yamaha Mio Soul i125
Known for its daunting outlook, the Mio Soul i125 has carried the epitome of a strong but easy to handle scooter. Being top Filipina Cosplayer Alodia Gosiengfiao as its main model, the Soul i125 was bred to appeal to moto sapiens who like to keep their rides edgy and powerful.
It has the same engine setup and maximum power as well as torque output with its fellow Mio series model but just a little bit heavier than the Mio i125 given their 4-kilogram difference in kerb weight. The Mio i125 utilizes a 70/90 R14 front tire while the Mio Soul i125 uses an 80/80 R14. As for the headlamps, the Mio i125 uses Halogen while the Soul i125 has it in LED.
This scooter actually has the same special features from the Mio i125 and just keeps a much more futuristic appeal.
Suzuki Skydrive FI
One of Yamaha's toughest competitors Suzuki also has its own entry to the growing 125 cc scooter segment. Powered by an air-cooled, 125 cc CVT fuel-injected single-cylinder, four-stroke, two-valve SOHC engine, the Suzuki Skydrive FI was set to return 9.3 horsepower at 7500 rpm and 9.6 Nm torque at 6500 rpm.
Although its almost at par with the Mio i125 when it comes to the driving performance, you can still count on the additional features of this scooter. It has a very spacious under-seat compartment with a dual compartment in the front so you will be able to put more stuff while riding. Apart from the storage, you will also be amazed by the eye-catching decals that make this scooter a real spotlight stealer in the scene.
This scooter is available in four colours which are Black, Rex Orange, Violet, and Pink.
Honda Click 125i
Bursting with amazing extra features and reliable riding performance, Honda Click 125i is by far one of the best 125 cc scooter in town. It can speed up to 11 horsepower at 8500 revs and fire up to 10.8 Nm torque at 5000 rpm, thanks to its 125 cc liquid-cooled single-cylinder, 4-stroke, SOHC gasoline engine with the full transistorized ignition system.
If you are looking for a 125 cc scooter that has a lot of additional features like full LED headlamps, tail lamps, daytime running lamps, and a full digital instrument console, Honda Click 125i is the perfect match for you.
The sports style muffler design with aluminum end cap and tubeless tires is something to really consider as it does not just accentuate the sporty stance of the scooter but also its reliability and durability. Worried about where to put your helmet when parked? Just pop up the under-seat storage and you will be greeted with a spacious 18-liter utility box.
Honda Click 125i is longer and heavier than the Mio i125 and Mio Soul i125 while bearing the tag as one of the most digitized and most powerful 125 cc scooter.
Kymco Like 125 Italia E3
The classic styling of the Kymco Like 125 sets it apart from other competitors. Although it lacks in terms of advanced features, this urban scooter offers an efficient four-stroke engine with fewer emissions. Its single-cylinder, four-stroke, SOHC air-cooled engine delivers a maximum power of 9.3 hp at 8000 rpm and 9.5 Nm torque at 6500 rpm.
You can conveniently charge your phones while on the go using its 12V DC outlet while for the instrument panel, it dons a modern design for the speedometer, odometer, fuel indicator, and digital clock. Maneuvering through traffic was also made easy through the adjustable rear twin shocks and stable forks.
The design language of the Kymco LIke is really far from the Mio new generation series but it gives you the riding experience and the feels of cruising the streets of Italy.
Vespa S 125
If you are generous enough and can spend more moola on buying a 125cc scooter, it is best to get on a Vespa S 125.
Inspired by its 1960s predecessor Vespino, the Vespa S is equipped with the Piaggio I-GET EURO 3 powerplant that is capable of ensuring brilliant riding performance but with utmost fuel efficiency.
Designed to offer both elegance and great riding experience, this premium scooter boasts an output of 9.9 horsepower at 7500 revs per minute and 10.6 Nm torque at 6000 rpm. The 125 cc air-cooled single-cylinder, four-stroke, three-valve SOHC petrol engine is the one responsible for its amazing performance. When its 7.0-liter fuel tank is full, it can cover up to 420 kilometers at a constant speed of 50 kilometers per hour.
This scooter is a little bit shorter than the Mio i125 but it is much wider and heavier than the latter. It also features a trip meter and some chrome garnish that makes it more appealing.
Complete pricelist of the above-mentioned models:
Brand/Model

Lowest Price

Highest Price

Yamaha Mio i125

PHP 71,900

PHP 75,900

Yamaha Mio Soul i125

PHP 79,900

PHP 83,900

Suzuki Skydrive 125 FI

PHP 78,900

Honda Click 125i

PHP 76,900

Kymco Like 125 Italia E3

PHP 79,900

Vespa S 125

PHP 138,000
Verdict
Although both Yamaha Mio i125 and Mio Soul i125 offer great riding performance and design, it is really hard not to notice that the Honda Click 125i has the advantage of having more advanced additional features plus it is within the same range in terms of price. But, if you feel good about spending a little more, the Vespa S is also a great choice. Apart from the convenience, it can offer, it also returns one of the highest stats in terms of riding output among all the listed models. So, that is a definite win also for the Italian entry.
Still skeptical about what to choose? Why not go to your local dealer store and get a test drive for the models that we have mentioned and see for yourself which works best for your taste!
For more amazing automotive industry stories, stay tuned here at Zigwheels PH!
Yamaha Motorcycle Models
Yamaha Nmax

Yamaha Aerox 155

Yamaha Sniper 155

Yamaha Mio i 125

Yamaha Mio Gear

Yamaha Xmax

Yamaha Mio Fazzio

Yamaha MT-15

Yamaha Mio Gravis

Yamaha XSR155
Yamaha Motorcycles Price

You might also be interested in
Compare & Recommended
Engine Type

Single Cylinder, 4-Stroke, SOHC Liquid-Cooled Engine

Single Cylinder, 4-Stroke, SOHC Air Cooled Engine

Single Cylinder, 2 Valves, 4-Stroke, Air Cooled, SOHC Engine

Single Cylinder, 4-Stroke, 2-Valve, Air-Cooled, SOHC Engine
Yamaha Mio i 125 Motorcycle Articles From Carmudi
Yamaha introduces PH-exclusive 'FindUrTrip' Mio series

Ruben Manahan IV,

Nov 09, 2021

How Has the Covid-19 Crisis Affected Shared Mobility aka Ride Hailing Services?

Wilbert Tan,

Apr 28, 2020
Yamaha Mio i125: Top 5 alternatives
Choose a city to get promos and prices in your area