4 new things to love in the Nissan Navara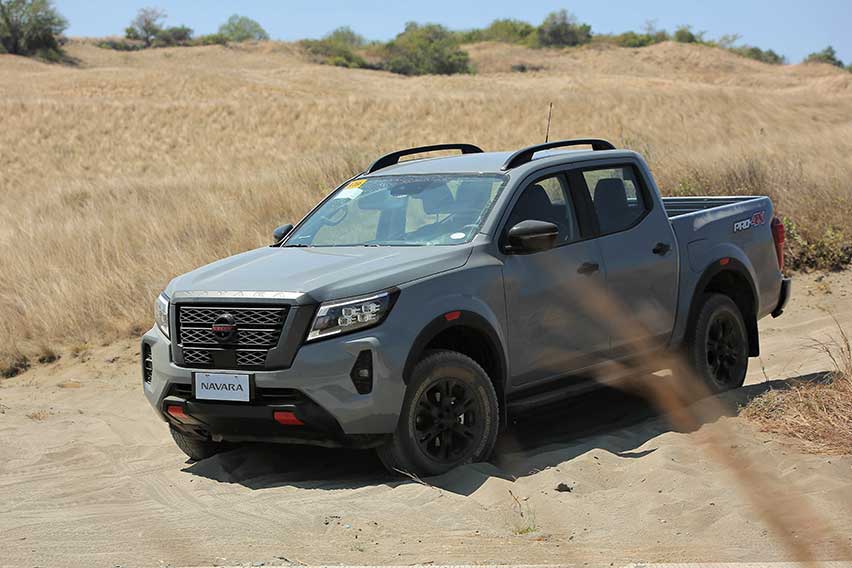 The new Nissan Navara was recently introduced in the local market with modern intelligent features that will surely boost your confidence when driving on any road condition. With Nissan's 80 years of pickup heritage, the new Navara  embodies the same powerful performance that Filipinos have trusted for decades.
We have listed down the four new things that the new Nissan Navara offers to make your off-road adventures more convenient and hassle-free.
PRO-4X variant
The Navara is now available in a new PRO-4X variant, which is targeted to the adventure junkies who love to go off-roading in their leisure time. The new top trim features a more athletic look that is made distinctive by its black logo, orange-accented front bumper, black grille, door handles, roof racks and running boards embellished with 17-inch black wheels and all-terrain tires.
Nissan Intelligent Mobility
The newest generation is considered as the most advanced Navara yet as it comes with a set of intelligent features that enable a safer and more convenient driving experience.  The new Navara is equipped with various Nissan Intelligent Mobility features such as intelligent emergency braking (IEB) with intelligent forward collision warning (IFCW), driver attention alert (DAA), blind spot warning (BSW), rear cross traffic alert (RCTA), lane departure warning (LDW), high beam assist (HBA), around view monitor (AVM) with moving object detection (MOD) and off-road monitor, and hill descent control (HDC).
Upgraded cabin comfort
To provide a more comfortable ride, the new Navara comes with improved noise dampening. It also features a new fabric and leather seat design and a redesigned rear bench. The Navara now comes with a dual-zone automatic air-conditioning system to ensure that every corner of the cabin is well-ventilated.
Increased payload capacity
The new Navara can accommodate up to 1,017 kg of cargo as it comes with an increased truck bed volume. The pickup truck is designed with a new integrated step in the rear bumper to allow easier access to the truck bed.
To learn more about the new Navara, check out its full specifications on the chart below.
SPECIFICATIONS

Nissan Navara PRO-4X 4X4

Nissan Navara VL 4X4

Nissan Navara VL 4X2

Nissan Navara VE 4X4

Nissan Navara VE 4X2

Nissan Navara EL 4X2

Dimensions (mm)

5,260 x 1,875 x 1,855

5,260 x 1,850 x 1,860

5,260 x 1,850 x 1,845

5,260 x 1,850 x 1,825

5,260 x 1,850 x 1,810

5,260 x 1,850 x 1,810

Wheelbase (mm)

3,150

3,150

3,150

3,150

3,150

3,150

Curb Weight (kg)

2,011

2,012 / 2,008

1,931

1,987

1,910 / 1,895

1,881

Payload (kg)

1,017

1,016 / 930

1,010

952

1,043 / 978

992

Bed Dimensions (mm)

1,470 x 1,495 x 470 x 520

1,470 x 1,495 x 470 x 520

1,470 x 1,495 x 470 x 520

1,470 x 1,495 x 470 x 520

1,470 x 1,495 x 470 x 520

1,470 x 1,495 x 470 x 520

Seating Capacity

Five

Five

Five

Five

Five

Five

Maximum Water Wading (mm)

600

600

600

600

600

600

Engine Code

YD25

YD25

YD25

YD25

YD25

YD25

Engine Type

Inline 4-Cylinder, DOHC, 16-Valves, Variable Turbocharger (VGS) with Intercooler

Inline 4-Cylinder, DOHC, 16-Valves, Variable Turbocharger (VGS) with Intercooler

Inline 4-Cylinder, DOHC, 16-Valves, Variable Turbocharger (VGS) with Intercooler

Inline 4-Cylinder, DOHC, 16-Valves, Variable Turbocharger (VGS) with Intercooler

Inline 4-Cylinder, DOHC, 16-Valves, Variable Turbocharger (VGS) with Intercooler

Inline 4-Cylinder, DOHC, 16-Valves, Variable Turbocharger (VGS) with Intercooler

Displacement (cc)

2,488

2,488

2,488

2,488

2,488

2,488

Maximum Power Output (ps / rpm)

190 / 3,600

190 / 3,600

190 / 3,600

190 / 3,600

190 / 3,600 (AT)

163 / 3,600 (MT)

163 / 3,600

Maximum Torque (Nm / rpm)

450 / 2,000

450 / 2,000

450 / 2,000

450 / 2,000

450 / 2,000 (AT)

403 / 2,000 (MT)

403 / 2,000

Fuel Type

Diesel

Diesel

Diesel

Diesel

Diesel

Diesel

Fuel System

Common Rail Direct Injection

Common Rail Direct Injection

Common Rail Direct Injection

Common Rail Direct Injection

Common Rail Direct Injection

Common Rail Direct Injection

Fuel Tank Capacity (L)

80

80

80

80

80

80

Transmission Type

7-Speed Automatic Transmission with Manual Mode

7-Speed Automatic Transmission with Manual Mode / 6-Speed Manual Transmission

7-Speed Automatic Transmission with Manual Mode

6-Speed Manual Transmission

7-Speed Automatic Transmission with Manual Mode / 6-Speed Manual Transmission

6-Speed Manual Transmission

4WD System

Part-Time (2H, 4H, 4L), Shift-on-the-Fly

Part-Time (2H, 4H, 4L), Shift-on-the-Fly

Without

Part-Time (2H, 4H, 4L), Shift-on-the-Fly

Without

Without

Differential Lock

With (Rear)

With (Rear)

Without

With (Rear)

Without

Without

Suspension

Front: Independent Double Wishbone with Coil Spring and Stabilizer Bar

Rear: Multi-Link (5-Link) with Dual Rate Coil Spring and Stabilizer Bar

Front: Independent Double Wishbone with Coil Spring and Stabilizer Bar

Rear: Multi-Link (5-Link) with Dual Rate Coil Spring and Stabilizer Bar

Front: Independent Double Wishbone with Coil Spring and Stabilizer Bar

Rear: Multi-Link (5-Link) with Dual Rate Coil Spring and Stabilizer Bar

Front: Independent Double Wishbone with Coil Spring and Stabilizer Bar

Rear: Multi-Link (5-Link) with Dual Rate Coil Spring and Stabilizer Bar

Front: Independent Double Wishbone with Coil Spring and Stabilizer Bar

Rear: Multi-Link (5-Link) with Dual Rate Coil Spring and Stabilizer Bar

Front: Independent Double Wishbone with Coil Spring and Stabilizer Bar

Rear: Multi-Link (5-Link) with Dual Rate Coil Spring and Stabilizer Bar

Brakes

Front: Ventilated Disc

Rear: Drum

Front: Ventilated Disc

Rear: Drum

Front: Ventilated Disc

Rear: Drum

Front: Ventilated Disc

Rear: Drum

Front: Ventilated Disc

Rear: Drum

Front: Ventilated Disc

Rear: Drum

Tires

All Terrain (255/65 R17)

All Season (255/60 R18

All Season (255/60 R18

All Season (255/ 65 R17)

All Season (255/65 R17)

All Season (255/65 R17)

Wheels

17-inch Alloy (Gloss Black)

18-inch Alloy

18-inch Alloy

17-inch Alloy

17-inch Alloy

17-inch Steel

Steering Type

Power Steering

Power Steering

Power Steering

Power Steering

Power Steering

Power Steering

Minimum Turning Radius (m)

6.2

6.2

6.3

6.2

6.3

6.3

Steering Column

Manual Tilt Adjustment

Manual Tilt Adjustment

Manual Tilt Adjustment

Manual Tilt Adjustment

Manual Tilt Adjustment

Manual Tilt Adjustment

Steering Wheel Material

Leather Wrapped

Leather Wrapped

Leather Wrapped

Leather Wrapped

Leather Wrapped

Urethane

Steering Wheel Switches

Audio, Hands-Free Phone, Cruise Control, Multi-Information Display Screen, and Voice Recognition

Audio, Hands-Free Phone, Cruise Control, Multi-Information Display Screen, and Voice Recognition

Audio, Hands-Free Phone, Cruise Control, Multi-Information Display Screen, and Voice Recognition

Audio, Hands-Free Phone, Cruise Control, Multi-Information Display Screen, and Voice Recognition

Audio, Hands-Free Phone, Cruise Control, Multi-Information Display Screen, and Voice Recognition

Audio and Hands-Free Phone

Headlamps

Quad LED Projector with Auto Light and Follow-Me-Home

Quad LED Projector with Auto Light and Follow-Me-Home

Quad LED Projector with Auto Light and Follow-Me-Home

Quad LED Projector with Auto Light and Follow-Me-Home

Quad LED Projector with Auto Light and Follow-Me-Home

Halogen Multi-Reflector with Auto Light and Follow-Me-Home

Daytime Running Lights (DRL)

With (LED Signature)

With (LED Signature)

With (LED Signature)

With (LED Signature)

With (LED Signature)

Without

Front Fog Lamps

With (LED Type)

With (LED Type)

With (LED Type)

With (LED Type)

With (LED Type)

Without

Tail Lamps

LED Type

LED Type

LED Type

LED Type

LED Type

Bulb Type

Front Grille

Dark Colored with Black and Orange Nissan Logo

Chrome Grille

Chrome Grille

Chrome Grille

Chrome Grille

Chrome Grille

Bumper

Front: Body Color with Orange Accents

Rear: Body Color

Front: Body Color

Rear: Body Color

Front: Body Color

Rear: Body Color

Front: Body Color

Rear: Body Color

Front: Body Color

Rear: Body Color

Front: Body Color

Rear: Body Color

Over Fender

With (Black)

Without

Without

Without

Without

Without

Tailgate Assist

With

With

With

With

With

With

Door Mirror

Gloss Black Color with Side Turn Lamp, Auto Folding and Power Adjust

Body Color with Side Turn Lamp, Auto Folding and Power Adjust

Body Color with Side Turn Lamp, Auto Folding and Power Adjust

Body Color with Side Turn Lamp, Power Folding and Power Adjust

Body Color with Side Turn Lamp, Power Folding and Power Adjust

Black, Power Adjust

Door Handles

Gloss Black with i-Key Switch

Chrome with i-Key Switch

Chrome with i-Key Switch

Chrome

Chrome

Black

Wiper

Rain Sensing

Rain Sensing

Rain Sensing

Variable Intermittent

Variable Intermittent

Variable Intermittent

Rear Window Defroster with Timer

With

With

With

With

With

With

Side Step

With

With

With

With

With

Without

Mudguard

With (Front and Rear

With (Front and Rear

With (Front and Rear

With (Front and Rear

With (Front and Rear

With (Front and Rear

Window Molding

Black

Chrome

Chrome

Chrome

Chrome

Chrome

Roof Rail

With (Gloss Black)

With (Painted Silver)

With (Painted Silver)

Without

Without

Without

Utili-Track Channel System on Bed

With

With

With

Without

Without

Without

Driver Seat

Zero Gravity Type (Manual Slide, Recline, and Height Adjustment)

Zero Gravity Type with 8-Way Power Adjust, and Lumbar Function

Zero Gravity Type with 8-Way Power Adjust, and Lumbar Function

Zero Gravity Type (Manual Slide, Recline, and Height Adjustment)

Zero Gravity Type (Manual Slide, Recline, and Height Adjustment)

Zero Gravity Type (Manual Slide, Recline, and Height Adjustment)

Front Passenger Seat

Zero Gravity Type with Manual Slide, and Recline Functions

Zero Gravity Type with Manual Slide, and Recline Functions

Zero Gravity Type with Manual Slide, and Recline Functions

Zero Gravity Type with Manual Slide, and Recline Functions

Zero Gravity Type with Manual Slide, and Recline Functions

Zero Gravity Type with Manual Slide, and Recline Functions

Rear Seat

With Armrest, Cup Holder, and Flip Up Function

With Armrest, Cup Holder, and Flip Up Function

With Armrest, Cup Holder, and Flip Up Function

With Armrest, Cup Holder, and Flip Up Function

With Armrest, Cup Holder, and Flip Up Function

With Armrest, Cup Holder, and Flip Up Function

Seat Material

Leather with PRO-4X Stitches

Leather

Leather

Fabric

Fabric

Fabric

Arm Rest and Door Trims

Leather

Leather

Leather

Fabric

Fabric

Fabric

Rear View Mirror

Auto Dimming

Auto Dimming

Auto Dimming

Manual Day/Night

Manual Day/Night

Manual Day/Night

Meter

High Type with 7-inch Color TFT Display

High Type with 7-inch Color TFT Display

High Type with 7-inch Color TFT Display

High Type with 7-inch Color TFT Display

High Type with 7-inch Color TFT Display

Standard with Trip Computer

Inside Door Handle

Black

Chrome

Chrome

Chrome

Chrome

Black

Overhead Console

With (Map Lamp, Sunglass Holder, and Mood Lamp)

With (Map Lamp, Sunglass Holder, and Mood Lamp)

With (Map Lamp, Sunglass Holder, and Mood Lamp)

With (Map Lamp, and Sunglass Holder)

With (Map Lamp, and Sunglass Holder)

With (Map Lamp, and Sunglass Holder)

Sun Visor

Driver: Illuminated Vanity Mirror and Ticket Holder

Passenger: Illuminated Vanity Mirror

Driver: Illuminated Vanity Mirror and Ticket Holder

Passenger: Illuminated Vanity Mirror

Driver: Illuminated Vanity Mirror and Ticket Holder

Passenger: Illuminated Vanity Mirror

Driver: Illuminated Vanity Mirror and Ticket Holder

Passenger: Illuminated Vanity Mirror

Driver: Illuminated Vanity Mirror and Ticket Holder

Passenger: Illuminated Vanity Mirror

With (Driver and Front Passenger)

Cup Holder

Front (x2), Rear (x2)

Front (x2), Rear (x2)

Front (x2), Rear (x2)

Front (x2), Rear (x2)

Front (x2), Rear (x2)

Front (x2), Rear (x2)

Bottle Holder

Front (x2), Rear (x2)

Front (x2), Rear (x2)

Front (x2), Rear (x2)

Front (x2), Rear (x2)

Front (x2), Rear (x2)

Front (x2), Rear (x2)

Center Console Armrest

With (Leather)

With (Leather)

With (Leather)

With (Fabric)

With (Fabric)

With

Center Upper Tray

With 12V Power Outlet

With 12V Power Outlet

With 12V Power Outlet

With 12V Power Outlet

With 12V Power Outlet

With 12V Power Outlet

12V Power Socket

Dashboard (x2), Center Console (x1)

Dashboard (x2), Center Console (x1)

Dashboard (x2), Center Console (x1)

Dashboard (x2), Center Console (x1)

Dashboard (x2), Center Console (x1)

Dashboard (x2), Center Console (x1)

USB Socket

Dashboard (x1), Center Console (x2), Rear (x1)

Dashboard (x1), Center Console (x2), Rear (x1)

Dashboard (x1), Center Console (x2), Rear (x1)

Dashboard (x1), Center Console (x2), Rear (x1)

Dashboard (x1), Center Console (x2), Rear (x1)

Dashboard (x1), Center Console (x2), Rear (x1)

Door Pockets

Front and Rear

Front and Rear

Front and Rear

Front and Rear

Front and Rear

Front and Rear

Lamps

Map Lamp, Room Lamp, and Door Courtesy Lamp

Map Lamp, Room Lamp, and Door Courtesy Lamp

Map Lamp, Room Lamp, and Door Courtesy Lamp

Map Lamp, Room Lamp, and Door Courtesy Lamp

Map Lamp, Room Lamp, and Door Courtesy Lamp

Map Lamp, Room Lamp, and Door Courtesy Lamp

Power Windows

With (One-Touch Auto-Up / Down for Driver Side)

With (One-Touch Auto-Up / Down for Driver Side)

With (One-Touch Auto-Up / Down for Driver Side)

With (One-Touch Auto-Up / Down for Driver Side)

With (One-Touch Auto-Up / Down for Driver Side)

With (One-Touch Auto-Up / Down for Driver Side)

Power Door Locks

With (Driver Side Lock / Unlock Switch)

With (Driver Side Lock / Unlock Switch)

With (Driver Side Lock / Unlock Switch)

With (Driver Side Lock / Unlock Switch)

With (Driver Side Lock / Unlock Switch)

With (Driver Side Lock / Unlock Switch)

Keyless Entry System

With (Intelligent Key)

With (Intelligent Key)

With (Intelligent Key)

With

With

With

Push Button Engine Start/Stop System

With

With

With

Without

Without

Without

Cruise Control

With

With

With

With

With

Without

Air Conditioning System

Dual Zone Automatic Climate Control System with Rear Vents

Dual Zone Automatic Climate Control System with Rear Vents

Dual Zone Automatic Climate Control System with Rear Vents

Dual Zone Automatic Climate Control System with Rear Vents

Dual Zone Automatic Climate Control System with Rear Vents

Manual, Dial-Type with Rear Vents

Audio Type

Nissan 8-inch Advanced Touchscreen Display Audio

Nissan 8-inch Advanced Touchscreen Display Audio

Nissan 8-inch Advanced Touchscreen Display Audio

Nissan 8-inch Advanced Touchscreen Display Audio

Nissan 8-inch Advanced Touchscreen Display Audio

2-DIN

Connectivity

Apple CarPlay, Android Auto, Bluetooth (Hands-Free Call and Audio Streaming), USB, iPod, Aux, and Tuner

Apple CarPlay, Android Auto, Bluetooth (Hands-Free Call and Audio Streaming), USB, iPod, Aux, and Tuner

Apple CarPlay, Android Auto, Bluetooth (Hands-Free Call and Audio Streaming), USB, iPod, Aux, and Tuner

Apple CarPlay, Android Auto, Bluetooth (Hands-Free Call and Audio Streaming), USB, iPod, Aux, and Tuner

Apple CarPlay, Android Auto, Bluetooth (Hands-Free Call and Audio Streaming), USB, iPod, Aux, and Tuner

Bluetooth (Hands-Free Call and Audio Streaming), USB, Aux, and Tuner

Speakers

Six Speakers (Including Two Tweeters)

Six Speakers (Including Two Tweeters)

Six Speakers (Including Two Tweeters)

Six Speakers (Including Two Tweeters)

Six Speakers (Including Two Tweeters)

Four Speakers

Intelligent Emergency Braking (IEB)

With Intelligent Forward Collision Warning (IFCW)

With Intelligent Forward Collision Warning (IFCW)

With Intelligent Forward Collision Warning (IFCW)

With Intelligent Forward Collision Warning (IFCW)

With Intelligent Forward Collision Warning (IFCW)

Without

Driver Attention Alert (DAA)

With

With

With

With

With

Without

Blind Spot Warning (BSW)

With

With

With

Without

Without

Without

Rear Cross Traffic Alert (RCTA)

With

With

With

Without

Without

Without

Lane Departure Warning (LDW)

With

With

With

Without

Without

Without

High Beam Assist (HBA)

With

With

With

Without

Without

Without

Around View Monitor (AVM)

With Moving Object Detection (MOD) and Off-Road Monitor

With Moving Object Detection (MOD) and Off-Road Monitor

With Moving Object Detection (MOD)

Reverse Camera Only

Reverse Camera Only

Without

Hill Descent Control (HDC)

With

With

Without

With

Without

Without

SRS Airbags

Driver, Front Passenger, Side, and Side Curtain Airbags

Driver, Front Passenger, Side, and Side Curtain Airbags

Driver, Front Passenger, Side, and Side Curtain Airbags

Driver, Front Passenger, Side, and Side Curtain Airbags

Driver, Front Passenger, Side, and Side Curtain Airbags

Driver, Front Passenger, Side, and Side Curtain Airbags

Anti-Lock Braking System (ABS)

With Electronic Brake Force Distribution (EBD) and Brake Assist (BA)

With Electronic Brake Force Distribution (EBD) and Brake Assist (BA)

With Electronic Brake Force Distribution (EBD) and Brake Assist (BA)

With Electronic Brake Force Distribution (EBD) and Brake Assist (BA)

With Electronic Brake Force Distribution (EBD) and Brake Assist (BA)

With Electronic Brake Force Distribution (EBD) and Brake Assist (BA)

Vehicle Dynamic Control (VDC)

With 4-Wheel Active Brake Limited Slip (ABLS) and Trailer Stability Assist (TSA)

With 4-Wheel Active Brake Limited Slip (ABLS) and Trailer Stability Assist (TSA)

With 4-Wheel Active Brake Limited Slip (ABLS) and Trailer Stability Assist (TSA)

With 4-Wheel Active Brake Limited Slip (ABLS) and Trailer Stability Assist (TSA)

With 4-Wheel Active Brake Limited Slip (ABLS) and Trailer Stability Assist (TSA)

With 4-Wheel Active Brake Limited Slip (ABLS) and Trailer Stability Assist (TSA)

Parking Sensor

With (Four Sensors)

With (Four Sensors)

With (Four Sensors)

Without

Without

Without

Isofix and Tether Anchor

With

With

With

With

With

With

Speed Sensing Door Lock

With

With

With

With

With

With

Seatbelts

Front: 3 Point ELR with Pretensioner, Load Limiter, and Height Adjustment (x2)

Rear: 3 Point ELR (x3)

Front: 3 Point ELR with Pretensioner, Load Limiter, and Height Adjustment (x2)

Rear: 3 Point ELR (x3)

Front: 3 Point ELR with Pretensioner, Load Limiter, and Height Adjustment (x2)

Rear: 3 Point ELR (x3)

Front: 3 Point ELR with Pretensioner, Load Limiter, and Height Adjustment (x2)

Rear: 3 Point ELR (x3)

Front: 3 Point ELR with Pretensioner, Load Limiter, and Height Adjustment (x2)

Rear: 3 Point ELR (x3)

Front: 3 Point ELR with Pretensioner, Load Limiter, and Height Adjustment (x2)

Rear: 3 Point ELR (x3)

High Mount Stop Lamp

With (LED Type)

With (LED Type)

With (LED Type)

With (LED Type)

With (LED Type)

With (LED Type)

Anti-Theft System

With Alarm and Engine Immobilizer

With Alarm and Engine Immobilizer

With Alarm and Engine Immobilizer

With Alarm and Engine Immobilizer

With Alarm and Engine Immobilizer

With Alarm and Engine Immobilizer

Available Colors

Galaxy Black, Fiery Red, Stealth Pearl Gray, and Aspen Pearl White

Galaxy Black, Aspen Pearl White, Forged Metallic Copper, and Lunar Metallic Gray

Galaxy Black, Aspen Pearl White, Forged Metallic Copper, and Lunar Metallic Gray

Galaxy Black, Brilliant Silver, and Alpine White

Galaxy Black, Forged Metallic Copper, Lunar Metallic Gray, Brilliant Silver, and Alpine White

Galaxy Black, Brilliant Silver, and Alpine White

Price

P1,849,000

P1,779,000 (AT)

P1,699,000 (MT)

P1,599,000

P1,499,000

P1,459,000 (AT)

P1,369,000 (MT)

P1,149,000
Nissan Navara Promos, DP & Monthly Installment
You might also be interested in
Latest Nissan Navara Cars Videos on Zigwheels