Suzuki Ertiga vs Toyota Avanza - The better pick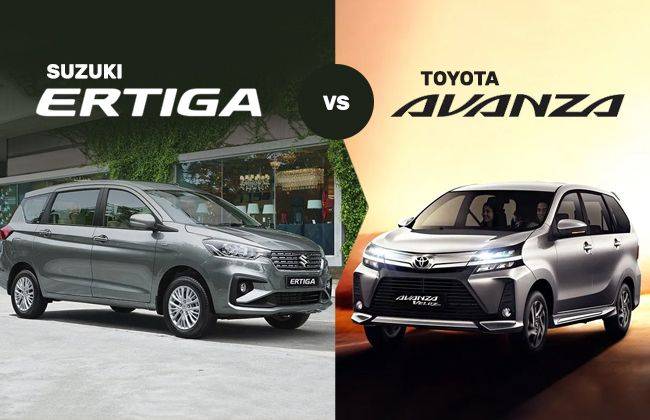 For car buyers looking for an affordable family car but don't like sedans and do not have quite the budget for mid-size SUVs, the MPV segment is a good option. Most MPVs are very practical for everyday use; versatile in handling cargo and passengers and are offered at relatively affordable price tags.
If you are torn or overwhelmed by the gamut of options available, let us help you by choosing between two of the most searched vehicles for the MPV category— the Suzuki Ertiga and Toyota Avanza. Below is a direct comparison of the flagship models of the Ertiga and the Avanza in terms of its specs, dimensions, features, safety, and affordability.
Suzuki Ertiga vs Toyota Avanza: Dimensions
When it comes to size, the Suzuki Ertiga is longer by a staggering 195 mm, wider by 35 mm, but shorter in height by 10 mm compared to the Toyota Avanza. The longer dimension of the Ertiga makes up for its longer wheelbase so expect both the Ertiga and Avanza to almost have the same legroom. However, passengers might find the seating more comfy and less cramp on the Ertiga because of its wider size. The Avanza makes up for it by having a higher roof so passengers won't feel as constricted. 
Be that as it may, the dimensions of the mid and base trim Avanza models are shorter by 10 mm at 4,190 mm compared to the flagship Veloz. For the Ertiga, all models have the same dimensions. And given its wheelbase, the base or mid-trim model of the Avanza will have shorter legroom.
Ertiga vs Avanza: Exterior
The exterior of the Ertiga boasts of dynamic shoulder lines and deeper curves to highlight its robust character. Suzuki Ertiga specs sheet features stylish headlights sans the DRL, LED combination taillights, high mounted LED stop light, power-folding side mirror for convenience and rides on a set of 15-inch alloy wheels. The Avanza, on the other hand, has a bolder look with its redesigned fascia, sportier rear design, split type LED headlights— also without DRL, side mirror with integrated turn signal, and a shark fin which the Ertiga lacks. The Avanza also rides on a set of 15-inch alloy wheels.
Suzuki Ertiga vs Toyota Avanza: Interior
Inside Ertiga's cabin might be a larger monitor but can only do so much— like play from multimedia files, offline navigation, and play music. It also comes with AC vent for the second and third-row for maximum comfort. Even the cup holders are ventilated to keep your cold drinks from becoming warm. There's a USB port at the center console and 12V accessory socket on the instrument panel and the second row. Cubbies are scattered in the first, second, and third row to tuck away bottles, gadgets, and other small items.
For interior comfort, the Avanza has a very modern feel with its streamlined dashboard that does away with bulky knobs. Instead, the Avanza specs sheet comprises a multi-function steering wheel, digital display for AC, and a 6.8-inch touch panel display with T-Link so you can do smartphone mirroring.
However, the accessory connector only comes in 12V and does not have a USB port which is quite a downer because you have to buy an additional accessory to charge your gadgets. Plus, we think the CD slot is unnecessary, cause let's face it, who still uses CDs when you have Bluetooth and music streaming services?
Suzuki Ertiga vs Avanza: Specifications

All the Suzuki Ertiga models are powered by a K15B 4-cylinder DOHC 16-valve with VVT petrol engine with the mid-trim model— GL having an option of a manual or automatic transmission. The base Ertiga GA only comes in 5-speed manual transmission. Top trim Toyota Avanza Veloz and the 1.5 G models are powered by the 2NR-VE 4-cylinder, in-line 16-valve DOHC, chain drive with dual VVT-I engine with the 1.5 G available in both the 4-speed AT and 5-speed MT. The 1.3 E and 1.3 J Avanza models are powered by a 1NR-VE engine that delivers 95 hp of output at 6,000 rpm and 121 Nm of peak torque at 4,200 rpm. Though the 1.3 E is also available in both AT and MT option, the base Avanza 1.3 J is only available in manual transmission and seats only five people.
Suzuki Ertiga vs Toyota Avanza: Safety
Because of the affordable price range for the Ertiga and Avanza, compared to other crossovers, there is not much safety and driver-assist features. Although what these two MPVs are equipped with is adequate to safely transport passengers and assist the driver when navigating roads or parking the vehicle. But between the Ertiga and the Avanza, the Suzuki crossover wins the safety features round, hands down, for its brake assist, parking sensors, and reverse camera.
Suzuki Ertiga vs Toyota Avanza: Price Comparison
Here is a comparison between the Suzuki Ertiga price and Toyota Avanza price:
In terms of variety, the Avanza wins this round because it has more option models to choose from. But for affordability, it will have to be the Ertiga. Case in point, the base Avanza 1.3 J which only seats five passengers is more expensive by Php 5,000 compared to the Ertiga GA priced only at Php 738,000. And if we are going to pit the flagship models, the Ertiga GLX AT is more affordable by Php 89,000 compared to the Avanza Veloz AT priced at Php 1.077 million.
Verdict
If you want an affordable 7-seater MPV that will not break the bank, the Suzuki Ertiga is a good option. It has a decent amount of safety and driver-assist features, has more connectivity features, and its AC system even comes with a pollen filter. But if you are not buying the flagship model, the Avanza will provide better cabin feel due to its higher headroom and ample leg space. Plus the after service support like repairs and availability of parts nationwide makes the Toyota still a preferred choice among Pinoy buyers who are not necessarily located near a dealership.
Also read: Suzuki Ertiga - Hits and misses
You might also be interested in
Latest Toyota Avanza Cars Videos on Zigwheels