The best tech features of the Ford Everest Titanium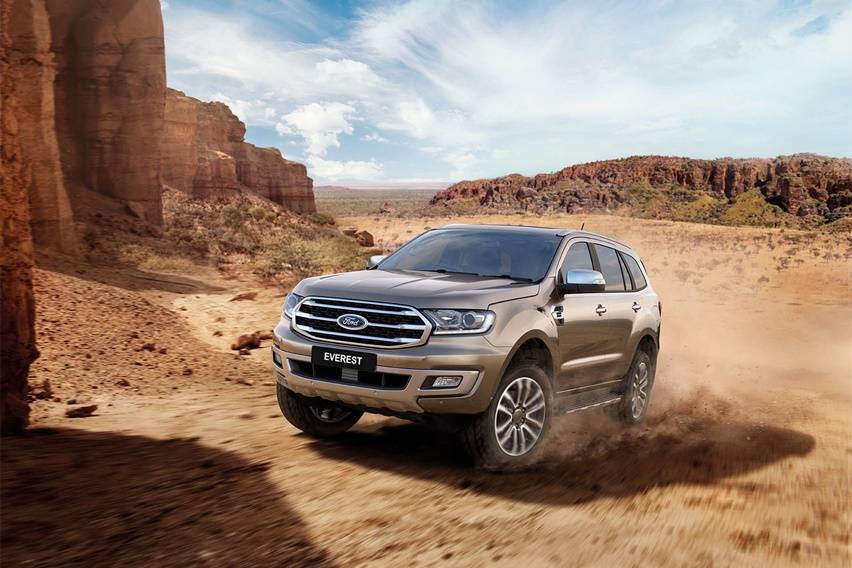 Way before SUVs became sophisticated, sedan-like trucks that they are now, these large vehicles were as unwieldy as pickups and rode like a tractor.
There was no need for cushy amenities or lavish comforts as these were units were based on pickup trucks that were designed to do two things and do it well, haul and tow.
Ford was one of the first brands locally to transform the ride and purpose of SUVs to satisfy a growing market that yearned for a large vehicle with considerable clearance as either an everyday ride or a family vehicle.
Welcome to the Everest.
Now in its second generation, we detail the best tech features found in the two trims of the Titanium that should put the Ford Everest on the radar of everyone in the market for an SUV.
1.       Apple CarPlay and Android Auto
There isn't a phone out there that I know of that doesn't run on Apple's iOS or Google's Android. Well, I actually know of a few but nobody cares about them.
Having these two apps installed in your infotaiment system makes it easy to use your mobile device when driving because it mirrors what's on your phone to the vehicle's monitor on the center stack.
Now there's no need to figure out what to do when a call comes in or to access Waze as muscle memory will make it easier for you to read (or hear) messages or directions from the apps in your phone. Plus, you can prompt these apps using the Everest's voice recognition software so you'll never have to take your eyes off the road when you're driving.
2.      Sync3
Displayed on an eight-inch touchscreen system, Sync3 controls by voice command most everything essential during the drive like music (can browse through music collections by genre, album, artist, and song title), navigation, climate control, telephone functions and various apps.
It comes with 911 Assist that places a direct call to a 911 emergency hotline in the event of a serious accident with an airbag deployment.
Sync is fluent in English, Dutch, French, Spanish, and Brazilian Portuguese but has yet to learn Filipino
All that you need – music, maps and more – just a click or command away.
3 .      Electric Power-Assisted Steering (EPAS) with Pull-Drift Compensation Technology
Ever noticed your vehicle drift away from the lane when the road is uneven? That's what Ford aims to address with the EPAS with Pull-Drift Compensation Technology.
Using sensors to complement the electric power-assisted steering, it monitors steering wheel torque applied by the driver. Once it detects a pulling or drifting condition, like on a crowned or uneven road surface, it provides torque assistance to help the driver maintain his/her course without them even knowing or feeling it.
4.       Hands-free Power liftgate & Cargo Management System
Some compact SUVs have liftgates that will already give you an arm workout, especially on the closing part. Looking at the size of the Everest, that will surely go without saying.
Welcome the 'power liftgate' that, at the touch of a button, will automatically lift and close the hatch making ingress and egress of cargo so much easier.
The rear space also comes with Ford's Cargo Management System that uses panels to increase storage space by opening up to reveal more compartments underneath.
5.      Active Noise Cancellation
Just like your fancy and expensive noise-cancelling headphones, Ford's found a way to reduce the noise you hear inside the cabin of the Everest Titanium.
Microphones installed listen for unwanted noises coming in from the engine, wind, powertrain and road. These noises are then analyzed after which white noise is generated by the system to cancel out these unwanted sounds. This all happens without interference to the music coming through its premium 10-speaker system with subwoofer power amplifier.
6.       Blind Spot Information System (BLIS)
Known as BLIS, an orange dot on the top, far end of the side mirror automatically lights up indicating that the presence of another vehicle in the range of up to 10 feet from the beyond the rear bumper.
On our roads where you'll encounter vehicles with one headlight or PUVs without any, I can't begin to tell you how big of a help this feature is.
It's a great assist from Ford but doesn't mean that drivers neglect their duty to visually check the exterior mirrors before changing lanes.
7.       BLIS with Cross Traffic Alert
The last thing you want as you exit Megamall after a fun day of shopping is to get into a fender-bender as you're backing out of your parking slot.
Cross Traffic Alert, a recently added feature of BLIS, is designed to do just that – detect other vehicles approaching or crossing behind your Everest as you back up. This is only activated in you're in reverse gear.
Once it detects a vehicle, a sound will go off and a light in the corresponding wing mirror (left or right depending on the direction of oncoming traffic), like the BLIS system, and a message will show in the information display.
8.       Rear, Front parking sensors with Rear View Camera
Parking sensors are one of my favorite features, in any vehicle, and Ford has it front and rear. Sensors audibly signal proximity to a wall, another vehicle, or any obstacle even if you're parking nose first.
Reversing into a slot uses not only the sensors but also activates the camera so you can really sidle up pretty close to ensure that your Everest is cozied up safety into its parking slot.
9.      Active Park Assist (exclusive to the 2.0L Bi-Turbo Titanium+ 4x4 AT)
Plenty of old-timers are going to roll their eyes on this one but Ford's Active Park Assist is like manna from heaven for the parallel-parking impaired.
As big as the Everest is, this feature can steer it into a parking space just 20% longer than itself. Simply push a button and the sensors will signal you once you drive past a suitable slot. It will then give you detailed step-by-step that will be impossible to get wrong.
Just obey, do your part (when prompted by the system), and it will automatically steer you in.
10.     Adaptive Cruise Control with Forward Collision Alert (exclusive to the 2.0L Bi-Turbo Titanium+ 4x4 AT)
Think of it as cruise control with a brain.
Using radar, it detects the distance between you and the vehicles in front (up to 600 feet) and works to slow or speed up the Everest to keep up with traffic or just the pace you set. This works even in rainy conditions.
The system measures distance as a function of speed and can monitor the traffic ahead while ignoring stationary objects such as road signs and telephone poles.
Gone are the days when you'll have to turn cruise control on and off because of the changing traffic conditions.
Set the distance you want to maintain with vehicle in front of you and voila, it does all the legwork for you.
When Adaptive Cruise Control is disengaged and it senses a collision is likely because you're driving faster than the vehicle in front, it signals an alert with a flash on the windshield and an audible warning.
If the driver doesn't react quickly enough and the system determines a collision is likely, it pre-charges and increases brake-assist sensitivity to increase responsiveness when the driver does brake.
11.    Lane Keeping System (exclusive to the 2.0L Bi-Turbo Titanium+ 4x4 AT)
This is a bit unsettling at first because of the haptic feedback on the steering wheel, but think of like a 'shock collar' for drivers too lazy to use the turn signals.
Using cameras to detect lane markings, should you intentionally veer out of it without signaling or inadvertently do so, steering will stiffen just a bit to get your attention. Pull it back or activate turn signal to release feedback and merge onto new lane.
12.     Auto High Beam (exclusive to the 2.0L Bi-Turbo Titanium+ 4x4 AT)
There are times during a drive at night when you just forget to turn your high beams up because you're either lazy or having to constantly turn it back down every time there's oncoming traffic is getting annoying.
That's when Ford's Auto High Beam comes in handy because it'll do this automatically.
Using a windshield-mounted camera, it scans the road at speeds above 40 kilometers per hour and turns high beams come on when there's no traffic. But when a vehicle with headlamps on is approaching up to 2,000 feet or traveling ahead of you with taillamps visible up to 500 feet, the system will dim to low beams to reduce glare and avoid bothering the other motorist.
13.     Driver Alert (exclusive to the 2.0L Bi-Turbo Titanium+ 4x4 AT)
If you're consistently doing long drives, especially at night, this feature is perfect for you.
Working in tandem with Lane Keeping System, it detects if you've constantly drifted away from your lane and will alert you with visual and audible signals to pull over and take a break from the drive in order to prevent an accident.
14.     Hill Launch Assist
I know you're driving an automatic (transmission) but as they say, it's better to be safe than sorry, which is why Ford included Hill Launch Assist in Titanium models of the Everest.
Sensors in the accelerometer measure the longitudinal incline of the slope. If your car is on an incline that could cause it to roll, Hill Launch Assist automatically activates.
When you take your foot off the brake to put it on the accelerator, the system holds the brake pressure for up to three seconds to give you time to press the accelerator.
Once the system detect that you have enough power to move forward, it will release the breaks to let you drive away like a pro that you are.
15.     Hill Descent Control (exclusive to the 2.0L Bi-Turbo Titanium+ 4x4 AT)
This is for the outdoorsy type who love going on off-road drives.
Using the brake system, Hill Descent Control manages your speed going downhill with traction control technology with anti-lock brakes. This system continually adjusts braking pressure to help control slippage and maintain a constant preset speed while you are going down a steep grade.
You don't even have to step on the brake pedal for this to work. Just concentrate on steering yourself safely down the slope.
16.     Pre-Collision Assist with Pedestrian Detection (exclusive to the 2.0L Bi-Turbo Titanium+ 4x4 AT)
In a country with so many pedestrians cross roads mindlessly and sometimes away from crosswalks, this feature is a lifesaver.
It uses camera technology to detect a potential collision with a vehicle or pedestrian directly in front of the Everest, day or night.
The system can help reduce the severity of, and in some cases can eliminate, a frontal collision.
Once a potential collision is detected, a sound goes off and a warning message displays in the message center. If the driver's response is not enough, the system pre-charges and increase brake-assist sensitivity to provide full responsiveness when you do brake.
If the driver still doesn't take corrective action, brakes can apply automatically.
17.     Tire Pressure Monitoring System (exclusive to the 2.0L Bi-Turbo Titanium+ 4x4 AT)
We can't stress enough how important tire pressure is to the performance of your vehicle and its fuel efficiency.
But who actually checks the air pressure of their tires before they set off?
Ford takes care of all that with the Tire Pressure Monitoring System. What they did was put a small sensor in each valve assembly of each individual tire to monitor its pressure constantly to make sure that its always in optimum range.
If the tire pressure goes below the proper range, an alert is sent to the driver via warning on the dashboard.
Now all you have to do is tip the gas attendant 20 pesos after inflating your tires to their proper operating pressure.
18.     Terrain Management System (exclusive to the 2.0L Bi-Turbo Titanium+ 4x4 AT)
This is, again, for all you off-road afficionados.
Terrain Management System allows the driver to easily shift on the fly into one of four settings to match the terrain you're driving on: Road gives torque bias to the front wheels and sends it to the rear only as needed; Mud switches the throttle to a more aggressive mode, limits upshifting and desensitizes stability control, allowing the tires to spin as needed; Sand and Rock lets the throttle throw maximum torque to the wheels, placing the transmission in lower gears for as long as possible, which allows the wheels to spin aggressively; Grass/Gravel/Snow places the throttle in a setting to minimize wheel slip.
Photos from Ford Philippines
You might also be interested in
Latest Ford Everest Cars Videos on Zigwheels