Is Toyota Innova better than Mitsubishi Xpander? Detailed Comparison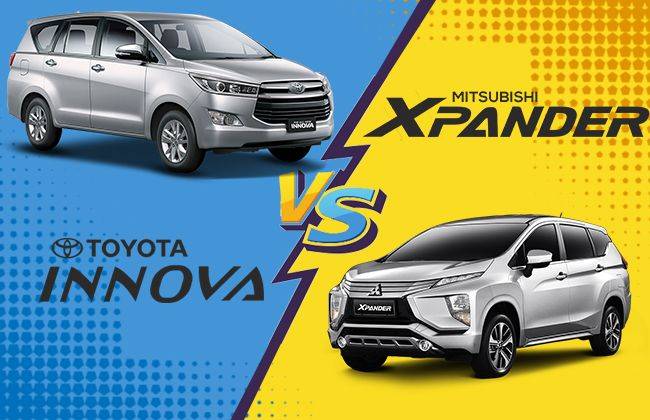 Multipurpose vehicles or MPVs have been around since the 1960s. Among MPVs early names are "people carriers" and "minivan". It was even called a "Hippie Van" when Volkswagen Type 2 came out of the market. With the advent of technology and the continuous innovations of auto companies,
MPVs have gone through series of revamps and cosmetic touch ups. Now, its popularity became widespread for its literal purpose and ergonomic design at an affordable price.
Among the companies who sought fame on manufacturing MPVs are Toyota and Mitsubishi. Toyota has replaced their Tamaraw AUV variants with their own Toyota Innova in 2005 which has shown the world a sleeker and more modernized MPV.
Meanwhile, Mitsubishi put Xpander on pedestal displacing their all time favorite Adventure models. With these brands in line, which one of them is better in terms of specs and features?
Let's get a closer look to the two brands' best MPV variants - the 2019 Toyota 2.8 V Diesel A/T and the 2019 Mitsubishi Xpander GLS Sport A/T.
Toyota

 

Innova

 vs Mitsubishi Xpander: Dimensions
Noticeably, the Toyota Innova is definitely bigger than the Xpander in terms of length, width, and height. But, Mitsubishi Xpander has a longer wheelbase which most likely helps it become more stable at higher speeds.
Toyota

 

Innova

 vs Mitsubishi Xpander: Engine and chassis
The Toyota Innova has a 2.8L Diesel engine with a double overhead camshaft (DOHC) which is the same with Toyota Hilux. Meanwhile, the Mitsubishi Xpander specs sheet is equipped with a 1.5L Gas engine that has the 4A91 MIVEC (Mitsubishi Innovative Valve timing Electronic Control System) that helps the Xpander on lessening the vibration and noise for a more quiet and smooth drive. Innova runs with an engine displacement of 2798 cc while Xpander has 1499 cc
Innova is running with 6-Speed Automatic transmission while Xpander has the 4-speed A/T
It is also highly noticeable that Innova has a higher power output and much torquier than Xpander but may offer lesser fuel efficiency. Actually, even if we compare the Toyota Innova model that has the same exact price with Mitsubishi Xpander GLS Sport (P 1.18 Million) which is the 2.8 E Gas M/T, the results are the same - Innova has better power and torque at 138 hp and 183 Nm, respectively, versus that of Xpander's
Toyota Innova specs sheet also comes in 10 variants while the Mitsubishi Xpander comes in four and are all gasoline-powered engines
Toyota

 

Innova

 vs Mitsubishi Xpander: Detailed prices in Philippines
Toyota

 

Innova

 vs Mitsubishi Xpander: Standard features
What Toyota Innova 2.8 V Diesel offers over Mitsubishi Xpander GLS Sport:
Apart from the more classy elegant style through its sides feature clean lines and notable shoulder lines, Toyota Innova has some interior features that can't be seen in the Xpander. It has cooled upper glove box where you can put small bottled water. The touchscreen feature of Innova is also bigger by an inch than Xpander's.
When it comes to security features, Innova tops the race with its security alarms, electronic door locks and additional side airbag, curtain airbag, and knee airbag. Innova also has a roof carrier. The Toyota Innova models are available in more variants with gas and diesel-powered engines as options.
What Mitsubishi Xpander GLS Sport offers over Toyota Innova 2.8 V Diesel:
One prominent unique feature of Xpander that sets it apart from Innova is its seating capacity of 8 whilst Innova has 7 only. It also has a multifunction steering wheel and that it also has an engine start or stop button. It also got a four-star safety rating from the ASEAN New Car Assessment Program (ASEAN NCAP) so you can count on its safety features as well.
The Xpander also has a larger overall maximum cargo capacity of 1,632 litres when both the second and third row of seats will be folded. It also has a Cruise Control that allows the vehicle to maintain a selected constant speed without the use of the accelerator.
Furthermore, apart from its 6 piece speaker it also has two tweeters which allow you a better sound trip while driving. It also has a keyless entry and a steering wheel audio control.
Toyota

 

Innova

 vs Mitsubishi Xpander: Verdict

There is no doubt that Toyota Innova is the best option if you are into the actual performance of the car. Apart from its bigger engine and transmission system that can accelerate better, Innova is also much better in terms of power output, pulling capacity, and is torquier than Xpander.

So when it comes to the size and driving performance, the Toyota Innova is really better. However, when we account the pricing and the additional features, Xpander can also be considered at par with Innova. The added technology features and the larger maximum cargo capacity of Xpander are also something to weigh in. On top of that, we can definitely see that it can fit an additional one person than the other.
When it comes to the exterior, we cannot generally compare apples to apples as Innova is much into a sleeker and classy design for MPV whilst Xpander looks sportier and more urbanized.
Final thoughts? Innova can definitely offer better driving performance and is much larger in size while Xpander has better safety, driver assistance, and advanced features, plus it is much less expensive. So, if you are someone who is into driving performance more than the perks of having additional advanced features, then you should get your hands on Toyota Innova's steering wheel now.
Also Read: Toyota Innova - Pros and cons
You might also be interested in
Latest Toyota Innova Cars Videos on Zigwheels