Nissan Terra vs. SsangYong Rexton - Which one?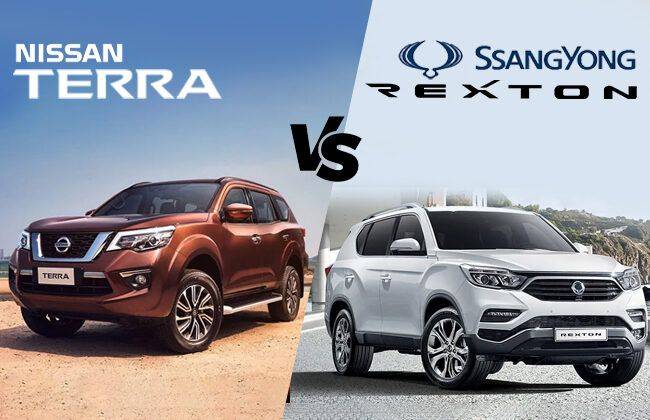 With our penchant for pick-up trucks and SUVs, the mid-size 7-seater SUV is one of the leading segments in the local auto industry. And though Nissan is an established car brand in the Philippines, it went to the 7-seater mid-size SUV a bit late with its Terra as compared to other established brands like Ford, Toyota, and Mitsubishi with their Everest, Fortuner, and Montero Sport offering.
A relative newcomer, SsangYong is a South Korean-based automaker owned by Mahindra. And with Mahindra strengthening its position in the local industry, it has aggressively expanded its portfolio from utility vehicles to sedans and SUVs. Its latest offering, the Rexton is a great contender for the mid-size 7 seater SUV segment. And since both vehicles are latecomers, its best to pit them together to see which will give more value for money.
Here's a side by side comparison of the flagship Nissan Terra and SsangYong Rexton
Dimensions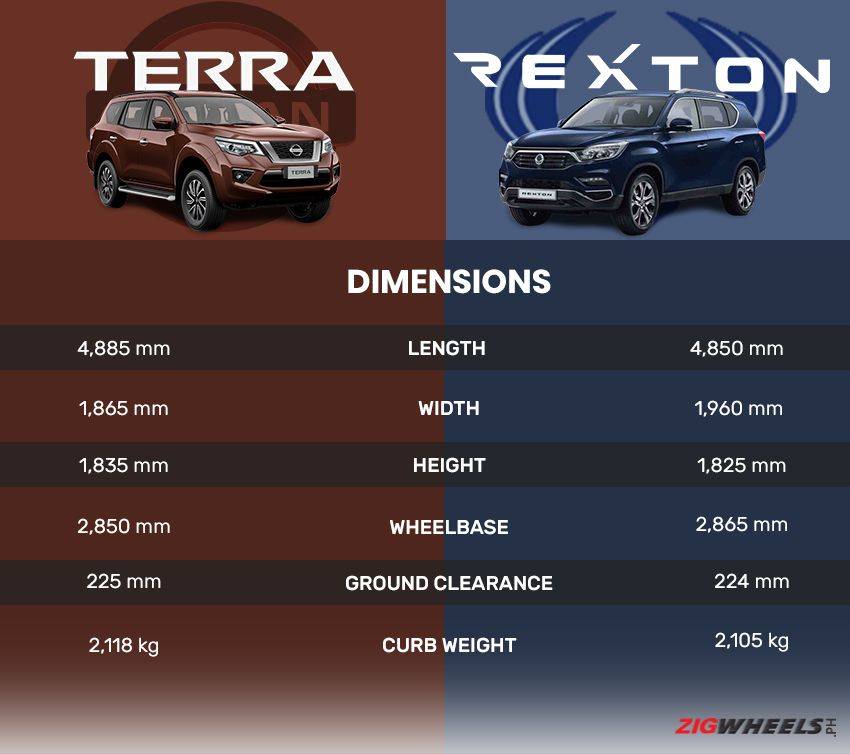 In terms of size, Nissan Terra is longer by 35 mm which easily translate to more legroom and cargo space. The Terra also comes 10 mm taller than the Rexton for more headroom.  But SsangYong Rexton made up for it with a wider body at a whopping 95 mm more. 
Exterior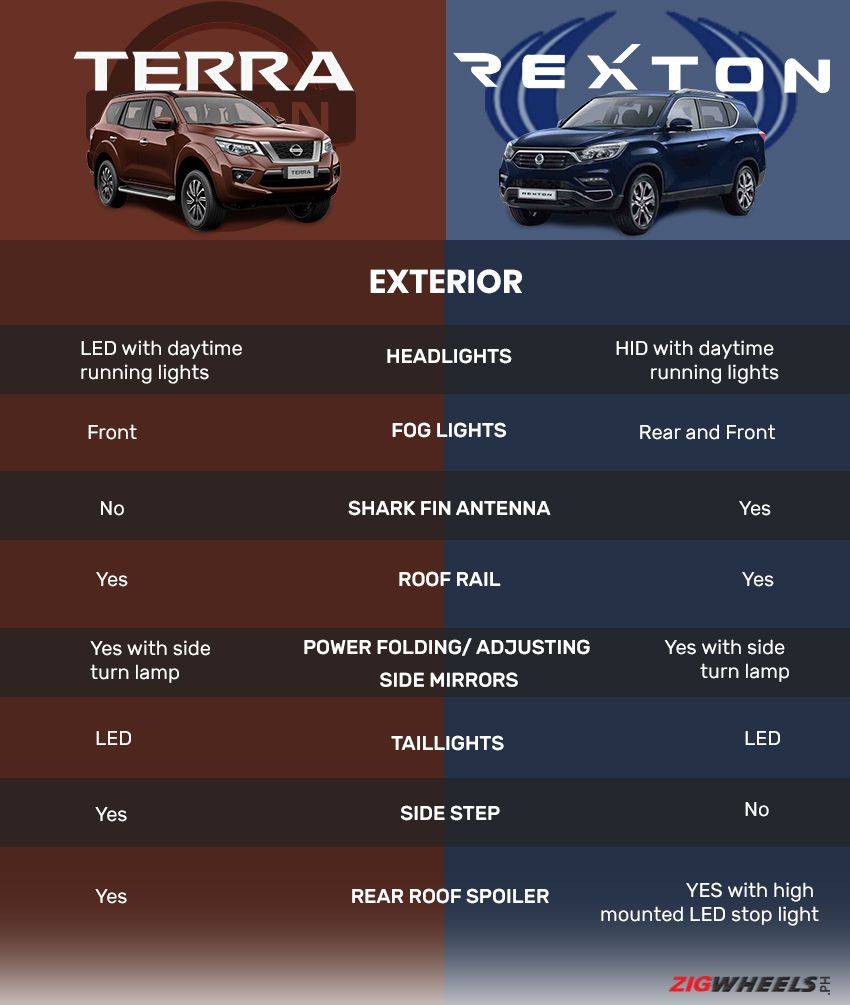 At first glance, the Nissan Terra standout with its robust design which conveys that this SUV is fitted for the off-road. There are flared fenders, familiar body lines reminiscent of the Patrol, and the much-needed sidestep for ease of entry that some SUV (like the Rexton) tends to overlook.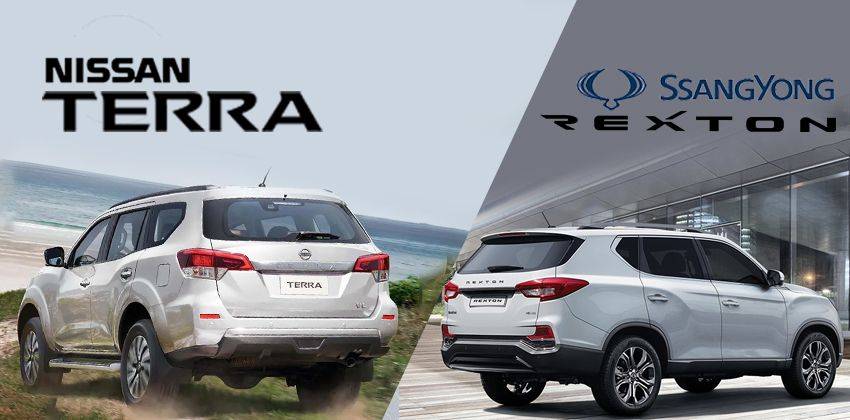 Like the Terra, the exterior of the SsangYong Rexton also feels very modern. There's the chrome trim on the grille, matching skid plate on the front and rear bumpers, exhaust pipes discretely placed, and a set of 20-inch alloy wheels for a completely rugged look. What we found impressive though is the headlights which feature a cluster of high-intensity discharge projection headlights with daytime running for better night vision, LED fog lights, and directional indicators.
Interior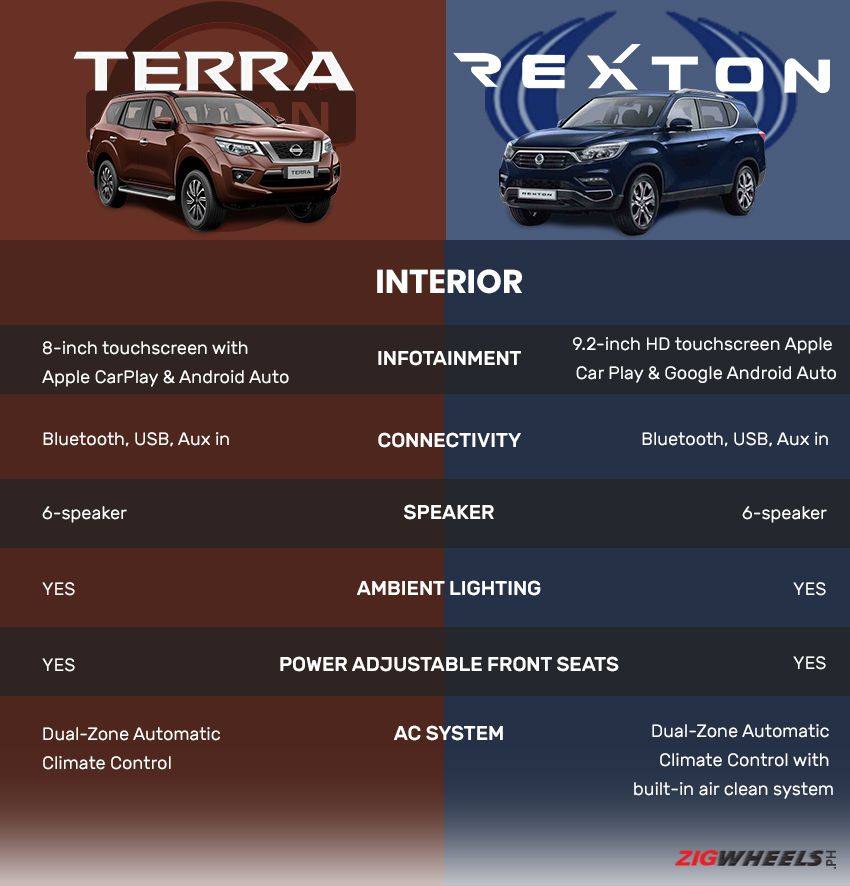 Inside Terra's cabin are brown leather-wrapped upholstery and matching leather trims. The third-row seats are very accessible and convenient to fold when hauling cargo with a one-touch remote fold and tumble seats. There was also a special emphasis on entertainment and comfort with noise-reducing acoustic glass and flip-down rear monitor to keep passengers—especially the little ones, entertained. The 12-volt power port and cup holders are scattered throughout the cabin so passengers can charge their gadgets wherever they are seated all while minimizing spills and mess.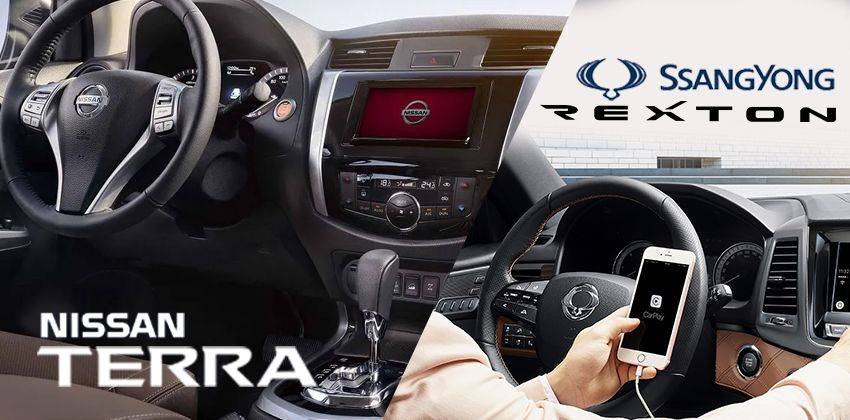 Not to be outdone, the Rexton also comes in plush Nappa quilted leather seats and matching trims on the dashboard, gearbox cluster, and doors. The posh feel extends to the infotainment system and the dashboard making it a driver-centric vehicle. The 9.2-inch infotainment display is at the same level as the main instrument cluster to minimize eye strain. While the instrument cluster is a 7-inch LCD screen that provides easy access to a wealth of information including safety warnings and navigation assist features.
Engine specifications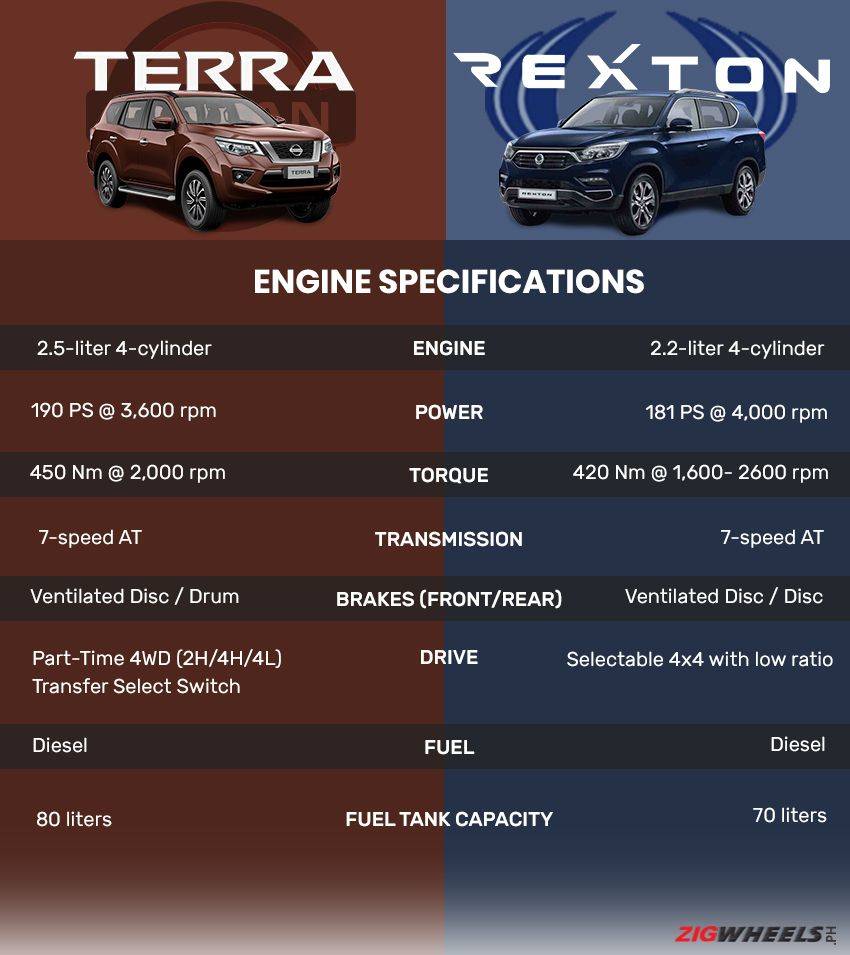 Under the hood, the Nissan Terra is powered by a YD25DDTi 2.5- liter inline 4-cylinder, DOHC, variable turbocharger (VGS) with an intercooler which is more powerful and torquier than SsangYong Rexton's 2.2-liter 4-cylinder engine given that it has a bigger engine capacity. All trim levels of the Terra come with a 7-Speed automatic with manual mode transmission, except for the base 2.5L EL MT 4x2 which comes with 6-speed manual transmission.
Rexton, on the other hand, comes with Mercedes-Benz 7 speed E-Tronic automatic transmission which makes up for a smoother shift. Both vehicles have independent, double-wishbone front suspension and five-link, coil springs for the rear for a comfortable and smooth ride.
Safety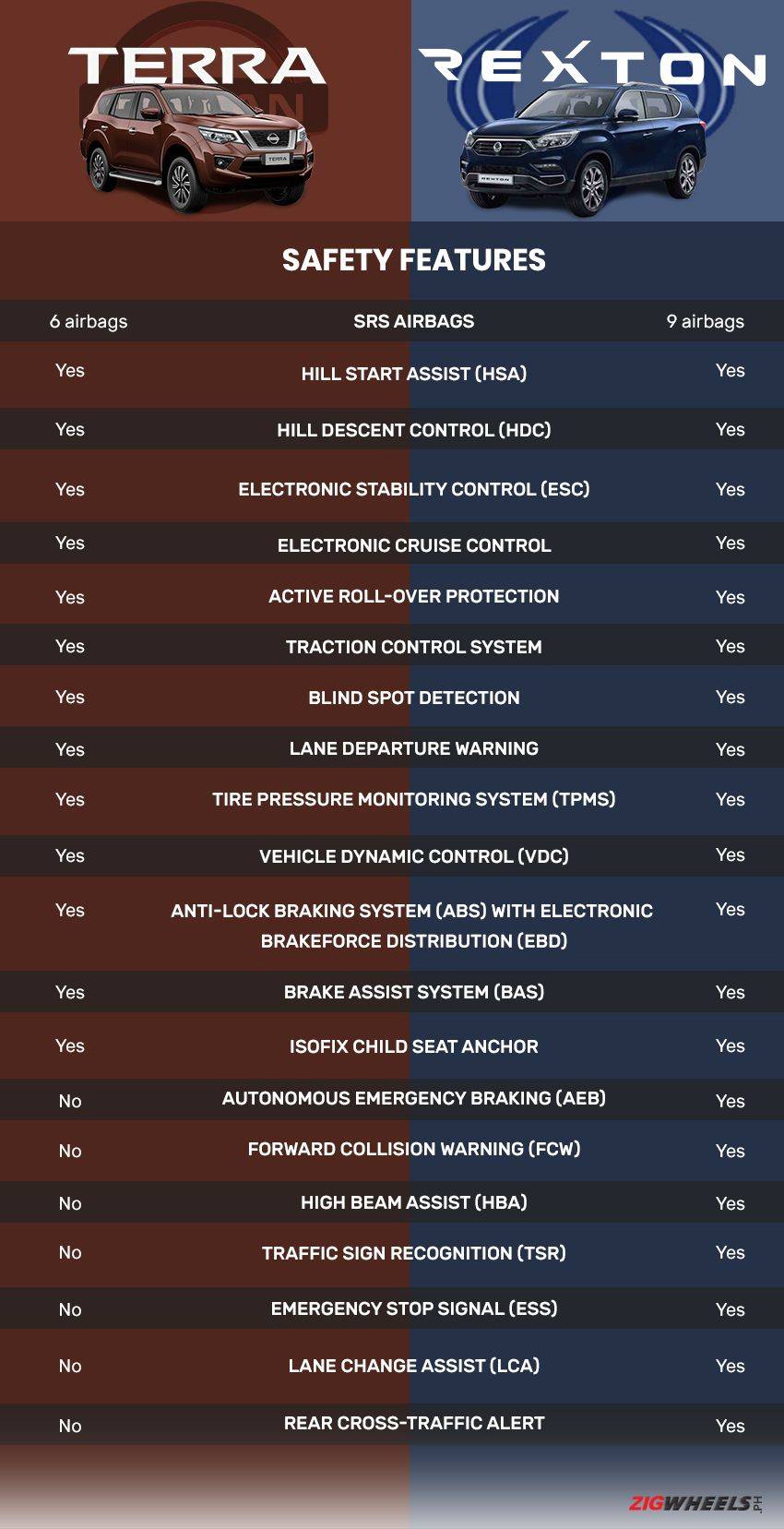 In terms of safety and driver-assist technology, both the Nissan Terra specs sheet and SsangYong Rexton specs sheet are chockfull of features—dare we say even going beyond the standard that you'd expect on a family-friendly vehicle. But when it comes to safety suites SsangYong wins this one hand down. The number of airbags alone which include a knee-airbag for the driver and rear passenger side and curtain airbags – are safety features normally only found in premium vehicles.
Price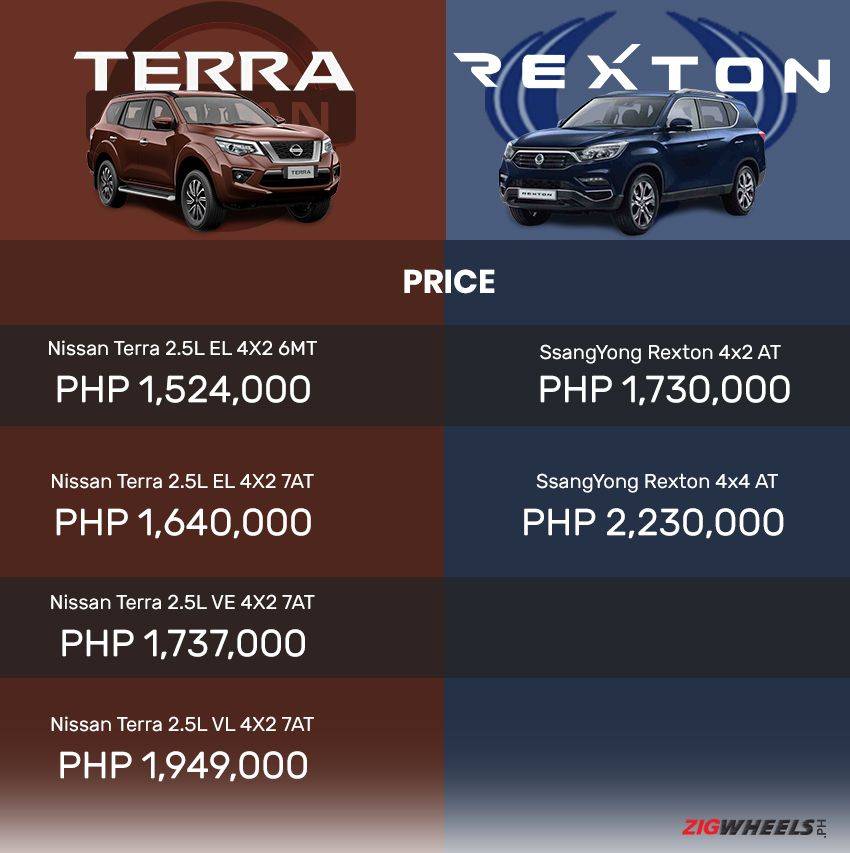 The comparison of the Nissan Terra price list and SsangYong Rexton price list shows that both the models share the same price point as that of the Toyota Fortuner, Ford Everest, and Mitsubishi Montero Sport. But between the two, SsangYong SUV offering is a bit pricier by a few thousand pesos. However, do note that it does come with more added features that are not available in the Terra.
Verdict
If you are willing to go out of your comfort zone and not limit yourself with the familiarity and popularity of the brand, then SsangYong Rexton is a good SUV to try. Its design is at par with other SUVs and the comfort and features are not lacking at all. However, after-sales services are something that you should consider especially if there is no dealership near you. But if you want the comfort and assurance that comes with an established brand, the Terra will not disappoint as well.
Also read: Nissan Terra: Features explained
Nissan Terra Promos, DP & Monthly Installment
You might also be interested in