Isuzu mu-X: Changes we expect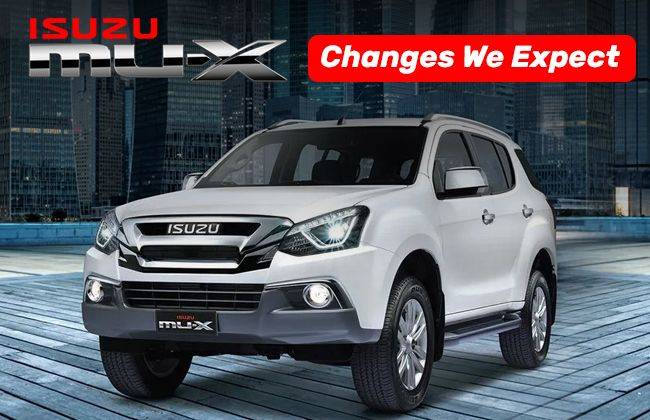 The Isuzu mu-X is a 7-seater mid-size SUV that can take you from the paved roads of the metro to the dirt roads and off beaten paths with its pair of powerful engine options: a 1.9-liter and a 3.0-liter, 4-cylinder in-line Blue Power diesel engine with turbo intercooler. The 1.9-liter turbodiesel engine can provide 148 hp of output and 350 Nm of torque. The bigger 3.0-liter turbo diesel with Blue Power technology, on the other hand, delivers 174 hp of power and 380 Nm of torque. The bigger engine is available in both all-wheel drive and rear-wheel drive options while the smaller engine is available in 2WD only.
Besides engine options, the mu-X has a lot going on for itself— from the stylish exterior complete with rugged looks and a comfortable interior cabin, there's so much that this Isuzu SUV could offer to make every ride feels like an adventure. But despite its rugged charm and tech and safety features, there will always room for improvement to enhance this mechanical workhorse. And with the current generation of the mu-X slowly getting older— in comparison to facelifted Ford Everest, Mitsubishi Sport, and newcomer Nissan Terra— the Isuzu SUV is in badly need of an upgrade. And Isuzu Philippines delivered. Well, sort of.
Minor updates
For one, the new 2020 Isuzu mu-X gets a subtle exterior facelift. It now has a redesigned front grille, horizontal rear combination lamp with LED positioning lamp, and 255 / 60 R18 Two-tone Alloy Wheels available exclusively for the LS-A variant. Another notable change is the Infotainment system. This mid-size SUV now comes with 8-inch audio-video entertainment with Apple CarPlay and Android Auto capabilities. That's beside the Navigation system, Wi-Fi display, and USB Link. This might not be much but the added capability of the infotainment is quite substantial given the competition.
Despite the minor modifications to this SUV, we hope to have seen more. Or at least a bit more. Here are the top three changes we were hoping to see for the Isuzu mu-X that it failed to deliver.
1. Wireless charging
Isuzu already updated the mu-X infotainment system, it would have been better that while they're at it, they could have also included a wireless charging technology at the center gearbox. Given that there are already multiple USB charging ports with 12v accessory sockets, the wireless charging would make the center gearbox more organize for the driver and front passengers. Plus, it lessens the wire clutter that could tangle on the console. By simply adding this technology, Isuzu could easily elevate the interior cabin feel and give it a differentiating factor among car buyers who place a high value on staying connected.
2. Shark fin
Minor cosmetic enhancements were done on the exterior of the mu-X but overlooked one thing— the antenna. Having a traditional rubber duck antenna screams 'retro' and does not fit quite as well as to what Isuzu is trying to project to about its SUV—a modern, rugged vehicle perfect for city living and for chasing adventures. So why the heck has it retained the antenna when Isuzu could have easily swapped it with a Shark fin antenna. After all, a shark fin antenna is not just for looks, it can pick up other signals such as cellular data, GPS, and satellite radio. This way, the 10-inch roof-mounted monitor will be more functional as passengers can easily use it for watching live streams, YouTube videos, and other digital contents besides DVDs.
3. A slight bump in size
Again, since Isuzu will not be offering an all-new generation of the Isuzu mu-X, we are not expecting radical changes on the unit but a slight bump in size would have been a very welcomed change. Currently, the mu-X stands at 4,825 mm long, 1,860 mm wide, and 1,840 tall with a wheelbase of 2,845 mm. This makes the Isuzu SUV larger than the Mitsubishi Montero Sport and Toyota Fortuner. But a slight bump in width by even just 20 mm could easily make the mu-X feel more robust and will be comparable to Hyundai Santa Fe and Chevrolet Trailblazer's wide stance.
Final word
Slight changes are always welcome to make a beloved vehicle more appealing and for it to truly stand out. For the new facelifted 2020 Isuzu mu-X, we were a bit underwhelmed on what they have delivered but it does not take away all the good points that this SUV already has to offer. On its own, the Isuzu mu-X can hold up pretty nicely with other mid-size 7-seater SUVs in the market. It has so much to offer when it comes to interior comforts, connectivity, entertainment system, and safety specs that can easily differentiate it from other midsize SUVs in the market.
Explore Isuzu mu-X
Isuzu mu-X
₱1.35 - ₱2.145 Million

MA starts : ₱30,670
Isuzu mu-X Promos, DP & Monthly Installment
You might also be interested in
Latest Isuzu mu-X Cars Videos on Zigwheels