How the Mitsubishi L300 earned the trust of a Filipino entrepreneur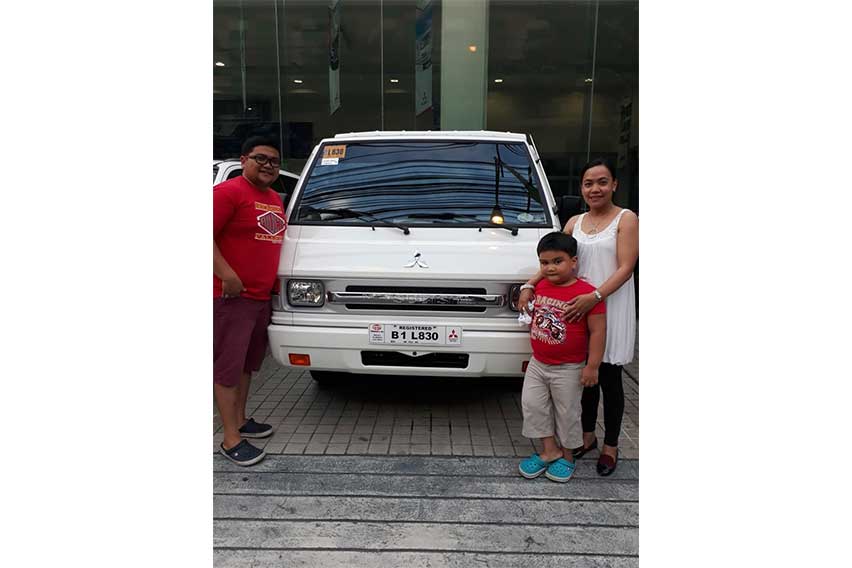 The Mitsubishi L300 remains to be one of the full-fledged icons in the commercial vehicle segment in the country as it has been a reliable transportation for any kind of business and has even been conscripted for family use. Most Filipino entrepreneurs have put their trust on this dependable workhorse because it has the capacity to constantly deliver their goods and services without fail. One of them is Ric Joseph Incognito, a trucking business owner who considers his L300 FB as very useful business partner.
"For me, as an owner of an L300 FB, I find the engine okay for its purpose. It is reliable and is low-maintenance compared to other brands. It is also a strong hauler while being affordable and easy to own. This makes the L300 great for businesses and even for family use," Incognito shared.
The 32-year-old entrepreneur has found his L300 to be very reliable and practical for his business, so he decided to buy a second unit.
"When it comes to durability, the L300 is a leader. The mere fact that you see so many old L300s still on the streets is clear proof of its toughness. The L300 is so sturdy and reliable that it has become an ideal vehicle whether for business or family use," Incognito said.
For the past 38 years, Mitsubishi has continued to upgrade the strengths of the L300 to provide an even better workhorse for its loyal customers. The newest generation of the L300 features a stronger and safer chassis. It has the capacity to carry up to 1,215 kg on any road condition.
Mitsubishi has also upgraded the new L300's powertrain to generate more power and meet the latest emission standards. It comes with a 2.2-liter 4N14 CRDi engine that produces 98hp and 200Nm of torque. The new L300 diesel engine is now Euro 4 compliant.
For almost four decades, the Filipino-made commercial vehicle has been fully trusted by the local businessmen like Incognito. "It is very important for me that the vehicle I use is made in the Philippines because it can be relied upon versus other brands that are imported," Incognito explained. "Another thing is the availability of parts. Because the vehicle is assembled locally, it is easy to repair the L300 since all the parts are easy to find."
The Mitsubishi L300 may have been updated for the times, but it still remains dependable as it has ever been. Its timeless utilitarian looks and reliable performance makes it the top choice of Filipino business owners for their transport needs.
To learn more about Mitsubishi products and services, visit www.mitsubishi-motors.com.ph or contact any Mitsubishi dealer.
Photos from Mitsubishi Motors Philippines Corporation
Sell your car at the best price
Verified and genuine buyers
Free listing
List your car
Mitsubishi Car Models
Mitsubishi Mirage

Mitsubishi Mirage G4

Mitsubishi Xpander

Mitsubishi L300

Mitsubishi Strada

Mitsubishi Montero Sport

Mitsubishi Xpander Cross

Mitsubishi Triton

Mitsubishi Outlander PHEV
Mitsubishi Cars Price
Mitsubishi L300 Promos, DP & Monthly Installment


You might also be interested in
Compare & Recommended
Engine

2.5L Diesel Engine, 4 Cylinder 16 Valve DOHC

2.2L Diesel Engine, 4 Cylinder 16 Valve

2.3L Diesel Engine, 4 Cylinder 16 Valve

1.5L Gasoline Engine, In-line 4 Cylinder 16 Valve DOHC
Mitsubishi L300 Car Articles From Carmudi
Mitsubishi launches referral program for L300 to celebrate 60th anniversary in PH

Ruben Manahan IV,

Mar 03, 2023

Mitsubishi PH turns over L300 units Santa Rosa LGU

Ruben Manahan IV,

Sep 09, 2022

The highs and lows of the Mitsubishi L300

Dylan Afuang,

Sep 08, 2021

Looking for a Mitsubishi L300? You might want to take a look at these, too

Mitsubishi L300 sales help keep brand 2nd among PH auto firms

Ruben Manahan IV,

Jun 17, 2021
How the Mitsubishi L300 earned the trust of a Filipino entrepreneur
Choose a city to get promos and prices in your area