LOOK: This red Mirage G4 is the 700,000th unit from Mitsubushi PH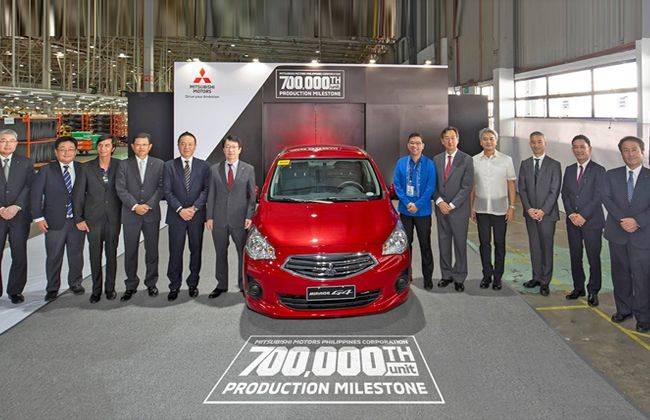 MANILA: Mitsubishi Philippines, the official maker and distributor of Mitsubishi vehicles in the country, has reached another milestone. Six years after launching Mirage G4 in the Philippines, the company rolled out its 700,000th unit ever to be produced locally.
The Japanese carmaker celebrated the achievement at their sole production plant in Sta. Rosa, Laguna. Attending the ceremony were key executives of Mitsubishi Motors Philippines Corporation (MMPC) and Mitsubishi Motors Corporation (MMC), who posed beside the record-breaking unit in a photo – a red Mirage G4.
Among those who participated in the event were MMPC President and Chief Executive Officer Mutsuhiro Oshikiri, and MMC Chief Executive Officer Takao Kato.
"Mitsubishi Motors Corporation could not accomplish this achievement without steadfast commitment and considerable cooperation of the Philippine government, all our dealers, suppliers, business partners, loyal customers as well as the past and present employees," said Kato.
To date, Mitsubishi has 56 dealerships in the country. Together with the Mirage Hatchback, Mirage G4 is one of the company's participating models in the Comprehensive Automotive Resurgence Strategy (CARS) Program
.
Mitsubishi and Toyota Philippines invested a combined total of P7.5 billion in the program, allowing them to produce their enrolled models locally and source some of their parts from local suppliers.
The first vehicle produced under the program was a blue Mirage G4. It was ceremonially turned over to Philippine President Rodrigo R. Duterte at the Malacañang Palace last February 2017.
"This [CARS Program] paved the way for the local production of the Mirage and Mirage G4. This multimillion investment was a testament to the significance of the Philippine market to the Mitsubishi Motors Brand," Kato added.
Even before its implementation, Mitsubishi held a strong presence in the country. Since their arrival in 1964, the Japanese company has produced some of the most popular vehicles in the market including Montero Sport, Xpander, Strada, Pajero, and the L300.
It wasn't long ago that Mitsubishi hit a milestone with the Mirage hatchback. On April 2019, the company sold their 1,000,000th unit in the country.
"We are committed to continue to grow and expand our business in the Philippines, and are geared towards further development of manufacturing technologies of our plant in this country," said Kato.
Also Read: Mitsubishi Triton Quest launched in Malaysia
Explore Mitsubishi Mirage G4
Mitsubishi Mirage G4 Promos, DP & Monthly Installment
You might also be interested in